Navy
Military branch for naval warfare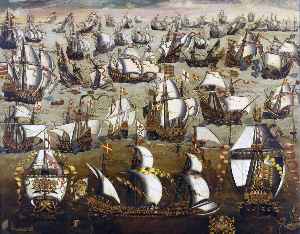 A navy or sea force is the branch of a nation's armed forces principally designated for naval and amphibious warfare; namely, lake-borne, riverine, littoral, or ocean-borne combat operations and related functions. It includes anything conducted by surface ships, amphibious ships, submarines, and seaborne aviation, as well as ancillary support, communications, training, and other fields. The strategic offensive role of a navy is projection of force into areas beyond a country's shores. The strategic defensive purpose of a navy is to frustrate seaborne projection-of-force by enemies. The strategic task of the navy also may incorporate nuclear deterrence by use of submarine-launched ballistic missiles. Naval operations can be broadly divided between riverine and littoral applications, open-ocean applications, and something in between, although these distinctions are more about strategic scope than tactical or operational division.


Shiv Sena reacts after assaulted ex-Navy officer's 'quit' dare for Uddhav

Shiv Sena's Sanjay Raut commented on the attack on ex-navy officer, Madan Sharma. He said that it's wrong to link Maharashtra govt with the attack. Raut said, "No one loses anything by asking..
Credit: HT Digital Content Duration: 03:40
Published
Kind of 'State-sponsored terror' situation in Maharashtra: Fadnavis on assault on ex- Navy officer

Speaking on the retired Navy officer who was alleged beaten up by Shiv Sena workers in Mumbai on September 09, former chief minister of Maharashtra, Devendra Fadnavis on September 12 strongly..
Credit: ANI Duration: 01:28
Published
They must be arrested for attempt to murder: Ex-Navy officer's daughter on bail granted to accused

After the accused in connection with the thrashing of a retired Navy officer in Mumbai were granted bail, the daughter of the officer said the people should be arrested for attempt to murder since a..
Credit: ANI Duration: 01:42
Published
Shiv Sena's Kamlesh Kadam among 6 arrested for attack on ex-Navy officer, later granted bail

Shiv Sena's Kamlesh Kadam and five others were arrested and later granted bail in connection with the attack on a retired Navy officer in Mumbai. The bail was granted by Samta Nagar Police Station...
Credit: ANI Duration: 01:15
Published
'Don't know attackers belonged to which party,' says ex-Navy officer who was beaten up in Mumbai

Madan Sharma, retired Navy officer who was attacked today in Mumbai said that he doesn't know the attackers belonged to which party. "8-10 persons attacked and beat me up today, after I received..
Credit: ANI Duration: 03:01
Published
Watch: Former Navy officer thrashed in Mumbai

Mumbai Police registered an FIR against a group of people for beating up a former Navy officer. The incident took place on September 9 in Mumbai. The whole incident was captured on CCTV.
Credit: ANI Duration: 01:02
Published
Independence Day 2020: Security tightened, Armed Forces band wows spectators

Delhi police stepped up security in  and around the capital ahead of the Independence day celebration on August 15. Police were seen checking vehicles in the India gate and Connaught place region...
Credit: HT Digital Content Duration: 01:28
Published
You Might Like