Philippines
Country in Southeast Asia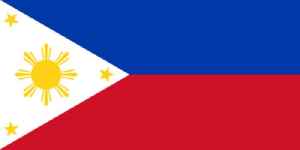 The Philippines, officially the Republic of the Philippines, is an archipelagic country in Southeast Asia. Situated in the western Pacific Ocean, it consists of about 7,641 islands that are broadly categorized under three main geographical divisions from north to south: Luzon, Visayas, Mindanao. The capital city of the Philippines is Manila and the most populous city is Quezon City, both within the single urban area of Metro Manila. Bounded by the South China Sea on the west, the Philippine Sea on the east and the Celebes Sea on the southwest, the Philippines shares maritime borders with Taiwan to the north, Japan to the northeast, Palau to the east, Indonesia to the south, Malaysia and Brunei to the southwest, Vietnam to the west, and China to the northwest.


Vietnam braces for tropical storm Saudel

Authorities in Vietnam and the Philippines braced on Tuesday for a tropical storm that could bring flooding and landslides in both countries, as the death toll in Vietnam from weeks of adverse weather..
Credit: Reuters Studio Duration: 01:11
Published
The rickshaw classroom for indigenous kids

A group of Filipino teachers have found an creative way to help children of indigenous communities living in remote mountains north of Manila catch up on their studies under the new norms of pandemic..
Credit: Reuters Studio Duration: 01:44
Published
Philippines: Duterte's popularity soars to record high

Philippine president has long been criticised for his authoritarian style since he took office in 2016, but his approval ratings are at record highs.
Credit: Al Jazeera STUDIO Duration: 02:25
Published
Philippine government efforts to preserve historic Manila

Decades ago, Manila was called the Pearl of the Orient, but the Battle for Manila destroyed much of its grandeur.
Credit: Al Jazeera STUDIO Duration: 02:29
Published
COVID-19 leads to significant job losses in the Philippines

Many are going hungry as the country struggles with its first recession in nearly 30 years.
Credit: Al Jazeera STUDIO Duration: 06:29
Published
Trump Just Can't Keep A Secret, And That's A Big Problem

Boasting of his 'great intel,' US President Donald J. Trump told Russian officials in 2017 about an ISIS plot so classified that he risked exposing the source. In the same year, Trump revealed to the..
Credit: Wochit News Duration: 00:43
Published
COVID-19: Philippine schools struggle to educate poor children

Children from vulnerable communites are suffering as distance learning is put in place during the coronavirus pandemic.
Credit: Al Jazeera STUDIO Duration: 02:21
Published
MT New Diamond fire incident: 'One dead, one missing, informs DG Coast Guard

The Director General of the Indian Coast Guard, K Natarajan informed that there is one loss of life as of now. Unfortunately, one other person is still missing due to fire incident at Motor Tank (MT)..
Credit: ANI Duration: 01:55
Published
Philippines: Activists fight to change culture of harassment

The age of sexual consent is 12 years in the Philippines, one of the lowest in the world.
Credit: Al Jazeera STUDIO Duration: 02:26
Published
You Might Like



Cockfighting Raid Turns Deadly, Rooster Attacks and Kills Police Officer

A police officer was killed during a raid on an illegal cockfighting event in the Philippines ... when a rooster with a blade on it's leg slashed the cop, causing a fatal wound. It all went down on..




TMZ.com - Published





Two new coronavirus cases on board cargo ship off Western Australian coast

Western Australia has recorded three new virus cases, including two on a ship from the Philippines anchored off the state's north-west coast.




SBS - Published





Three new virus cases in Western Australia

Western Australia has recorded three new virus cases, including two on a ship from the Philippines anchored off the state's north-west coast.




SBS - Published





U.S. concerned by libel verdicts against Philippine journalists

The U.S. State Department said on Tuesday it is concerned about court verdicts against two journalists in the Philippines and called for the case against them to be resolved in ways that reinforced a..




Reuters - Published





As economy slumps, Philippines lets eateries reopen to recoup job losses

The Philippines is getting back to business after one of the world's strictest coronavirus lockdowns spanning nearly three months, allowing restaurants to reopen this week for dine-in customers in an..




Reuters - Published





Partial restrictions to remain in capital as Philippines tackles virus

Philippine President Rodrigo Duterte said on Monday partial restrictions would remain in place in the capital Manila for another two weeks because the threat from the new coronavirus was still present.




Reuters - Published





Fears for Philippines press freedom as court finds Maria Ressa guilty of libel

The head of a Philippine news website known for its tough scrutiny of President Rodrigo Duterte was convicted of libel on Monday and faces a lengthy jail term in what is being seen as a blow to media..




Reuters - Published





Philippine court finds news site chief Maria Ressa guilty of libel

The head of a Philippine news website known for its tough scrutiny of President Rodrigo Duterte faces up to six years in jail after being found guilty of cyber libel by a Manila court on Monday in what..




Reuters - Published





Philippines must pass anti-terrorism bill to stay off "grey list": council

The Philippines risks being included in an international "grey list" of nations falling short of global money-laundering rules if it fails to enact and effectively implement a new anti-terrorism bill,..




Reuters - Published





Philippine protesters rally over controversial anti-terror bill

More than 1,000 Filipinos on Friday braved the threat of coronavirus infection to protest against a controversial new anti-terrorism bill, which is awaiting Philippine President Rodrigo Duterte's..




Reuters - Published





Philippines reports nine novel coronavirus deaths, 443 more infections

The Philippines' health ministry on Thursday confirmed nine more new coronavirus deaths and 443 additional infections.




Reuters - Published




Philippine officials visit disputed South China Sea island

The Philippines' defence minister and military officials have made a trip to a disputed South China Sea island just a few miles from a base built by China, a visit that could draw criticism from..




Reuters - Published





Philippines students face distance learning until COVID-19 vaccine found

With schools in the Philippines only due to reopen when a vaccine for COVID-19 has been found, educational authorities are racing to devise a distance learning regime for 27 million children by August,..




Reuters - Published





Philippines probes proliferation of fake Facebook accounts after anti-terror law protest

The Philippines is investigating the proliferation of fake Facebook accounts using the identities of students, journalists and government officials, which appeared after an anti-terror law protest, the..




Reuters - Published





Philippine coronavirus death toll rises to 1,003

The Philippines on Sunday reported nine more fatalities related to the novel coronavirus, taking its death toll to 1,003.




Reuters - Published




Philippines' Duterte renews threat to kill drug dealers after big bust

Philippine President Rodrigo Duterte renewed on Friday a threat to kill drug dealers after police seized 756 kg (1,667 lb) of methamphetamines, a haul he said proved the Southeast Asian country had..




Reuters - Published





'Near impunity' for drug war killings in Philippines, U.N. says

Tens of thousands of people in the Philippines may have been killed in the war on drugs since mid-2016 amid "near impunity" for police and incitement to violence by top officials, the United Nations..




Reuters - Published




Philippines' Duterte U-turns on scrapping of U.S. troop deal

Philippine President Rodrigo Duterte has suspended his decision to scrap a two-decade-old troop deployment agreement with the United States due to political and other developments in the region, his..




Reuters - Published





Duterte's 'draconian' anti-terror bill alarms activists in Philippines

Lawyers and human rights activists in the Philippines have raised the alarm over a new anti-terrorism bill pushed by the President Rodrigo Duterte, warning of draconian and arbitrary provisions that..




Reuters - Published





Philippines suspends scrapping of troop agreement with U.S.: minister

The Philippines has suspended its decision to scrap a two-decade-old Visiting Forces Agreement (VFA) with the United States, its foreign minister said on Tuesday.




Reuters - Published





Philippines capital comes back to life although virus threat lingers

Millions of people returned to work in the Philippine capital on Monday as one of the world's strictest and longest coronavirus lockdowns was eased to help resuscitate an economy that has been battered..




Reuters - Published





Virus-hit cruise liner leaves Japan after a month's quarantine

The Costa Atlantica cruise ship, which docked in southern Japan with over 100 crew members testing positive for COVID-19, has left the country and is en route to the Philippines, local government..




Reuters - Published





Philippines reports 862 additional coronavirus infections, seven more deaths

The Philippines on Sunday reported 862 additional coronavirus cases and seven more deaths from the respiratory disease.




Reuters - Published




Philippines confirms eight more coronavirus deaths, 590 new cases

The Philippines' health ministry on Saturday reported eight additional deaths from the novel coronavirus and 590 new infections.




Reuters - Published




Relief, disappointment as Philippines restarts some transport services

Philippine taxi dispatcher Meliza Venal heaved a sigh of relief when she learned that hundreds of her company's drivers can finally go back to work after being stuck in their homes for 11 weeks.




Reuters - Published





Philippines eases one of world's toughest curbs amid spike in coronavirus cases

Philippine President Rodrigo Duterte eased one of the toughest and longest lockdowns in the world for residents in the capital Manila from June 1, even as the country saw its biggest spike in..




Reuters - Published





Philippines' Duterte eases lockdown in capital from June 1

Philippines President Rodrigo Duterte on Thursday approved a recommendation to ease the lockdown in the capital Manila from June 1, resuming much-needed activity in an economy on the brink of..




Reuters - Published




Philippines confirms 539 new coronavirus cases, largest single-day increase

The Philippines' health ministry on Thursday reported 17 more novel coronavirus deaths and 539 new infections, the largest number of cases reported in a single day since the virus was first detected in..




Reuters - Published





Philippines task force backs easing one of world's toughest lockdowns

The Philippines' coronavirus task force has recommended President Rodrigo Duterte ease one of the toughest and longest lockdowns in the world for residents in the capital who have endured nearly 11..




Reuters - Published





Philippines' task force recommends easing of lockdown in capital

The Philippines' coronavirus task force has recommended to President Rodrigo Duterte easing lockdown measures in Manila from June 1, despite the country still reporting some of its highest daily..




Reuters - Published





'Finally free' - homebound Filipinos cheer end to quarantine ordeal

Hundreds of repatriated Filipino workers made their way to bus and airport terminals on Tuesday to return to families, the first among around 24,000 nationals stuck for weeks in the capital's..




Reuters - Published





Philippines tries transport test run to prepare for commuter chaos

Police in the Philippine capital did a dry run on Tuesday of measures to enforce social distancing on public transport and control the spread of coronavirus, a tricky task in a densely populated city..




Reuters - Published





In Philippine slums, heat, hunger take a toll under lockdown

One by one, Michelle Asinto's six children take the plate of rice doused in soy sauce and eat their share before passing it on.




Reuters - Published





Philippine leader answers call of workers begging to go home

Philippine President Rodrigo Duterte has given his government a week to process some 24,000 repatriated Filipino workers stuck for weeks on cruise ships or in coronavirus quarantine, so they can..




Reuters - Published





Philippines urges coronavirus vigilance as shoppers ignore safety protocols

The Philippine government on Sunday called for vigilance against the coronavirus, a day after hordes of people trooped to shopping malls and ignored safety protocols, as authorities began loosening a..




Reuters - Published





Philippines' coronavirus infections top 12,000, deaths pass 800 mark

The number of novel coronavirus cases in the Philippines' has passed the 12,000 mark, and more than 800 people have now died, the health ministry said on Friday.




Reuters - Published





Pandemic hampers Philippines mass evacuation as typhoon hits

The coronavirus pandemic is complicating Philippine efforts to move hundreds of thousands of people into evacuation centres where social distancing is hard to enforce as a strong typhoon pummeled..




Reuters - Published





Philippines evacuates hundreds of thousands as typhoon makes landfall

Philippine authorities started moving 200,000 people away from their homes in coastal and mountainous areas because of fears of flooding and landslides as a typhoon made landfall on Thursday, disaster..




Reuters - Published