Financial Times
London-based international daily newspaper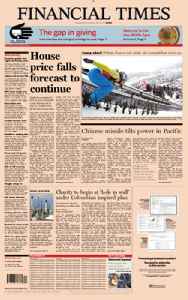 The Financial Times (FT) is an international daily newspaper printed in broadsheet and published digitally that focuses on business and economic current affairs. Based in London, England, the paper is owned by the Japanese holding company, Nikkei, with core editorial offices across Britain, the United States, and continental Europe. In July 2015, Pearson sold the publication to Nikkei for £844 million after owning it since 1957. In Spring 2019, it reported one million paying subscriptions, three-quarters of which are digital subscriptions. The newspaper has a prominent focus on financial journalism and economic analysis over generalist reporting, drawing both criticism and acclaim. The daily sponsors an annual book award and publishes a "Person of the Year" feature.


UK will deliberately infect vaccine volunteers: report

Britain is planning to host clinical trials where volunteers are deliberately infected with the new coronavirus to test the effectiveness of vaccine candidates, the Financial Times reported on..
Credit: Reuters Studio Duration: 01:22
Published
COVID Treatment Hopes Send Stocks Up

On Monday US equities gained on positive news around coronavirus treatments and relaxing US-China relations. Business Insider reports that Food and Drug Administration issued emergency authorization..
Credit: Wochit News Duration: 00:36
Published
Oracle may bid for TikTok's U.S. operations - FT

Oracle Corp has held preliminary talks with TikTok's Chinese owner, ByteDance, and was seriously considering buying the app's operations in the United States, Canada, Australia and New Zealand, the..
Credit: Reuters Studio Duration: 01:14
Published
You Might Like



UK abandons plan to introduce full border checks with EU on January 1: FT

The United Kingdom has abandoned its plan to introduce full border checks with the European Union on Jan. 1 as British ministers face pressure from businesses to not increase the chaos already in place..




Reuters - Published





UK PM plans Brexit talks with EU's von der Leyen, warned to reach deal pre-autumn: FT

British Prime Minister Boris Johnson is planning to hold Brexit talks with European Commission President Ursula von der Leyen in June, with UK officials warning Johnson that an agreement was needed..




Reuters - Published





Former Hong Kong governor: China's proposed national security law should be on G7 agenda

The United Kingdom should ensure that China's efforts to impose a new national security law on Hong Kong are on the agenda for the G7 meeting in June, Chris Patten, the last British governor of Hong..




Reuters - Published





FT analysis sees UK coronavirus death toll at 41,000

The novel coronavirus outbreak has caused as many as 41,000 deaths in the United Kingdom, according to a Financial Times analysis of the latest data from the statistics office.




Reuters - Published





Macron says 'naive' to say China handled coronavirus epidemic better than West: FT

French President Emmanuel Macron rejected the idea that China had handled the coronavirus outbreak better than Western democracies in an interview published in Friday's Financial Times.




Reuters - Published





Macron warns populists could win if EU fails to launch common fund: FT

Populists will win "in Italy, in Spain, perhaps in France and elsewhere" if European countries do not launch a rescue fund that can issue joint debt to cope with the fallout of the coronavirus..




Reuters - Published





Trump 'apoplectic' with UK's Johnson over Huawei decision: FT

U.S. President Donald Trump was "apoplectic" with Boris Johnson during a phone call to discuss the British prime minister's decision to allow Chinese firm Huawei a role in Britain's 5G mobile phone..




Reuters - Published





Trump to halt civilian drone program over China tech concerns: FT

The U.S. government is planning to permanently halt its civilian drone program due to the devices being made at least partly in China, the Financial Times reported on Sunday.




Reuters - Published





U.S. National Security Adviser warns UK about allowing Huawei in 5G: FT

U.S. National Security Adviser Robert O'Brien has warned UK about allowing China's Huawei Technologies Co Ltd [HWT.UL] into its 5G telecommunications networks, saying such a move would pose a risk to..




Reuters - Published





UK PM Johnson plans to block extension of Brexit transition beyond 2020

British Prime Minister Boris Johnson will take the bold step of legislating to prevent any extension of the Brexit transition period beyond 2020, British media including The Times and the Financial..




Reuters - Published





Financial Times picks first female editor Khalaf as Barber signs off

Roula Khalaf will become the first woman to edit the Financial Times in its 131-year history after Lionel Barber, Britain's most senior financial journalist, said he would step down.




Reuters - Published





Khalaf picked as first woman to edit Financial Times, Barber bows out

Roula Khalaf will become the first woman to edit the Financial Times in its 131-year history after Lionel Barber said he would step down in January.




Reuters - Published





Financial Times names Khalaf as first woman editor, replacing Barber

Roula Khalaf will replace Lionel Barber as editor of the Financial Times in January, the first woman to lead the salmon-pink newspaper in its 131-year history.




Reuters - Published





Financial Times editor Barber to step down after 14 years in charge

Lionel Barber will step down as the editor of the Financial Times in January, ending a 14-year tenure that was marked by the sale of the newspaper to Japan's Nikkei and a huge push to online..




Reuters - Published





Poland says France's Macron comments on NATO 'dangerous': FT

French President Emmanuel Macron's critical remarks about NATO were "dangerous", Poland's Prime Minister Mateusz Morawiecki said in an interview published on Sunday evening by the Financial Times.




Reuters - Published





Northern Ireland's DUP to oppose UK PM Johnson's call for an election: FT

Arlene Foster, leader of Northern Ireland's Democratic Unionist Party (DUP), told the Financial Times that her party opposed British Prime Minister Boris Johnson's call for an early election.




Reuters - Published




China foreign ministry says report on plans to replace Hong Kong leader Lam a political rumor

China's foreign ministry said on Wednesday the Financial Times report on plans for replacing Hong Kong chief executive Carrie Lam was a political rumor with ulterior motives.




Reuters - Published





China plans to replace Hong Kong leader Lam with 'interim' chief executive: FT

China is drawing up a plan to replace Hong Kong leader Carrie Lam with an "interim" chief executive, the Financial Times reported, citing people briefed on the deliberations, which would bring to a..




Reuters - Published




Britain reviews all weapons export licenses with Turkey: FT

The United Kingdom is reviewing all weapons exports licenses to Turkey as it faces mounting pressure over its military offensive in northern Syria, the Financial Times reported on Monday.




Reuters - Published





SNP to back Labour UK government only with Scottish independence vote: FT

The Scottish National Party (SNP) would only support a minority Labour UK government if it agrees to authorize a second independence referendum for Scotland, the Financial Times report on Friday.




Reuters - Published





Dutch PM Rutte: Brexit deal that creates customs border unacceptable - FT

Dutch Prime Minister Mark Rutte told his British counterpart Boris Johnson on Saturday that a Brexit agreement that creates a customs border in Ireland is unacceptable, the Financial Times reported.




Reuters - Published





UK's Javid expected to delay budget until after October 31: Financial Times

British finance minister Sajid Javid's first budget is expected to be delayed until after Oct. 31, due to uncertainty about Britain's exit from the European Union, the Financial Times reported..




Reuters - Published





UK business secretary Leadsom says economy could withstand a no-deal Brexit: FT

UK business secretary Andrea Leadsom said Britain's economy is robust and that it could withstand a no-deal Brexit, according to an interview with the Financial Times published on Friday.




Reuters - Published





Ukraine leader seeks settlement with former Privatbank owner: paper

Ukraine's President Volodymyr Zelenskiy wanted to reach a settlement with former owner of the country's largest bank, PrivatBank, Financial Times newspaper quoted Ukrainian Prime Minister Oleksiy..




Reuters - Published





Russia's Putin says liberal values are obsolete: Financial Times

Russian President Vladimir Putin said in an interview published on Thursday that liberal values were obsolete because they had been rejected by the majority of the people in Western nations.




Reuters - Published





Facebook in talks with U.S. derivatives regulator over digital currency plans: FT

Facebook Inc is in talks with the U.S. derivatives regulator, the Commodity Futures Trading Commission (CFTC), over the social media company's plans for a digital currency, the Financial Times reported..




Reuters - Published