Pedro Sánchez
Spanish Prime Minister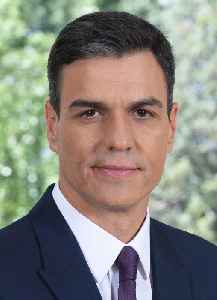 Pedro Sánchez Pérez-Castejón is a Spanish politician who has been Prime Minister of Spain since 2 June 2018. He has also been Secretary-General of the Spanish Socialist Workers' Party (PSOE) since June 2017, having previously held that office from 2014 to 2016.


Spain's Socialists confident of reaching government deal with Podemos
Spain's Socialists said on Saturday they were confident of reaching a government agreement with the far-left Podemos party that would pave the way for acting Prime Minister Pedro Sanchez to be sworn in..
Reuters - Published
Spain's Podemos accepts key condition for coalition deal with Socialists
The leader of Spain's far-left Podemos party said on Friday he is willing to give up a post in a coalition government, potentially opening a way out of stalled power-sharing talks with acting Prime..
Reuters - Published
Could Spain be heading towards another general election?
Podemos votes to support Prime Minister Pedro Sanchez, only if the party receives key cabinet roles.
Credit: euronews (in English) Duration: 01:44Published
Spain's Sanchez TO Increase Socialist Presence In EU
Reuters reports Spain's Socialist leader Pedro Sanchez had two electoral victories in one month. Sanchez won Spain's general election last month and landed in first again in Sunday's European..
Credit: Wochit News Duration: 00:37Published
Factbox: Will Spain's Sanchez stay on as prime minister?
Spain enters a week of debates and votes which will be vital in determining whether Socialist leader Pedro Sanchez, who has been acting prime minister since an inconclusive election in late April, will..
Reuters - Published
Spain's Podemos party rejects Sanchez's plan for cabinet
Spanish Socialist leader Pedro Sanchez's hopes of staying on as prime minister suffered a setback on Thursday when supporters of the far-left Podemos voted to back him only if the party gets key roles..
Reuters - Published
Spain's Podemos rejects Socialist plan to govern solo
Spain's Unidas Podemos said on Thursday its supporters had voted to only allow the investiture of Socialist leader Pedro Sanchez as premier if their far-left party is made part of his future cabinet,..
Reuters - Published
Spain's Sanchez says Podemos deal possible if its leader not in cabinet
Spain's acting prime minister Pedro Sanchez said on Thursday he would not accept the leader of far-left Podemos in his cabinet, drawing an angry reaction from the party viewed as his Socialists' most..
Reuters - Published
Spain's Podemos offers to make concessions to avoid repeat elections
Spain's far-left Podemos party is willing to make concessions to rescue stalled power-sharing talks with acting prime minister Pedro Sanchez' Socialists and avoid a repeat election, leader Pablo..
Reuters - Published
You Might Like