Pauline Hanson
Australian politician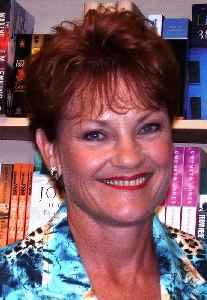 Pauline Lee Hanson is an Australian politician who is the founder and leader of Pauline Hanson's One Nation Party (PHON). She is currently a Senator representing Queensland in the Parliament of Australia.


Pauline Hanson slams torching of One Nation truck outside Hobart pub
Pauline Hanson has said she is "concerned about where politics is heading in this country" after a One Nation truck was set on fire in Tasmania.
SBS - Published
Has the sun set on the 'populist surge' of Clive Palmer, Pauline Hanson?
Australia's populist parties are polling much lower than their counterparts in Europe.
SBS - Published
Labor MP Aly attacked in 'racist' flyers
One Nation leader Pauline Hanson says her party has nothing to do with flyers attacking Anne Aly that have been distributed in the WA Labor MP's electorate.
SBS - Published
Hanson in heated exchange with Labor's Aly
One Nation leader Pauline Hanson and Labor politician Anne Aly have had a heated confrontation in Perth about a luncheon they attended three years ago.
SBS - Published
Search this site and the web:
You Might Like