Asia-Pacific
Part of the world in or near the Western Pacific Ocean; typically includes East Asia, South Asia, Southeast Asia, and Oceania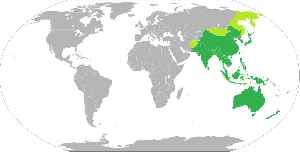 Asia-Pacific or Asia Pacific is the part of the world in or near the Western Pacific Ocean. Asia-Pacific varies in area depending on context, but it generally includes East Asia, South Asia, Southeast Asia, and Oceania.


You Might Like
Asia-Pacific nations urge 'big brother' Australia to take lead on climate change
Climate change is taking centre stage at a gathering of Asian-Pacific nations in Canberra with one delegate calling for Australia to take more leadership against the "existential threat".
SBS - Published
Fifteen Asia-Pacific countries agree on trade pact, India holds back
Fifteen Asia-Pacific countries have concluded negotiations for a trade pact that would be among the world's largest, but India still has "significant outstanding issues" before it is ready to sign on,..
Reuters - Published
Exclusive: Police chase suspected kingpin of vast Asian meth syndicate
The largest ever task force assembled to fight organized crime in Asia has identified a long-time drug trafficker, a China-born Canadian national, as the suspected kingpin of a crime syndicate that..
Reuters - Published
Students begin global climate strike with message for governments: Do your job
Thousands of students took to the streets of Australia and other Asia-Pacific countries on Friday to kick off a global strike demanding world leaders gathering for a UN Climate Action Summit adopt..
Reuters - Published
Russia says U.S. missile deployments in Asia would be a threat
Russia's foreign ministry said on Thursday that a possible U.S. deployment of missiles in the Asia-Pacific region would pose a threat to international security.
Reuters - Published
Climate change could be making us fatter, dumber and more depressed: report
A new report has found climate change is having some unexpected consequences for people living in the Asia Pacific region.
SBS - Published
First Russian-Chinese air patrol in Asia-Pacific draws shots from South Korea
Russia carried out what it said was its first long-range joint air patrol in the Asia-Pacific region with China on Tuesday, a mission that triggered hundreds of warning shots, according to South Korean..
Reuters - Published
Russia says it flew first long-range air patrol with China in Asia-Pacific region
Russia's Ministry of Defence said on Tuesday it had conducted its first joint long-range air patrol with China in the Asia-Pacific region and that it had not been aimed at another country.
Reuters - Published
Asia-Pacific meth drug trade worth up to $61 billion, U.N. says
Transnational crime groups are trafficking vast quantities of methamphetamine made in Southeast Asia, the United Nations said on Thursday, putting the value of the Asia-Pacific market for the drug..
Reuters - Published
New Asia Pacific Facebook population maps
Social media giant Facebook is hoping disaster response efforts will be buoyed by new population maps created through its artificial intelligence firepower.
SBS - Published