Syria
Country in the Middle East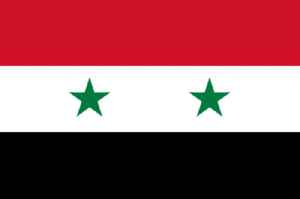 Syria, officially the Syrian Arab Republic, is a country in Western Asia, bordering Lebanon to the southwest, the Mediterranean Sea to the west, Turkey to the north, Iraq to the east, Jordan to the south, and Israel to the southwest. A country of fertile plains, high mountains, and deserts, Syria is home to diverse ethnic and religious groups, including Syrian Arabs, Kurds, Turkemens, Assyrians, Armenians, Circassians, Mandeans and Greeks. Religious groups include Sunnis, Christians, Alawites, Druze, Isma'ilis, Mandeans, Shiites, Salafis, and Yazidis. Arabs are the largest ethnic group, and Sunnis the largest religious group.


Syrian robot doubles as IT tutor

Fathi the robot emerged a year ago as a toy designed by engineer Youssef al-Qalam with the help of his classmates. It quickly developed to become an educational robot that has created a unique learning..
Credit: Reuters Studio Duration: 00:59
Published
Might Al Harrah desert drawings reveal the Middle East's forgotten past?

In this vast plain of the Al Harrah desert, stretching from Syria across north-eastern Jordan and into Saudi Arabia, ancient drawings are carved into volcanic basalt rock.View on euronews
Credit: euronews (in English) Duration: 03:01
Published
Syria-Russia alliance targeted civilians in Idlib: HRW report

The New York-based watchdog says the targeting of civilians by the Syrian-Russian alliance may amount to crimes against humanity.
Credit: Al Jazeera STUDIO Duration: 02:12
Published
'We don't have Syrian mercenaries': Ilham Aliyev speaks to France 24


Credit: FRANCE 24 English Duration: 00:45
Published
Syria's eggplant dish survives economic crisis

Every year, Syrian housewife and mother of two, Janette Elias, buys enough aubergines to make a year's supply of the famous local dish 'Makdous'. But this year, as economic burdens pile and sanctions..
Credit: Reuters Studio Duration: 01:13
Published
Syria's Kurds to allow families of IS fighters to leave squalid camp


Credit: FRANCE 24 English Duration: 01:31
Published
US brings charges against British suspected IS terrorists

Two British suspected terrorists are facing charges in the US over thebeheading of Western hostages. The US Justice Department announced the chargesagainst Alexanda Kotey, 36, and El Shafee Elsheikh,..
Credit: PA - Press Association STUDIO Duration: 02:11
Published
Turkey orders arrests over 2014 Kurdish protests

Turkish authorities have ordered the arrest of 82 people including members of a pro-Kurdish opposition party. The warrants are in relation to violent protests from 2014 against the siege by Islamic..
Credit: Reuters Studio Duration: 01:37
Published
Thousands take to streets in Germany to demand EU action over Moria migrants

The aunt of Alan Kurdi, the 3-year-old Syrian boy who drowned in the Mediterranean in 2015, joined protesters in Berlin to urge politicians to act.View on euronews
Credit: euronews (in English) Duration: 01:33
Published
Lebanese attempt to flee, claim asylum in Cyprus

For years the desperate migrants who boarded small boats on Lebanon's northern coast were mostly Syrians or Palestinians. But with Lebanon in freefall, it's citizens have started joining the ranks of..
Credit: Reuters Studio Duration: 01:32
Published
You Might Like



All Australian women and children reportedly moved from Syria's al-Hawl camp

There are reports the last Australian women and children have been taken from Syria's al-Hawl refugee camp, with advocates again calling for them to be repatriated back to Australia.




SBS - Published





Exclusive: Australia's first IS bride Zehra Duman and her children have fled to Turkey

The Melbourne-born woman - who had her Australian citizenship revoked for joining the terrorist organisation - has left the Al-Hol refugee camp in north-east Syria with her two young children, SBS News..




SBS - Published





Australian women and children snatched from Syria's al-Hawl camp in 'deeply concerning' incident

Reports have emerged of Australian women and children being abducted from the al-Hawl camp in Syria - with advocates expressing serious concern for their safety.




SBS - Published





Australia won't repatriate children stuck in squalid Syrian IS camp during coronavirus pandemic

Foreign Minister Marise Payne says it's too risky to repatriate dozens of Australian wives and children of captured IS fighters despite pressure from the United States.




SBS - Published





Families of the 67 Australian women and children kept in Syria say they feel 'betrayed' by the government

A large-scale identification operation was conducted in the Al-Hawl refugee camp last month, with families of the 67 Australians trapped there hoping it would lead to a breakthrough in repatriation..




SBS - Published





Feeling 'betrayed' by the government, families of the 67 Australian women and children kept in Syria renew repatriation calls

A large-scale identification operation was conducted in the Al-Hawl refugee camp last month to get countries to "assume their responsibilities towards their citizens". Now, the families of the 67..




SBS - Published





What happened to Tasmania's intake of Australia's 12,000 Syrian and Iraqi refugees?

Australia welcomed thousands Syrian and Iraqi refugees in a one-off intake beginning in 2015, but finding affordable housing and the desire to join larger migrant communities on the mainland meant not..




SBS - Published





U.N. mulls proposal to reopen Iraq crossing for pandemic aid to Syria

The United Nations Security Council is considered a proposal to reopen a border crossing from Iraq into Syria for six months to allow the delivery of humanitarian aid to help millions of Syrian..




Reuters - Published





Iran rejects U.S. sanctions on Syria, vows to boost trade with ally

Iran on Thursday condemned as inhumane a fresh round of U.S. sanctions against its regional ally Syria and said it would expand its trade ties with Damascus.




Reuters - Published





In rebel Syria, some welcome sanctions but fear for economy

In the last bastion of the rebellion against President Bashar al-Assad, Syrians who fled his rule see new U.S. sanctions as a step in the right direction but say they must be shielded from any fallout..




Reuters - Published





Syria says new tougher U.S. sanctions breach international law

Syria said Washington's toughest sanctions against President Bashar al-Assad's government, which came to effect on Wednesday, violated international law.




Reuters - Published





French court finds Bashar al-Assad's uncle guilty of property fraud

The exiled uncle of Syrian President Bashar al-Assad was found guilty on Wednesday of acquiring millions of euros worth of French property using funds diverted from the Syrian state, and sentenced to..




Reuters - Published




U.S. hits Syria with toughest sanctions yet to push Assad to end war

The United States on Wednesday imposed its toughest sanctions ever targeting Syrian President Bashar al-Assad to choke off revenue for his government in a bid to force it back to United Nations-led..




Reuters - Published





U.S. to impose sanctions aimed at blocking Syria military victory

The United States will impose sanctions on Wednesday aimed at cutting off revenue for Syrian President Bashar al Assad's government in a bid to push it back into United Nations-led negotiations and..




Reuters - Published





For Syrian family with 16 children, life at Turkish border only gets harder

Providing for 16 children including four sets of twins is only getting harder for Ahmad Yassin al-Ali and his wife Fawza Umri, Syrians who were forced to flee their home nearly a decade ago and are now..




Reuters - Published





What do new U.S. sanctions mean for Syria?

The toughest U.S. sanctions yet on Syria take effect this week, increasing the pressure on President Bashar al-Assad as he grapples with a deepening economic crisis after a decade of war.




Reuters - Published





Turkey and Russia put off talks expected to tackle Libya and Syria

Russia and Turkey have postponed ministerial-level talks which were expected to focus on Libya and Syria, where the two countries support opposing sides in long-standing conflicts.




Reuters - Published





Artists around the world pay tribute to George Floyd

Protests against racism triggered by the death of African American George Floyd have inspired art around the world, from murals in Syria and Pakistan to graffiti in Nairobi.




Reuters - Published





Syria's Assad removes prime minister as economic hardship grows

Syrian President Bashar al Assad on Thursday dismissed prime minister Imad Khamis, state media said, in a move that follows weeks of deepening economic hardship and a rare outbreak of anti-Assad..




Reuters - Published





Syria's Assad replaces prime minister: state media

Syrian President Bashar al Assad on Thursday removed prime minister Imad Khamis from the post he has occupied since 2016, state media said, in a move that follows weeks of deepening economic..




Reuters - Published




Protests hit Druze city in Syria for fourth day

Hundreds of Syrians in the mainly Druze city of Sweida took to the streets for a fourth day on Wednesday, protesting worsening economic conditions and demanding the downfall of Syrian President Bashar..




Reuters - Published





Turkey says radical groups trying to disrupt Idlib ceasefire

Radical groups in Syria's northwestern Idlib region are trying to disrupt a three-month-old ceasefire reached by Turkey and Russia but the agreement still stands, Turkish Defence Minister Hulusi Akar..




Reuters - Published





Erdogan says will not let Syria's Idlib become conflict zone again

President Tayyip Erdogan said on Tuesday the Syrian government was increasing provocations in northwest Syria's Idlib region and that Turkey would not allow it to become a conflict zone again.




Reuters - Published





Putin and Merkel discuss Syria, Libya, Ukraine in phone call: Kremlin

Russian President Vladimir Putin and German Chancellor Angela Merkel discussed Syria's humanitarian aid needs in a telephone call, the Kremlin said in a statement on Tuesday.




Reuters - Published





Air strikes break truce in rebel towns in Syria's northwest: witnesses

Military jets on Monday bombed several villages in rebel-held northwestern Syria in the first such air strikes since a Turkish-Russian deal produced a ceasefire over three months ago that halted major..




Reuters - Published





Exclusive: Russian hiring of Syrians to fight in Libya accelerated in May

A Russian drive to recruit Syrians to fight in Libya for militia leader Khalifa Haftar accelerated in May when hundreds of mercenaries were signed up, five Syrian opposition sources and a regional..




Reuters - Published





Turkish soldier killed, two wounded in Syria's Idlib, defence ministry says

One Turkish soldier was killed and two were wounded in the northwestern Syrian region of Idlib on Friday in an attack on an armoured ambulance, Turkey's Defence Ministry said.




Reuters - Published





Syrian court orders Syriatel placed under judicial custody

A Syrian court has ordered that Syriatel, owned by prominent businessman Rami Makhlouf, be placed under judicial custody amid a high-profile dispute over arrears, according to a document posted on the..




Reuters - Published





Syria says Israeli jets flying over Lebanon raid military base in Hama province

Syria state media said Thursday Israeli jets flying over Lebanon hit military targets in northwestern Hama province causing only material damage, in Israel's latest escalation of raids in the last few..




Reuters - Published





Syrian air defences intercept missiles in Hama province: state media

Syrian air defences thwarted an unidentified missile attack on a city in northwestern Hama province, state media said on Thursday.




Reuters - Published





Russia sends second batch of fighter jets to Syria: embassy

Russia flew a batch of advanced MiG-29 fighter jets to Syria, Moscow's embassy in Damascus said, with Syrian pilots already using the planes to conduct missions within the country's airspace.




Reuters - Published





Russia to hold talks with Syria about obtaining more facilities, maritime access: Ifax

President Vladimir Putin has ordered Russia's defence and foreign ministries to hold talks with Syria for Moscow to obtain additional facilities and maritime access in Syria, the Interfax news agency..




Reuters - Published





Turkish soldier killed in Syria's Idlib after explosion along M4 highway: ministry

A Turkish soldier was killed in the northwestern Syrian region of Idlib on Wednesday after an explosion along the M4 highway, Turkey's Defence Ministry said in a statement.




Reuters - Published





France sees Syria scenario being replicated in Libya: minister

French Foreign Minister Jean-Yves le Drian said on Wednesday the situation in Libya was very worrying, warning the Syria scenario was being replicated in the country.




Reuters - Published





U.S. sanctions advisory raises hurdles for global maritime industry

Ship owners and insurers say it may be impossible for the maritime industry to fully comply with the Trump administration's new guidelines on how to avoid sanctions penalties related to Iran, North..




Reuters - Published





Roadside bomb in Syria's Idlib wounds Turkish soldiers: Demiroren

A roadside bomb exploded in Syria's northwestern region of Idlib as a Turkish military convoy passed by, Demiroren news agency reported on Wednesday.




Reuters - Published





Syria eases coronavirus curbs, new cases jump after expats return

Syria said on Monday it would lift an overnight curfew starting Tuesday and allow movement between governorates, easing coronavirus lockdown measures even as the health ministry reported the largest..




Reuters - Published





Syria lifts night-time curfew from Tuesday, allows movement between governorates

Syria announced on Monday it will lift a night-time curfew, starting Tuesday evening, and will allow movement between governorates, state television said.




Reuters - Published





Syria records 20 new coronavirus cases in largest single-day increase

Syria reported 20 new cases of the novel coronavirus on Monday, the largest single-day increase to date, the health ministry said.




Reuters - Published





Trump, Erdogan discussed need for 'rapid de-escalation' in Libya: White House

U.S. President Donald Trump and Turkish President Tayyip Erdogan on Saturday discussed turmoil in Libya and Syria, as well as reopening economies around the world amid the global coronavirus pandemic,..




Reuters - Published





Trump and Erdogan discuss Libya, Syria in call: Ankara

U.S. President Donald Trump and Turkish counterpart Tayyip Erdogan agreed to continue close military and political cooperation in a phone call in which Libya and Syria were discussed, the Turkish..




Reuters - Published





Syria puts temporary travel ban on businessman Rami Makhlouf: ministry on Facebook

A Syrian court has placed a temporary travel ban on prominent businessman Rami Makhlouf, a copy of the court order posted on the Ministry of Justice's Facebook page showed on Thursday, amid a..




Reuters - Published




In Syria's war-torn Idlib, travelling barbers bring children relief

At a soccer stadium in Syria's Idlib re-purposed to shelter people displaced by war, children are being offered a service highly sought after since the coronavirus pandemic set in: a haircut.




Reuters - Published





China, U.S. coronavirus tensions spill over in U.N. Syria meeting

Growing tensions between China and the United States around the coronavirus pandemic publicly spilled over on Tuesday during a U.N. Security Council meeting on humanitarian aid operations in Syria as..




Reuters - Published





Syrian government orders seizure of assets of Assad's cousin Makhlouf

The Syrian government ordered the seizure of assets belonging to President Bashar al-Assad's cousin Rami Makhlouf, one of Syria's richest men, as well as his wife and children, according to a..




Reuters - Published




Syria's warring parties agree to Geneva talks: U.N. envoy

Opposing sides in Syria's conflict have agreed to reconvene in Geneva for negotiations on the constitution, United Nations Special Envoy Geir Pedersen said on Tuesday, adding that a lull in fighting..




Reuters - Published





Amid 'some calm', U.N. envoy urges U.S., Russia push for Syria peace

The United Nations Syria mediator urged the United States and Russia on Monday to make the most of "some calm" in the war-torn country and talk with each other about a push for peace.




Reuters - Published





Syrian minister says Western sanctions hitting health services

Syria's health minister told the World Health Organization on Monday that "coercive and unfair" Western sanctions were hitting medical services trying to cope with coronavirus in his war-torn country..




Reuters - Published





Israel's outgoing defence minister says Iran starting to withdraw from Syria

Iran has begun withdrawing its forces from Syria, Israel's outgoing defence minister said on Monday, without offering any evidence to support his assertion.




Reuters - Published





Iran Supreme Leader says Americans will be expelled from Iraq and Syria

Americans will be expelled from Iraq and Syria, Iran's Supreme Leader Ayatollah Ali Khamenei said on Sunday, renewing Iran's demand for U.S. troops to be withdrawn from the Middle East.




Reuters - Published