Anti-Zionism
Opposition to Zionism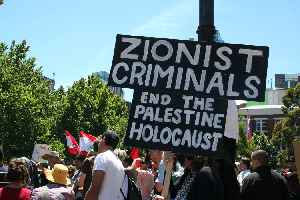 Anti-Zionism is opposition to Zionism. The term is broadly defined in the modern era to denote opposition to the political movement of Jews to self-determination within the territory of the historic Land of Israel. Anti-Zionism is also defined as opposition to the State of Israel or, prior to 1948, its establishment.


U.S. may review ties with countries deemed anti-Israel: envoy
The United States may review its ties with countries it deems as being anti-Israel after what a U.S. envoy said on Sunday was a shift in policy toward equating anti-Zionism with anti-Semitism.
Reuters - Published
Labor loses WA candidate over Israel views
Labor's candidate for the West Australian seat of Curtin, Melissa Parke, has stepped aside after reports emerged about her strong anti-Israeli comments.
SBS - Published
Israel says U.N. Gaza war crimes report biased against it
Israel said on Thursday a U.N. report critical of its use of lethal force during Palestinian protests on the Gaza border was biased and should have included a demand that the enclave's dominant Hamas..
Reuters - Published
Search this site and the web:
You Might Like