Headquarters of the United Nations
Group of buildings in New York City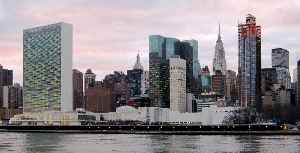 The United Nations is headquartered in New York City, in a complex designed by a board of architects led by Wallace Harrison, and built by the architectural firm Harrison & Abramovitz. The complex has served as the official headquarters of the United Nations since its completion in 1952. It is located in the Turtle Bay neighborhood of Manhattan, on 17 to 18 acres of grounds overlooking the East River. Its borders are First Avenue on the west, East 42nd Street to the south, East 48th Street on the north and the East River to the east. The term "Turtle Bay" is occasionally used as a metonym for the UN headquarters or for the United Nations as a whole.


Iran's Rouhani may cancel U.N. visit if U.S. visa not issued soon: state media
Iranian President Hassan Rouhani may cancel his trip to New York next week for the annual gathering of world leaders at the United Nations if the United States fails to issue visas for him and Foreign..
Reuters - Published
Iranian diplomats, families living in New York face U.S. travel curbs
The United States has tightly restricted the travel of more than a dozen Iranian diplomats and their families living in New York, according to a U.S. diplomatic note to sent to the Iran mission to the..
Reuters - Published
Climate activist Thunberg arrives at NY harbor
Teenage climate activist Greta Thunberg arrived at the New York Harbor on Wednesday as she finished her 14-day journey on a zero-carbon emissions vessel. Rough Cut (no reporter narration).
Credit: Reuters Studio Duration: 00:32Published
"It's very rough, very high waves" - Thunberg posts update on zero-carbon transatlantic sail
Swedish teenager Greta Thunberg posted an update from her zero-carbon journey on Sunday (August 25) as her transatlantic crossing hit stormy weather. Rough cut (no reporter narration).
Credit: Reuters Studio Duration: 00:20Published
Teens stand in cage outside U.N. HQ to protest U.S. immigration policy
Teenagers stood inside a metal cage outside U.N. headquarters in Geneva on Monday to punctuate a protest by American and Mexican activists demanding that migrant children in U.S. custody be reunited..
Reuters - Published
Britain urges 'stronger measures' at U.N. if no progress on Yemen's Hodeidah deal
The United Nations' Security Council should consider "stronger measures" if there was no progress in the coming weeks on a deal between Yemen's warring parties on a key port, Britain said on Monday, as..
Reuters - Published
Search this site and the web:
You Might Like