Victorian era
Period of British history encompassing Queen Victoria's reign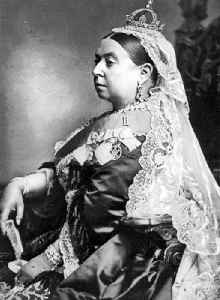 In the history of the United Kingdom, the Victorian era was the period of Queen Victoria's reign, from 20 June 1837 until her death on 22 January 1901. The era followed the Georgian period and preceded the Edwardian period, and its later half overlaps with the first part of the Belle Époque era of Continental Europe. In terms of moral sensibilities and political reforms, this period began with the passage of the Reform Act 1832. There was a strong religious drive for higher moral standards led by the nonconformist churches, such as the Methodist, and the Evangelical wing of the established Church of England. Britain's relations with the other Great Powers were driven by the colonial antagonism of the Great Game with Russia, climaxing during the Crimean War; a Pax Britannica of international free trade was maintained by the country's naval and industrial supremacy. Britain embarked on global imperial expansion, particularly in Asia and Africa, which made the British Empire the largest empire in history. National self-confidence peaked.


CBD Melbourne: A trip south is crossing enemy lines
Sydneysiders head south to let Victorians know that other states are stepping up to the plate when it comes to culture.
The Age - Published
Victorian women's group cautions against birth certificate reforms
With Victorian MPs weighing up changes to legislation surrounding gender and birth certificates, one women's group fears basic sex-based rights could become a thing of the past.
SBS - Published
Orlando Bloom and Cara Delevingne star in new Amazon Prime series Carnival Row
Orlando Bloom and Cara Delevingne star in Carnival Row, a series set in a Victorian fantasy world filled with mythological immigrant creatures whose exotic homelands were invaded by the empires of man.
Credit: PA - Press Association STUDIO Duration: 02:00Published
'Treacherous conditions' warning as snow blankets parts of Victoria
Surprising snowfall at relatively low levels has surprised Victorians.
SBS - Published
Snow delights in Vic but warnings remain
Surprising snowfall at relatively low levels has surprised Victorians.
SBS - Published
Search this site and the web:
You Might Like