Mongolia
Large country in East Asia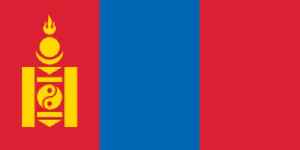 Mongolia is a landlocked country in East Asia. Its area is roughly equivalent with the historical territory of Outer Mongolia, and that term is sometimes used to refer to the current state. It is sandwiched between Russia to the north and China to the south, where it neighbours the Inner Mongolia Autonomous Region. Mongolia does not share a border with Kazakhstan, although only 37 kilometres (23 mi) separate them.


New species of parrot-like dinosaur discovered

A newly discovered species of toothless, two-fingered dinosaur has shed lighton how a group of parrot-like animals thrived more than 68 million years ago.The unusual species had one less finger on each..
Credit: PA - Press Association STUDIO Duration: 01:14
Published
Pompeo seeks to shore up support among Asian allies

U.S. Secretary of State Mike Pompeo on Tuesday visited Tokyo to meet with some of Washington's closest allies in Asia, Japan, Australia and India, to shore up support against what the United States..
Credit: Reuters - Politics Duration: 01:23
Published
Watch: Massive anti-China protest outside Chinese Consulate in Toronto

A massive anti-China protest was held outside the Chinese Consulate in Canada's Toronto. The protest was organised on the 71st National Day of People's Republic of China. Members of Hong Kong, Tibetan,..
Credit: HT Digital Content Duration: 01:48
Published
You Might Like



Amid suicide and threats to their language, ethnic Mongolians in Australia cautiously speak out

In the autonomous region of Inner Mongolia in China, a move to reduce teaching in the Mongolian language in favour of Mandarin has led to rare mass protests and concern among the Mongolian diaspora in..




SBS - Published





Mongolia reports three new coronavirus cases repatriated from South Korea, Germany

Mongolia has reported three new coronavirus cases among citizens repatriated by specially chartered planes from South Korea and Germany, the country's emergency commission said on Tuesday.




Reuters - Published





Mongolia confirms its first coronavirus case in French worker

Mongolia said on Tuesday that a French national working in the country has been confirmed to be infected with the coronavirus that has spread throughout the globe, marking the country's first case.




Reuters - Published




Mongolian president placed under quarantine after returning from China - state media

Mongolia's President Battulga Khaltmaa and other government officials have submitted to a 14-day quarantine after returning home from their visit to China, the state news agency Montsame reported on..




Reuters - Published





Mongolia halts all flights from South Korea, blocks entry until March 2

Mongolia's National Emergency Commission has halted all flights from South Korea and will block entry through its borders until March 2 as it steps up its efforts to prevent the spread of the..




Reuters - Published





Mongolia to shut schools until March 30 to curb virus outbreak

Mongolia will keep all its schools shut until March 30 in order to prevent the coronavirus from spreading in the country, the government said on Wednesday.




Reuters - Published





Mongolia closes border to China until March 2 to stop virus

Mongolia will close all ports of entry from and into China until March 2 to try to prevent the spread of the coronavirus epidemic, the government said on Friday.




Reuters - Published





Mongolia shuts universities, border crossings to halt virus spread

Mongolia has closed from Monday until Mar. 2 all universities and educational institutes to contain the spread of a deadly coronavirus sweeping China, state media Montsame said, citing a cabinet..




Reuters - Published





Malaysia's Najib ordered killing of Mongolian model, says former bodyguard

A Malaysian police officer on death row for the 2006 slaying of a Mongolian model has accused former prime minister Najib Razak of ordering him to kill the woman, according to media reports and the..




Reuters - Published





Mongolia amends constitution in bid to end political instability

Mongolia has amended its constitution for the second time since it was ratified in 1992, strengthening the powers of the prime minister in a bid to end years of costly political instability and..




Reuters - Published





Mongolia arrests 800 Chinese citizens in cybercrime probe

Police in the Mongolian capital of Ulaanbaatar have apprehended 800 Chinese citizens and confiscated hundreds of computers and mobile phone SIM cards as part of an investigation into a cybercrime ring,..




Reuters - Published





With an eye on Russia, China and a horse, Pentagon chief visits Mongolia

U.S. Defense Secretary Mark Esper met senior Mongolian leaders on Thursday in a rare visit to the strategically important nation as the Pentagon seeks to implement its strategy of focusing on..




Reuters - Published




'Victory': Trump reveals name for Mongolian gift horse

U.S. President Donald Trump on Wednesday revealed the name he chose for a horse that was somewhat symbolically given to his 13-year-old son, Barron, by visiting Mongolian President Battulga Khaltmaa:..




Reuters - Published





A horse for Barron Trump: Mongolian president seeks name for gift steed

Mongolian President Battulga Khaltmaa will visit the White House on Wednesday, seeking help from President Donald Trump on trade and military deals - and possibly a name for the horse his government..




Reuters - Published





Democratic but deadlocked, Mongolia braces for 'inevitable' political change

An hour's drive from Mongolia's capital Ulaanbaatar, a lavish monument to national hero Genghis Khan could provide a salutary lesson to the man who built it a decade ago: champion wrestler, businessman..




Reuters - Published





Eletro-belts, spiked batons, even a gas chamber - EU seeks ban on trade in torture items

Trade in instruments for torture and execution should be illegal and could one day be banned under an initiative spearheaded by the European Union, Argentina and Mongolia, EU Trade Commissioner Cecilia..




Reuters - Published