Capitol Hill
United States historic place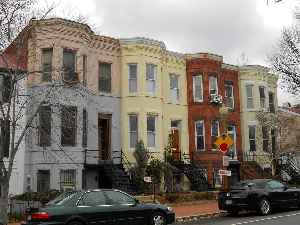 Capitol Hill, in addition to being a metonym for the United States Congress, is the largest historic residential neighborhood in Washington, D.C., stretching easterly in front of the United States Capitol along wide avenues. It is one of the oldest residential neighborhoods in Washington, D.C., and with roughly 35,000 people in just under 2 square miles (5 km2), it is also one of the most densely populated.


Ex-Ukraine envoy removed by Trump arrives to testify in impeachment probe
The former U.S. ambassador to Ukraine who Donald Trump has called "bad news" arrived on Capitol Hill to testify on Friday in the House of Representatives impeachment inquiry into the president, while..
Reuters - Published
U.S. ex-ambassador to Ukraine meets with lawmakers amid impeachment inquiry
Former U.S. ambassador to Ukraine Marie Yovanovitch arrived on Capitol Hill on Friday for a scheduled appearance before House lawmakers, as House Democrats continue their impeachment inquiry into U.S...
Reuters - Published
Schumer fears China's Xi 'laughing at us' over trade deal
Senate Minority Leader Chuck Schumer on Wednesday doubled down on his rejection of Phase 1 of the U.S.-China trade deal, saying President Donald Trump should "throw it away and take China back to the..
Credit: Reuters Studio Duration: 01:52Published
Pelosi: House is 'passing' war powers resolution
U.S. House Speaker Nancy Pelosi on Thursday said the U.S. House of Representatives would be passing a war powers resolution intended to prevent Trump from waging war against Iran without congressional..
Credit: Reuters Studio Duration: 01:42Published
The biggest moments in the march to impeachment
After months of investigation, hours of testimony and plenty of heated debate, the U.S. House of Representatives impeached President Donald Trump. Here are the most consequential moments leading up to..
Credit: Reuters Studio Duration: 09:52Published
Dems seek to bolster impeachment case at hearing
U.S. Democrats on Monday sought to strengthen the case for impeaching President Donald Trump, describing his pressuring of Ukraine to investigate a political rival as a "clear and present danger"..
Credit: Reuters - Politics Duration: 04:07Published
Impeachment Gains Momentum
WASHINGTON (Reuters) - Democrats in the House of Representatives are drafting articles of impeachment against President Donald Trump and the Judiciary Committee may hold a vote this week, the panel's..
Credit: Wochit News Duration: 00:32Published
Prof. Turley: 'You need to stick the landing on the quid pro quo'
During questioning of professor Jonathan Turley during the House Judiciary Committee hearing on Donald Trump's impeachment inquiry, Turley explains there is a difference between requesting an..
Credit: Reuters Studio Duration: 01:33Published
Search this site and the web:
You Might Like