Capitol Hill
United States historic place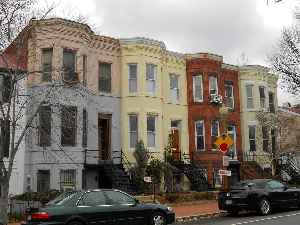 Capitol Hill, in addition to being a metonym for the United States Congress, is the largest historic residential neighborhood in Washington, D.C., stretching easterly in front of the United States Capitol along wide avenues. It is one of the oldest residential neighborhoods in Washington, D.C. and, with roughly 35,000 people in just under 2 square miles (5 km2), it is also one of the most densely populated.


GOP 'full steam ahead' on Barrett after Trump test

Republicans Friday said they would push forward with Senate Judiciary Committee hearings on Trump's Supreme Court replacement, even after Trump tested positive for COVID-19 and went into isolation...
Credit: Reuters - Politics Duration: 01:31
Published
WH defends Trump's white supremacy response

[NFA] Days after the first presidential debate, and the White House is still on the defensive about the president's comments, or the lack thereof, over white supremacy. This report produced by Jonah..
Credit: Reuters - Politics Duration: 02:46
Published
Powell: Congress, Fed need to 'stay with' aid

In his second trip to Capitol Hill this week, Federal Reserve Chairman Jerome Powell told lawmakers that assistance from the Fed and Congress are needed to bolster the economic recovery.
Credit: Reuters Studio Duration: 00:59
Published
Rand Paul Goes Full 'Herd Immunity' On Fauci, And Fauci's Not Having It

Sen. Rand Paul, R-Ky. and Dr. Anthony Fauci went head to head on Capitol Hill on Wednesday about the issue of 'herd immunity' and the COVID-19 pandemic. Business Insider reports that Paul argued that..
Credit: Wochit News Duration: 00:40
Published
'The fight starts again' -Stewart on veterans bill

Former "Daily Show" host Jon Stewart joined lawmakers and families of veterans on Capitol Hill Tuesday to support a bill to help American soldiers who were exposed to toxic burn pits in the wars that..
Credit: Reuters Studio Duration: 02:03
Published
You Might Like
Search this site and the web: