Carnival Corporation & plc
British–American global cruise company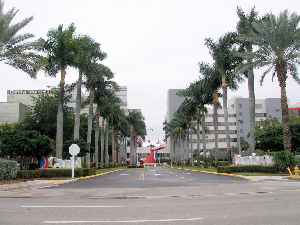 Carnival Corporation & plc is a British-American cruise operator, currently the world's largest travel leisure company, with a combined fleet of over 100 vessels across 10 cruise line brands. A dual-listed company, Carnival is composed of two companies, Panama-incorporated US-headquartered Carnival Corporation and UK-based Carnival plc, which function as one entity. Carnival Corporation is listed on the New York Stock Exchange and Carnival plc is listed on the London Stock Exchange. As such, Carnival is the only company in the world to be included in both the S&P 500 and FTSE 100 indices.


You Might Like
Australia links coronavirus outbreak in remote south to Carnival Corp cruise ship
A coronavirus outbreak in Australia's remote southern island state of Tasmania likely originated from the Ruby Princess cruise ship, a government report published on Thursday concluded, as the national..
Reuters - Published
Owner of Ruby Princess cruiser pays no company tax in Australia
The revelations come even though the Australian market has proved a big money spinner for Carnival Corporation.
The Age - Published
Virus-hit Carnival cruise ship docks in Australia as country's death toll hits 40
Carnival Corp's troubled Ruby Princess cruise liner, the biggest single source of coronavirus infections in Australia, docked south of Sydney on Monday to get help for sick crew members requiring..
Reuters - Published
Coronavirus-hit Princess cruise operator suspends global operations
Princess Cruises, the operator of two coronavirus-stricken ships, said on Thursday it would suspend global operations of its 18 cruise ships for two months, sending shares of its parent company..
Reuters - Published
Cruise operator Carnival sees hit to earnings from coronavirus fallout
Carnival Corp , the operator of a cruise ship quarantined in Japan due to coronavirus cases, warned on Wednesday of a hit to its annual earnings from a potential suspension of its operations in Asia..
Reuters - Published
Cruise ships collide in Mexico's Cozumel, damaging Carnival liner
Two cruise ships collided in a port in Mexico's Cozumel on Friday morning, causing damage to the stern of Carnival Corporation's Carnival Glory, videos posted on social media by passengers on a third..
Reuters - Published