John Legend
American singer, songwriter, producer, actor, and theatre director from Ohio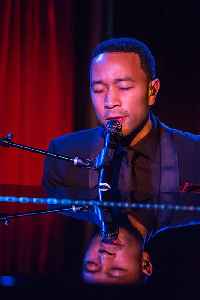 John Roger Stephens, known professionally as John Legend, is an American singer, songwriter, record producer, actor, film producer, theatre director, and philanthropist. Prior to the release of Legend's debut album, Get Lifted (2004), he had collaborated with already established artists and signed to Kanye West's GOOD Music. Legend has sung on Jay-Z's "Encore", Alicia Keys's "You Don't Know My Name", Dilated Peoples' "This Way", Slum Village's "Selfish", Fort Minor's "High Road", and played piano on Lauryn Hill's "Everything Is Everything". Legend's single "All of Me" from his fourth studio album Love in the Future (2013) was a Billboard Hot 100 number-one hit.


You Might Like
Chrissy Teigen Describes Heartbreaking Moment She Said Goodbye to Son Jack
Chrissy Teigen says she's trying her best to move on from the death of her son, Jack ... but, understandably, she needs to pour out her heart first. Chrissy's opening up about the devastating loss she..
TMZ.com - Published
Chrissy Teigen Breaks Silence After Son's Death
Chrissy Teigen's still healing from the unimaginable loss of their baby boy, but she's assuring fans she and John Legend are getting through it. As you know, Chrissy's been silent on social media since..
TMZ.com - Published
Chrissy Teigen's Mom Posts Video, Pic Tribute to Grandson Jack
Chrissy Teigen's mom is sharing her agony over Chrissy and John Legend losing their son, Jack ... with a series of deeply moving pictures and videos honoring him. Vilailuck Teigen posted these pictures..
TMZ.com - Published
Chrissy Teigen and John Legend Lose Third Child
Chrissy Teigen and John Legend just suffered an unimaginable loss ... their son has died. Chrissy shared the devastating news Wednesday, saying their son, who they'd named Jack, couldn't survive..
TMZ.com - Published
What's The Big Frigin' Difference?
Don't let these two almost identical images of John Legend have you feeling rushed ... take some time to check out these photos and see if you can spot the sneaky switches that have been made to the..
TMZ.com - Published
John Legend, Chrissy Teigen Selling Beverly Hills House for $23.95M
John Legend and Chrissy Teigen are about to become a family of 5 ... so they need a new and possibly bigger house to reflect that. The famous couple just listed their Beverly Hills crib -- once..
TMZ.com - Published