Perth
City in Western Australia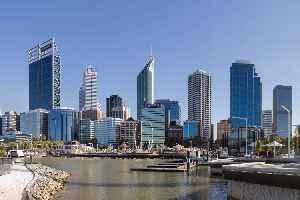 Perth is the capital and largest city of the Australian state of Western Australia (WA). It is named after the city of Perth, Scotland and is the fourth-most populous city in Australia, with a population of 2.06 million living in Greater Perth. Perth is part of the South West Land Division of Western Australia, with the majority of the metropolitan area located on the Swan Coastal Plain, a narrow strip between the Indian Ocean and the Darling Scarp. The first areas settled were on the Swan River at Guildford, with the city's central business district and port (Fremantle) both later founded downriver.


Bushfire threat east of Perth
An emergency warning has been issued for a fast-moving bushfire east of Perth, with residents warned burning embers are likely to be blown around homes.
SBS - Published
Shorten makes pitch to big miners in Perth
Labor leader Bill Shorten is promising big business he can deliver "win-win" results for workers and bosses as he outlines his approach to industrial relations.
SBS - Published
Election campaign reaches business end
Prime Minister Scott Morrison will begin his day in Tasmania on Wednesday while Labor leader Bill Shorten addresses a business breakfast in Perth.
SBS - Published
Liberal MP Irons snaps at Perth heckler
WA Liberal Steve Irons accused Labor of voting "for pedophiles, sex offenders and rapists" after being confronted by a heckler while campaigning in Perth.
SBS - Published
Culleton spotted as PM campaigns in Perth
Former federal senator Rod Culleton has been spotted drinking a beer while watching Prime Minister Scott Morrison hit the campaign trail in Perth.
SBS - Published
Hanson in heated exchange with Labor's Aly
One Nation leader Pauline Hanson and Labor politician Anne Aly have had a heated confrontation in Perth about a luncheon they attended three years ago.
SBS - Published
Fears caged eggs sold as free-range in WA
An investigation is underway into allegations caged eggs have been falsely labelled free-range or barn and sold at Perth supermarkets.
SBS - Published
Nurse stabbed in neck at Perth hospital
Police have charged a 30-year-old man over a stabbing attack on a 55-year-old nurse who was on duty at a hospital in Perth.
SBS - Published
You Might Like