Queensland
North-east state of Australia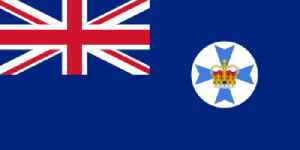 Queensland is a state situated in northeastern Australia, and is the second-largest and third-most populous Australian state. It is a federated state and a parliamentary constitutional monarchy, and is bordered by the Northern Territory, South Australia and New South Wales to the west, south-west and south respectively. To the east, Queensland is bordered by the Coral Sea and Pacific Ocean. To its north is the Torres Strait, separating the Australian mainland from Papua New Guinea. With an area of 1,852,642 square kilometres (715,309 sq mi), Queensland is the world's sixth-largest sub-national entity, and is larger than all but 15 countries. Due to its size, Queensland's geographical features and climates are diverse, including tropical rainforests, rivers, coral reefs, mountain ranges and sandy beaches in its tropical and sub-tropical coastal regions, as well as deserts and savanna in the semi-arid and desert climactic regions of its interior.


Woman has baby with man three decades older than her – after being introduced by his ex-wife

Evie Smith, 33, often receives compliments about her "lovely dad" when she hasbeen out with him and their son, Thomas, five. A committed Christian whomarried a man 31 years her senior after being..
Credit: PA - Press Association STUDIO Duration: 00:58
Published
Surfer killed in shark attack on Australia's Gold Coast

A 46-year-old Australian man died from a suspected shark attack while surfing off the country's Gold Coast, Queensland police said late on Tuesday, the first in the region in more than 60 years.
Credit: Reuters Studio Duration: 01:01
Published
Shark Attack Kills Surfer In Australia

An Australian man died after he was attacked by a shark on Tuesday. He was surfing at a popular spot in Queensland, authorities say. CNN reports that the 46-year-old man was bitten on his leg just..
Credit: Wochit News Duration: 00:36
Published
You Might Like



Annastacia Palaszczuk claims victory in Queensland election, says she is confident of winning majority

Labor will return to power in Queensland, likely retaining its majority but potentially having to govern with support from a minor party.




SBS - Published





Annastacia Palaszczuk 'confident of Labor majority government' as Deb Frecklington concedes defeat

Labor will return to power in Queensland, likely retaining its majority but potentially having to govern with support from a minor party.




SBS - Published





Queensland election: Early counting suggests swing towards Labour and Greens as One Nation vote collapses

The Greens party hold onto their vote as One Nation loses support in Brisbane. Early counting suggests Labor is pulling ahead.




SBS - Published





Queensland election: Polls close as voters choose between Annastacia Palaszczuk and Deb Frecklington

Queensland's Labor and Liberal National parties are offering two different visions for the state's future as voters head to the polls today.




SBS - Published





Giant hailstones pummel Queensland, New South Wales

Hailstones and severe thunderstorms are lashing New South Wales and Queensland.




SBS - Published





Hail and heavy storms in New South Wales and Queensland

Hailstones and severe thunderstorms are lashing New South Wales and Queensland.




SBS - Published





'Open the borders': Queensland Premier Annastacia Palaszczuk heckled on state election day

Queensland's Labor and Liberal National parties are offering two different visions for the state's future as voters head to the polls today.




SBS - Published





Annastacia Palaszczuk and Deb Frecklington make final bid for votes in Queensland state election

Queensland's Labor and Liberal National parties are offering two different visions for the state's future as voters head to the polls today.




SBS - Published





Both Queensland leaders make final bid for votes as polls open in state election

Queensland's Labor and Liberal National parties are offering two different visions for the state's future as voters head to the polls on Saturday.




SBS - Published





The Indian-born candidates hoping to make history in the Queensland election

Labor, the LNP, the Greens and Pauline Hanson's One Nation are all running candidates in Saturday's election who would become the state's first Indian-born MPs in 25 years if elected - but..




SBS - Published





'It's a personal matter': An emotional Annastacia Palaszczuk defends euthanasia stance at Queensland leaders' debate

The Queensland premier has pledged a parliamentary conscience vote on voluntary-assisted dying if she wins Saturday's state election.




SBS - Published




Gladys Berejiklian 'disappointed' as Queensland border remains closed to Sydney

Queensland will reopen to all of regional NSW from Tuesday but Sydneysiders and Victoria will remain on the COVID-19 border blacklist.




SBS - Published





Queensland border will re-open to regional NSW, but remain closed to Sydney and Victoria

Queensland will reopen to all of regional NSW from Tuesday but Sydneysiders and Victoria will remain on the COVID-19 border blacklist.




SBS - Published




Watch: Queensland COVID-19 update

Queensland Premier Annastacia Palaszczuk is speaking with an update on COVID-19 and borders.




SBS - Published





'Enough is enough': Gladys Berejiklian calls for states to open borders, pull their weight on hotel quarantine

NSW Premier Gladys Berejiklian has issued some strong words over state border closures, but her Queensland counterpart says she's just trying to distract from her own issues.




SBS - Published





Why this Queensland election is different — states are back at the forefront of political attention

State elections usually cast few ripples, but this year is different. State governments matter now, in ways they haven't for decades.




SBS - Published





Health officials investigate mystery coronavirus strain on cargo ship off Queensland coast

The MV Sofrana Surville was blocked from docking in Brisbane after New Zealand warned it could be carrying a new mutated strain of the virus.




SBS - Published




Queensland opposition leader Deb Frecklington denies youth curfew is racist

Liberal National Party leader Deb Frecklington says "people are being racist" about her plan for a youth curfew in two north Queensland cities.




SBS - Published




LNP leader denies youth curfew is 'racist'

Liberal National Party leader Deb Frecklington says "people are being racist" about her plan for a youth curfew in two north Queensland cities.




SBS - Published





Queensland investigating possible illegal clearing of critically endangered black grevillea plant

Authorities are investigating after 20 per cent of the critically endangered wild black grevillea population was allegedly illegally cleared in Queensland.




SBS - Published





Queensland opposition draws accusations of dogwhistling with its youth curfew election pledge

The Queensland opposition has promised a youth curfew trial if it wins the upcoming election, but not everyone is thrilled by the pledge.




SBS - Published




Steven Miles downplays reports of new coronavirus strain on freight ship off Queensland's coast

Deputy Premier Steven Miles has played down fears a freight ship off the Queensland coast may be carrying a new strain of COVID-19 as testing continues.




SBS - Published





Watch: The Prime Minister is live

The Prime Minister Scott Morrison is speaking live. Earlier, the Prime Minister was stranded in far north Queensland due to technical issues with his plane.




SBS - Published





Four to a bed and escorted by guards: Biloela family describes tough year on Christmas Island

Tamil asylum seeker Priya Murugappan - who along with her husband and two children is facing deportation from Australia - tells SBS News what life has been like away from her Queensland community.




SBS - Published





Vic stowaway found in truck at Qld border

A Victorian woman has been fined $4003 after she allegedly stowed away in a freight truck in a bid to cross Queensland's southern border.




SBS - Published





Victorian woman fined $4,003 after she was found hiding in freight truck at Queensland border

Victoria recorded six new cases of coronavirus and no deaths, with concerns mounting about an outbreak in a town in the state's regions.




SBS - Published





Scott Morrison's car splashed with fake blood by refugee rights activists in Queensland

Scott Morrison's visit to the University of Queensland turned sour this morning after his car and a university building were hit with fake blood.




SBS - Published





'Not something to boast of': Scott Morrison criticises Annastacia Palaszczuk over Queensland border closures

Prime Minister Scott Morrison says Queensland's border with NSW shouldn't be shut longer than 'absolutely necessary' because it's hurting jobs.




SBS - Published





Don't boast about Qld border closure: PM

Prime Minister Scott Morrison says Queensland's border with NSW shouldn't be shut longer than "absolutely necessary" because it's hurting jobs.




SBS - Published





Sydney nurse tests positive to COVID-19 as NSW records three new cases

NSW has recorded just two new locally acquired cases of coronavirus as its war of words with the Queensland government continues.




SBS - Published





NSW records two new local COVID-19 cases

NSW has recorded just two new locally acquired cases of coronavirus as the war of words between the NSW and Queensland governments continues.




SBS - Published





Remember Quexit? Five reasons you should not take your eyes off the Queensland election

While the Northern Territory went to the polls in late August and the ACT will vote on 17 October, Queensland's will be the most significant election in Australia since the start of COVID-19.




SBS - Published





NSW records five new local coronavirus cases as state accused of 'giving up' on border target

NSW has recorded five new locally acquired cases of COVID-19, increasing the likelihood that the border reopening with Queensland will be delayed.




SBS - Published





More 'local' NSW COVID-19 cases expected

More locally-transmitted cases of COVID-19 are expected to be confirmed over coming days, possibly delaying the Queensland border reopening.




SBS - Published





NSW records eight new community-acquired coronavirus cases

Authorities in NSW are scrambling to contact-trace new locally acquired coronavirus infections amid fears the border clock with Queensland will be reset.




SBS - Published





NSW racing to trace contacts of new coronavirus cases as Queensland border deadline looms

For the first time in almost two weeks, NSW has new locally acquired coronavirus infections, raising fears the border clock with Queensland will be reset.




SBS - Published





NSW racing to trace contacts of new cases

For the first time in almost two weeks, NSW has new locally acquired coronavirus infections, raising fears the border clock with Queensland will be reset.




SBS - Published





Queensland plans to reopen border to NSW visitors next month under new coronavirus roadmap

Queensland recorded two new cases of COVID-19 on Friday, both of whom were ship crew.




SBS - Published




Tasmania to reopen borders to 'low-risk' coronavirus states from end of the month

Travellers from South Australia, Western Australia, Queensland, the Northern Territory and the Australian Capital Territory will be able to return to Tasmania from 26 October.




SBS - Published





Sixth day of no local COVID-19 cases in NSW amid new Queensland bubble

NSW notched its sixth consecutive day without community coronavirus transmission on Thursday, as Queensland's border bubble officially shifted further south.




SBS - Published





NSW records sixth day without community COVID-19 transmission as new Queensland bubble comes into effect

NSW notched its sixth consecutive day without community coronavirus transmission on Thursday, as Queensland's border bubble officially shifted further south.




SBS - Published





No new locally acquired virus cases in NSW

Pressure is mounting on Gladys Berejiklian to relax restrictions in regional NSW as the Queensland border bubble extends 100km into her state.




SBS - Published





Expanded Queensland border bubble comes into effect as pressure to open up regional NSW grows

Pressure is mounting on Gladys Berejiklian to relax restrictions in regional NSW as the Queensland border bubble extends 100km into her state.




SBS - Published





NSW records one new COVID-19 case amid concerns mystery infection could reset QLD 'border clock'

NSW has recorded zero new locally acquired cases of COVID-19, with a returned traveller in hotel quarantine the only new case recorded across the state.




SBS - Published





Border restrictions lifted in South Australia, Queensland - what is the policy state by state?

As South Australia and Queensland open borders with New South Wales, what are the border restrictions in place in each state?




SBS - Published





Queensland says federal withdrawal of army unfair as accusations fly over 'political' border policy

The withdrawal of Australian Defence Force troops on October 1 will come a day after Queensland opens to more than 150,000 extra NSW residents when a border bubble is widened.




SBS - Published





SA, Qld to relax NSW border restrictions

There have been no new cases of locally acquired COVID-19 recorded in NSW as Queensland eases its border rules and SA prepares to welcome people from NSW.




SBS - Published





South Australia reopens to NSW residents as Queensland widens southern border bubble

Queensland will extend its border bubble to include residents of five NSW government areas as South Australia moves to lift its COVID-19 restrictions with NSW from midnight on Wednesday.




SBS - Published





Queensland extends border bubble to include five NSW local government areas

Queensland will extend its border bubble to include the Byron Shire, Ballina, Lismore, the Richmond Valley and Glen Innes in NSW.




SBS - Published