Queensland
North-east state of Australia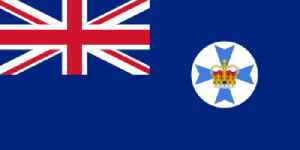 Queensland is a state of Australia. It is the second-largest and third-most populous Australian state. It is a federated state and a parliamentary constitutional monarchy. Situated in the north-east of the country, it is bordered by the Northern Territory, South Australia and New South Wales to the west, south-west and south respectively. To the east, Queensland is bordered by the Coral Sea and Pacific Ocean. To its north is the Torres Strait, separating the Australian mainland from Papua New Guinea. With an area of 1,852,642 square kilometres (715,309 sq mi), Queensland is the world's sixth-largest sub-national entity, and is larger than all but 15 countries. Due to its size, Queensland's geographical features and climates are diverse, including tropical rainforests, rivers, coral reefs, mountain ranges and sandy beaches in its tropical and sub-tropical coastal regions, as well as deserts and savanna in the semi-arid and desert climactic regions of its interior.


Coke-Filled Aircraft Crashes, Reveals Links To Mob

CNN reports a light aircraft overloaded with cocaine crashed on take-off on its way to Australia. Police say the crash exposed a Melbourne-based crime syndicate and led to the arrest of five men with..
Credit: Wochit News Duration: 00:40
Published
You Might Like



Action against Chinese diplomat dismissed

Court action against the China's senior diplomat in Brisbane has been dismissed by a Queensland magistrate.




SBS - Published





Queensland aged care homes reopen to visitors as state 'avoids risk of widespread outbreak'

Queensland health authorities will lift restrictions on the state's aged care homes after they stopped the community spread of a coronavirus cluster.




SBS - Published





Qld aged care homes to reopen to visitors

Queensland health authorities will lift restrictions on the state's aged care homes after they stopped the community spread of a coronavirus cluster.




SBS - Published





Hundreds of Queensland partygoers flout coronavirus restrictions

Queensland police are considering whether to lay charges against hundreds of people who gathered for a beach bash in the state's far-north.




SBS - Published





Interstate travel becomes harder as Queensland closes its border with all of NSW and ACT

Returning Queenslanders must now arrive by air and spend 14 days in hotel quarantine at their own expense, with the state closing its border with NSW overnight.




SBS - Published




142 people turned back at Qld border

Queensland's border with NSW has officially closed, with returning residents required to pay at least $2800 for their two-week stay in hotel quarantine.




SBS - Published




More than 140 turned back at Queensland border in first hours of closure to NSW and ACT

More than 140 people have been turned away at the Queensland border after it closed to NSW overnight for a second time since the pandemic began.




SBS - Published





Queensland shut to ACT, NSW and Victoria

Returning Queenslanders must now arrive by air and spend 14 days in hotel quarantine at their own expense, with the state closing its border with NSW overnight.




SBS - Published





Queensland closes border with NSW, again

Returning Queenslanders must now arrive by air and spend 14 days in hotel quarantine at their own expense, with the state closing its border with NSW overnight.




SBS - Published




Sydney restaurant and funeral clusters grow as NSW records 12 new coronavirus cases

NSW has recorded 12 new COVID-19 cases while residents will be banned from visiting Queensland after Premier Annastacia Palaszczuk declared NSW a COVID hotspot.




SBS - Published




Queensland to close its border to all of NSW and ACT from Saturday

Queensland will shut its border to NSW and the ACT this week after people continued to dodge mandatory quarantine.




SBS - Published





Watch: Queensland COVID-19 update

Queensland Premier Annastacia Palaszczuk and state health officials are speaking live with a COVID-19 update.




SBS - Published





Queensland bans quarantine exemptions for diplomats after recent coronavirus case

Queensland's premier has also asked police to investigate a letter used by a man to claim a diplomatic exemption from mandatory hotel quarantine.




SBS - Published





Three men caught sneaking into Queensland from Victorian hotspots without undergoing quarantine

Three men have been issued court notices after allegedly trying to sneak back into Queensland from hotspots in Victoria without undergoing quarantine.




SBS - Published





Infected Queensland man was a security contractor

Premier Annastacia Palaszczuk is calling for a review of the travel exemption that allowed a COVID-19 infected consular worker to fly into Queensland.




SBS - Published





Queensland records no new coronavirus cases as Annastacia Palaszczuk wants review of travel loopholes

Queensland Premier Annastacia Palaszczuk says a travel exemption that allowed a COVID-19 infected consular worker to fly into the state needs to be reviewed.




SBS - Published




Close Queensland travel loopholes: premier

Queensland Premier Annastacia Palaszczuk says a travel exemption that allowed a COVID-19 infected consular worker to fly into the state needs to be reviewed.




SBS - Published





Queensland coronavirus case was infectious on domestic flight, say health officials

A consular staff member has tested positive to coronavirus in Queensland after returning from overseas.




SBS - Published





Queensland prepares $150 million rescue package for state's struggling universities

Universities across Queensland that have been impacted by the downturn prompted by coronavirus will get access to a loans package worth $150 million.




SBS - Published





Virus rescue package for Qld universities

Universities across Queensland that have been impacted by the downturn prompted by coronavirus will get access to a loans package worth $150 million.




SBS - Published





'Disappointing': Northern Territory police officer quits after coronavirus border breach

A police officer has resigned after failing to complete COVID-19 forms when crossing the border from Queensland to the Northern Territory.




SBS - Published





Queensland aged care worker tests positive for coronavirus, raising concerns for elderly residents

A Queensland woman who has tested positive to COVID-19 may have been infectious while working in a Brisbane nursing home.




SBS - Published





More than five million locked out of Queensland as border slams shut to Sydneysiders

Queenslanders have also been put on alert about a string of locations around greater Brisbane that a man visited before testing positive to COVID-19




SBS - Published





Woolworths shoppers, staff 'strongly encouraged' to wear masks in NSW, ACT and some Queensland stores

A surge in coronavirus cases has prompted Woolworths to encourage face coverings to be worn in its stores across NSW, ACT and parts of Queensland.




SBS - Published





Three Qld women charged over Vic travel

Three Queensland women will face court for dodging quarantine after returning to the Sunshine State from Melbourne while infected with COVID-19.




SBS - Published





Residents in Queensland's coronavirus hotspots want better multicultural messaging

Coronavirus cases have been diagnosed in Logan, one of Australia's most diverse cities.




SBS - Published





Three Queensland women charged for allegedly breaching coronavirus quarantine

Three Queensland women will face court for dodging quarantine after returning to the Sunshine State from Melbourne while infected with COVID-19.




SBS - Published





Sydney prison inmate tests positive to coronavirus after state records 18 new infections

An inmate at Sydney's Parklea jail has tested positive to COVID-19 while Queensland has announced an entry ban on all Greater Sydney residents.




SBS - Published




Parklea inmate positive, 18 NSW cases

An inmate at Sydney's Parklea jail has tested positive to COVID-19 while Queensland has announced an entry ban on all Greater Sydney residents.




SBS - Published





Fears coronavirus is spreading in NSW and Queensland, as Victoria cracks down on people self-isolating

The coronavirus death toll in Victoria is expected to grow, as disaster medical teams arrive to tackle outbreaks in aged care facilities.




SBS - Published





Queensland will close its borders to all of Greater Sydney after declaring the area a coronavirus hotspot

Queensland will close its borders to all of Greater Sydney from 1am on Saturday.




SBS - Published





Queensland declares Greater Sydney a coronavirus hotspot

Queensland will close its borders to all of Greater Sydney from 1am on Saturday.




SBS - Published





Scores forced to self-isolate after 'reckless' Queensland women who travelled interstate test positive

Authorities will investigate whether two women with COVID-19 who returned to Queensland from Melbourne lied on their border declaration forms.




SBS - Published





Queensland school closed after staff member who travelled interstate tests positive to coronavirus

A southeast Queensland school is closed for cleaning after an employee who recently returned from interstate tested positive for COVID-19.




SBS - Published





Qld school employee has COVID-19

A southeast Queensland school is closed for cleaning after an employee who recently returned from interstate tested positive for COVID-19.




SBS - Published





Scott Morrison cuts Queensland tour short for urgent talks about aged care COVID-19 crisis

Prime Minister Scott Morrison is cutting short his tour of Queensland to return to Canberra for urgent talks about the aged care coronavirus crisis in Victoria.




SBS - Published





Tasmania to create 'safe travel bubble' with South Australia, Western Australia, Northern Territory

Victoria, NSW, the ACT and Queensland are excluded from Tasmania's 'safe travel bubble'.




SBS - Published





More than 200 people supposed to be self-isolating in Queensland have vanished

More than 200 people supposed to be under self-quarantine in Queensland have vanished, with most suspected of giving false contact details at the border.




SBS - Published





Queensland police hunt quarantine dodgers

More than 200 people supposed to be under self-quarantine in Queensland have vanished, with most suspected of giving false contact details at the border.




SBS - Published





Asylum seekers moved despite Qld blockade

Protesters have failed to stop two asylum seekers being transferred from a city hotel to a detention centre northeast of Brisbane, as a blockade continues.




SBS - Published





'Leading the charge': Human trials for coronavirus vaccine begin in Queensland

Scientists are now ready to begin human testing for a University of Queensland-developed COVID-19 vaccine.




SBS - Published





Queensland COVID-19 human vaccine trial 'very encouraging'

The first testing on humans of a Queensland-developed potential vaccine for COVID-19 will begin on Monday after successful animal testing.




SBS - Published





Qld COVID-19 human vaccine trials to start

The first testing on humans of a Queensland-developed potential vaccine for COVID-19 will begin on Monday after successful animal testing.




SBS - Published





Influx of tourists into Queensland as state reports two new cases of coronavirus

Queensland Police are taking an educational rather than an enforcement approach at border checkpoints.




SBS - Published





Influx of tourists as Queensland border reopens

Queensland Police are taking an educational rather than an enforcement approach at border checkpoints.




SBS - Published





Long traffic jams as Queensland border reopens to all except Victorians

Travellers are stuck in traffic jams for kilometres as Queensland reopens its borders, with the state's tourism and hospitality sectors at the ready.




SBS - Published




Border chaos expected as Qld reopens

Chaotic scenes are expected on Friday as Queensland reopens its borders but the premier says a ban on visitors from Victoria won't be lifted anytime soon.




SBS - Published





Queensland to turn back Victorians while South Australia closes Victoria border

Anyone trying to enter Queensland from Victoria will be stopped at the border and turned around from Friday, while the South Australia-Victoria border has closed.




SBS - Published