Emmerson Mnangagwa
President of the Republic of Zimbabwe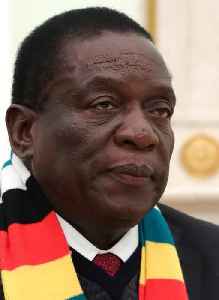 Emmerson Dambudzo Mnangagwa is a Zimbabwean revolutionary and politician who currently serves as the third President of Zimbabwe since 24 November 2017. A member of ZANU–PF and a longtime ally of former President Robert Mugabe, he held a series of Cabinet portfolios and was Vice-President of Zimbabwe under Mugabe until November 2017, when he was dismissed before coming to power in a coup d'état. He was officially inaugurated as the third President of Zimbabwe on 26 August 2018 after winning the 2018 Zimbabwean general election.


Zimbabwe's president pleads for patience in bringing economy back from 'dead'
Zimbabwe's President Emmerson Mnangagwa on Tuesday pleaded for time and patience to bring the economy back from the "dead", as his government faces blame for surging inflation evoking dark days under..
Reuters - Published
Zimbabwe's Mugabe buried in home village, ending an era
Zimbabwe's founding leader Robert Mugabe was buried on Saturday in his home village of Kutama, ending a dispute between his family and the government of his successor President Emmerson Mnangagwa over..
Reuters - Published
Ex-Zimbabwe leader Mugabe to be buried at national monument
Confirmation of the burial plan follows tussle between family and President Mnangagwa over Mugabe's resting place.
Credit: Al Jazeera STUDIO Duration: 02:45Published
Zimbabwe's Mugabe died from cancer, president says
Former Zimbabwean leader Robert Mugabe died from cancer after chemotherapy treatment was stopped because it was no longer effective, a state-owned newspaper quoted President Emmerson Mnangagwa as..
Reuters - Published
Zimbabwe doctors protest over union leader's disappearance
Hundreds of Zimbabwean doctors protested in central Harare on Monday over the disappearance of the leader of their union, but riot police blocked them from marching to President Emmerson Mnangagwa's..
Reuters - Published
Tears and tributes as leaders, supporters bid farewell to Zimbabwe's Mugabe
Zimbabwe's founder Robert Mugabe was honored as an icon, principled leader and African intellectual giant at a state funeral on Saturday, after a week of disputes over his burial threatened to..
Reuters - Published
Zimbabwe's former president Robert Mugabe dies in Singapore
Zimbabwe's former president Robert Mugabe has died aged 95, the country's President Emmerson Mnangagwa said on his official Twitter account.
Reuters - Published
Zimbabwe state doctors strike over pay as economy struggles
Zimbabwean public sector doctors went on strike on Tuesday for the second time in less than a year to demand a further salary increase amid soaring living costs, as President Emmerson Mnangagwa's..
Reuters - Published
Zimbabwe's Mnangagwa fires minister for 'inappropriate behavior' after corruption charge
Zimbabwe President Emmerson Mnangagwa has fired his tourism minister, who was last month charged with corruption involving $95 million, a senior government official said on Thursday.
Reuters - Published
Zimbabwe lawmaker charged with subversion over Mnangagwa threat
A Zimbabwe opposition lawmaker was charged on Tuesday with subversion, his lawyer said, after a video surfaced where he purportedly said President Emmerson Mnangagwa would be overthrown before the next..
Reuters - Published
U.S. says Zimbabwe failed to make needed political, economic changes
The government of Zimbabwe under President Emmerson Mnangagwa has failed to bring about political and economic changes needed to improve the country's reputation, the State Department said on Thursday.
Reuters - Published
You Might Like