Justin Trudeau
23rd Prime Minister of Canada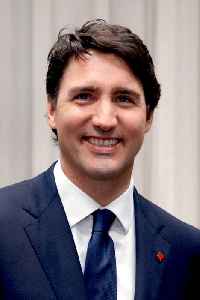 Justin Pierre James Trudeau is a Canadian politician who has served as the 23rd prime minister of Canada since 2015 and has been the leader of the Liberal Party since 2013. Trudeau is the second-youngest Canadian prime minister after Joe Clark; he is also the first to be related to a previous holder of the post, as the eldest son of Pierre Trudeau.


Justin Trudeau Announces $221 Million Loan Program for Black Entrepreneurs

Canadian Prime Minister Justin Trudeau has announced a new multi-million dollar program specifically for Black Canadians.
Credit: Cover Video STUDIO Duration: 01:13
Published
Which Celebrities Got COVID-19?

A number of celebrities have contracted COVID-19. Actors Tom Hanks and Rita Wilson. Sophie Grégoire Trudeau, the wife of Canadian Prime Minister Justin Trudeau. Actor Idris Elba. Basketball player..
Credit: Wochit News Duration: 00:43
Published
74th Indian Independence Day marked in Canada

Iconic Canadian landmark, Niagara Falls illuminated in colours of Indian tricolour. Meanwhile, Tiranga rally was organised by Friends of India-Canada organisation on August 15. The rally was organised..
Credit: ANI Duration: 01:23
Published
You Might Like



Canada's Trudeau backs opposition leader kicked out of Parliament in racism row

Canadian Prime Minister Justin Trudeau on Thursday backed the leader of an opposition party who was ejected from the House of Commons for branding a member of another party a racist and refusing to..




Reuters - Published





Canada to present fiscal snapshot on July 8, too early for full update, PM Trudeau says

The Canadian government will unveil a "fiscal and economic snapshot" on July 8 to help show much money it has spent combating the coronavirus outbreak, Prime Minister Justin Trudeau said on Wednesday.




Reuters - Published





Canada to extend income support by eight weeks, U.S. border to remain closed, Trudeau says

Canada will extend by eight weeks federal income support for those who lost their jobs amid the COVID-19 outbreak, and the border with the United States will remain closed to non-essential travel, the..




Reuters - Published





Canada to extend income support for jobless during pandemic: Trudeau

Canada will extend the Canada Emergency Response Benefit (CERB) income support that was brought in to help people get through temporary job losses caused by the COVID-19 outbreak, Prime Minister Justin..




Reuters - Published




Canada's Trudeau calls arrest video of indigenous leader 'shocking'

Prime Minister Justin Trudeau said on Friday that newly released video showing a forceful arrest of a Canadian indigenous leader was "shocking," saying it raised serious questions.




Reuters - Published





Canada to mandate temperature checks for airline passengers, Trudeau says

Canada will make it a requirement to take airline passengers' temperatures before they fly and anyone with a fever will not be allowed to travel, Prime Minister Justin Trudeau said on Friday.




Reuters - Published





Canada's Trudeau wants body cameras for police, cites lack of public trust

Canadian Prime Minister Justin Trudeau on Monday said he wanted police forces across the country to wear body cameras to help overcome what he said was public distrust in the forces of law and order.




Reuters - Published





'Stand up to Trump!' Canada protesters shout to Trudeau who kneels at anti-racism rally

Canadian protesters chanted "Stand up to Trump!" to Prime Minister Justin Trudeau as he joined thousands at an anti-racism rally on Friday and took a knee alongside protesters.




Reuters - Published




Trudeau says discrimination by Canada police must end, after indigenous woman killed

Discrimination by Canadian police against indigenous people and people of color "needs to end," Prime Minister Justin Trudeau said on Friday, after police officers shot and killed an indigenous woman..




Reuters - Published





Canada's Trudeau, backed by rivals for now, has little chance to cash in on popularity boost

Canadian Prime Minister Justin Trudeau is soaring in the polls amid widespread approval of his handling of the coronavirus pandemic but has little chance of cashing in soon on his popularity with..




Reuters - Published





Canada's Trudeau, opposition leaders vow to fight racism at home

Canadian Liberal Prime Minister Justin Trudeau and his rivals in the opposition vowed on Monday to fight racism at home as violent protests continued in the United States following the death of a black..




Reuters - Published





Russia not welcome at G7, Canada's Trudeau says

Canada does not support Russia's return to the Group of Seven, proposed by U.S. President Donald Trump over the weekend, because Moscow continues to flout international law, Prime Minister Justin..




Reuters - Published





Canada says Russia should remain outside of the G7: PM Trudeau

Canada does not support Russia's return to the Group of Seven, as U.S. President Donald Trump proposed over the weekend, because it continues to flout international law, Prime Minister Justin Trudeau..




Reuters - Published





Canada vows changes in senior care after military shines spotlight on shortfalls

Canadian Prime Minister Justin Trudeau on Wednesday vowed to help provincial authorities revamp the country's senior care system after soldiers helping in nursing homes in Ontario and Quebec reported..




Reuters - Published





Canada's Trudeau says 'significant' health questions remain about in-person G7 meeting

Canadian Prime Minister Justin Trudeau said on Wednesday that there are still many health-related questions to be answered before he can say whether he will attend a face-to-face G7 meeting that..




Reuters - Published





Canadian soldiers witness 'deeply disturbing' scenes in seniors' residences: PM

Canadian soldiers helping to manage the coronavirus outbreak in seniors' residences have witnessed some "deeply disturbing" scenes, Prime Minister Justin Trudeau said on Tuesday, adding he was shocked..




Reuters - Published





Canada 'concerned' about the situation in Hong Kong, calls for dialogue: PM Trudeau

Canada is concerned about China's proposal to impose national security laws on Hong Kong and called for real dialogue in order to de-escalate tensions, the prime minister said on Friday.




Reuters - Published





China does not seem to understand independence of Canada's judiciary: Trudeau

China does not appear to understand that Canada's judiciary is independent, Prime Minister Justin Trudeau said on Thursday, taking a rare public swipe at Beijing at a time when bilateral ties are poor.




Reuters - Published




Canada, U.S. to extend travel ban; Trump muses about cattle block

Canada and the United States have agreed to extend a ban on non-essential travel between the two nations by another 30 days as part of the fight against the coronavirus, Prime Minister Justin Trudeau..




Reuters - Published





Canada, U.S. agree to 30-day extension of ban on non-essential travel: PM Trudeau

Canada and the United States have agreed to extend a ban on non-essential travel between the two nations by another 30 days as part of the fight against the coronavirus, Prime Minister Justin Trudeau..




Reuters - Published





Canada's Trudeau: world has changed even if pandemic ends, vaccine found

Canadians should accept the world will change even if a vaccine is found and the coronavirus pandemic ends, Canadian Prime Minister Justin Trudeau said on Thursday, urging people to adjust to a new..




Reuters - Published





Canada coronavirus death toll passes 5,000, Trudeau wants seniors' care reform

The Canadian coronavirus death toll passed the 5,000 mark on Tuesday and Prime Minister Justin Trudeau said major reforms were needed to seniors' residences, where more than 80% of the victims lived.




Reuters - Published





Trudeau warns premature reopening could send Canada 'back into confinement'

Prime Minister Justin Trudeau warned that if provinces move too quickly to reopen their economies, a flare-up of the coronavirus pandemic could send Canada "back into confinement this summer."




Reuters - Published





'You deserve a raise': Canada to help fund pay hikes for essential workers

Canada and the country's 10 provinces will boost pay for essential workers such as employees in seniors' residences, which are linked to 80% of coronavirus deaths, Prime Minister Justin Trudeau said on..




Reuters - Published




Canada, provinces agree to boost wages of essential workers, Trudeau says

Canada and the 10 provinces have agreed to boost the pay of essential workers such as those working in seniors' residences, where many coronavirus cases have occurred, Prime Minister Justin Trudeau..




Reuters - Published





Canadian province of Quebec starts gradually reopening, Trudeau maintains caution

The major Canadian province of Quebec, among the worst hit by the coronavirus, started gradually restarting its economy on Monday while Prime Minister Justin Trudeau maintained his cautious stance.




Reuters - Published





Canada's coronavirus death toll edges up, Trudeau vows more funding for mental health

Canada's daily coronavirus death toll edged up by under 5% on Sunday in another sign the outbreak has peaked and Prime Minister Justin Trudeau promised additional funding for mental healthcare..




Reuters - Published





Canada bans assault-style weapons in aftermath of mass shooting

Canada is banning the sale of military-grade assault weapons in the aftermath of the country's deadliest mass shooting two weeks ago, Prime Minister Justin Trudeau said on Friday.




Reuters - Published





Canadian military helicopter crashes in sea off Greece; 1 dead, 5 missing

One body has been recovered and five people are missing after a Canadian military helicopter crashed in the Mediterranean Sea off the coast of Greece on Wednesday, Prime Minister Justin Trudeau said on..




Reuters - Published




Canada province hit worst by coronavirus preps restart plans, Trudeau cautious

Quebec, the Canadian province hit hardest by the coronavirus outbreak, is set on Tuesday to announce plans for restarting its economy, paving the way for companies like Bombardier Inc to gradually..




Reuters - Published





Canada's top medical official says encouraged by slowing coronavirus toll

Canada's top medical official said on Sunday she was encouraged the coronavirus death toll was slowing while Prime Minister Justin Trudeau said isolation measures to fight the outbreak should remain..




Reuters - Published





Plans to restart Canadian economy do not hinge on coronavirus 'immunity' levels, Trudeau says

Plans underway to restart the economies of Canadian provinces do not depend on presuming people who become infected with coronavirus develop immunity to it, Canadian Prime Minister Justin Trudeau said..




Reuters - Published




'We are failing our grandparents' Canada's Trudeau says as COVID-19 hammers nursing homes

Canada is failing its seniors as officials struggle to contain fatal outbreaks of the novel coronavirus in long-term care homes across the country, Prime Minister Justin Trudeau said on Thursday.




Reuters - Published





Death toll in Canada mass shooting rises to 18, Trudeau says

The death toll from the worst mass shooting in Canadian history has risen to 18, Canadian Prime Minister Justin Trudeau said on Monday, including a police officer and the gunman.




Reuters - Published




Canadian coronavirus data trending in right direction, shutdowns to continue: PM

The number of people with the new coronavirus in Canada is trending in the right direction but strict physical distancing will need to stay in place, Prime Minister Justin Trudeau said on Sunday.




Reuters - Published




Canada, U.S. extend border restrictions 30 days to control coronavirus spread

Canada and the United States have agreed to extend border restrictions for another 30 days to help control the spread of coronavirus, Prime Minister Justin Trudeau said on Saturday.




Reuters - Published





Canada offers C$2.5 bln in aid for hard-hit energy sector; death toll hits 1,250

Canada will invest C$2.5 billion ($1.8 billion) in measures to help the hard-hit oil and gas industry survive during the nation's coronavirus outbreak, which has killed 1,250 people, Prime Minister..




Reuters - Published




Canada to keep border restrictions with U.S. for a 'significant' time, Trudeau says

Canada's border restrictions with the United States will remain in place "for a significant amount of time" as the two countries fight the coronavirus outbreak, Prime Minister Justin Trudeau said on..




Reuters - Published




Trudeau says 'more normal' phase of Canada's coronavirus fight could come in summer

Canadian life could soon return to a semblance of normality if people bear down now to stop the spread of the coronavirus, but the risk of resurgence will remain until a vaccine is developed, Prime..




Reuters - Published





Canada to press U.S. further on medical supplies, Trudeau says

Canada will keep up efforts to persuade the United States not to block the export of medical supplies to fight the coronavirus, Prime Minister Justin Trudeau said on Tuesday, while the energy-producing..




Reuters - Published





Canada needs to do more to ensure flow of U.S. medical supplies: Trudeau

Canada needs to do more to persuade Washington not to block medical supplies from flowing across the border, even though U.S. officials have allowed the export of 500,000 masks, Prime Minister Justin..




Reuters - Published




Canada PM says will not retaliate against U.S. over block of mask exports

Canadian Prime Minister Justin Trudeau said he would not retaliate for U.S. President Donald Trump blocking 3M Co's exports of N95 respirator masks that protect doctors and nurses from the spread of..




Reuters - Published