Parliament of the United Kingdom
Supreme legislative body of the United Kingdom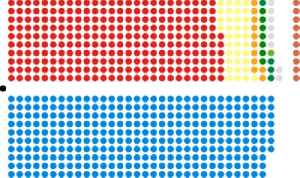 The Parliament of the United Kingdom of Great Britain and Northern Ireland, commonly known internationally as the UK Parliament, British Parliament, or Westminster Parliament, and domestically simply as Parliament or Westminster, is the supreme legislative body of the United Kingdom, the Crown dependencies and the British Overseas Territories. It alone possesses legislative supremacy and thereby ultimate power over all other political bodies in the UK and the overseas territories. Parliament is bicameral but has three parts, consisting of the Sovereign (Queen-in-Parliament), the House of Lords, and the House of Commons. The two houses meet in the Palace of Westminster in the City of Westminster, one of the inner boroughs of the capital city, London.


Speaker Pelosi gets OOORRRDDEERR tips from British counterpart Bercow
U.S. House of Representatives Speaker Nancy Pelosi said on Monday she had received coaching tips from her British Parliament counterpart John Bercow on how to say his trademark OOORRRDDEERR holler.
Reuters - Published
Theresa May Asks the EU for Brexit Extension - While a Year 'Flextension' May Be on the Cards
by Simon Baxendale - Will a year-long 'Flextension' offer Britain a second chance to resolve its Brexit deadlock? Brexit – the complicated divorced between the UK and European Union – was..
One News Page Staff - Published
John Bercow says he will stand down on 31 October 2019 or at next general election
UK Parliament Speaker John Bercow says he will stand down on 31 October 2019 or at next general election - whichever is soonest.
Credit: euronews (in English) Duration: 07:48Published
UK Parliament suspension challenge returns to Court of Session
Legal action aimed at stopping Boris Johnson's ability to suspend Parliament is to being heard at Scotland's highest civil court. At the Court of Session in Edinburgh on August 30, opponents of the..
Credit: PA - Press Association STUDIO Duration: 01:19Published
British public will experience real hardship in 'No Deal' Brexit says British Retail Consortium
A No Deal Brexit will hit UK consumers hard, according to the British Retail Consortium. The warning came after major demonstrations took place across the UK at the weekend against Boris Johnson's..
Credit: euronews (in English) Duration: 01:50Published
Johnson's plan to suspend UK Parliament sparks anger
The queen has given her backing to the prime minister's plan to shut down the timetable for blocking a 'no-deal' Brexit.
Credit: Al Jazeera STUDIO Duration: 02:32Published
Johnson, Corbyn sing different tunes on Brexit
British Prime Minister Boris Johnson on Monday (August 19) called on Germany and France to compromise on Brexit, cautioning that the United Kingdom would be ready to leave the European Union without a..
Credit: Reuters Studio Duration: 02:01Published
UK Parliament faces choice on who controls business: Brexit minister
British lawmakers face the question of who controls business in parliament, Brexit minister Stephen Barclay said on Monday, trying to persuade them to reject a bid by parliament to wrest control of..
Reuters - Published
Theresa May's Brexit Deal: Third Vote Blocked
by Simon Baxendale - Brexit is creeping ever closer, and it it still seems as though there is much work to be done if the deadline of March 29th is ever going to be reached without the prospect of a..
One News Page Staff - Published
British MPs Vote Against 'No Deal' - What Now for Brexit?
by Simon Baxendale - In what is continuing to be a dramatic week as far as Brexit voting is concerned, British Parliament has narrowly voted against the event of a 'no deal' Brexit..
One News Page Staff - Published
UK Parliament voted down its 'last chance' on Brexit deal: EU's Moscovici
The British parliament has lost its "last chance" to reach a deal on Brexit, said the European Union's Economic Commissioner Pierre Moscovici on Wednesday.
Reuters - Published
'Inspiring but unfamiliar': Former PM Malcolm Turnbull visits the UK Parliament
Former Prime Minister Malcolm Turnbull has popped into Question Time at the House of Commons during his European tour.
SBS - Published
You Might Like