Guangdong
Most populous province of China, located on the coast of the South China Sea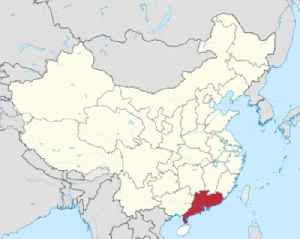 Guangdong is a coastal province in South China on the north shore of South China Sea. The capital of the province is Guangzhou. With a population of 113.46 million across a total area of about 179,800 km2 (69,400 sq mi), Guangdong is the most populous province of China and the 15th-largest by area. Its economy is larger than that of any other province in the nation and the 4th largest sub-national economy in the world with a GDP size of 1.47 trillion US dollars in 2018. The Pearl River Delta Economic Zone, a Chinese megalopolis, is a core for high technology, manufacturing and foreign trade. Located in this zone are two of the four top Chinese cities and the top two Chinese prefecture-level cities by GDP; Guangzhou, the capital of the province, and Shenzhen, the first special economic zone in the country. These two are among the most populous and important cities in China, and have now become two of the world's most populous megacities.


You Might Like
In China, legislator says outbreak shows frailties of response plans
At last year's session of China's national parliament, delegates from Guangdong province warned that laws designed to contain outbreaks of infectious diseases were flawed and could leave regions..
Reuters - Published
Four Chinese provinces lower coronavirus emergency response level
Four Chinese provinces Yunnan, Guangdong, Shanxi and Guizhou on Monday lowered their coronavirus emergency response measures, local health commissions said.
Reuters - Published
China's Guangdong to require visitors from virus-hit countries to undergo quarantine
China's Guangdong province will require travelers arriving from countries and regions with severe coronavirus outbreaks to quarantine themselves for 14 days, the government-backed Nanfang Daily..
Reuters - Published
China says WHO delegation to visit Beijing, Guangdong, Sichuan
China says a World Health Organization (WHO) delegation of experts will visit Beijing, and the provinces of Guangdong and Sichuan from Feb. 17 onwards.
Reuters - Published
China's Shantou city will not ban cars, ships, people from entering, state media reports
China's coastal city of Shantou in Guangdong province, will not ban cars, ships and people from entering the city but will strengthen disease controls such as disinfection efforts, local state media..
Reuters - Published
China's most populous province to loosen grip on internal migration
China's southern province of Guangdong will relax the household registration system that restrains internal migration in all its cities except the powerhouses of Guangzhou and Shenzhen, the provincial..
Reuters - Published
Germany's BASF starts building $10-billion petrochemical project in China
German chemical giant BASF has begun construction of its $10-billion integrated petrochemicals project in China's southern province of Guangdong, the company said in a statement on Saturday.
Reuters - Published
China security minister says to crack down on violent terrorist activity
China's public security minister, Zhao Kezhi, visiting Guangdong province near Hong Kong, said China will crack down on violent terrorist activities and firmly safeguard its political security.
Reuters - Published