World War I
1914–1918 global war starting in Europe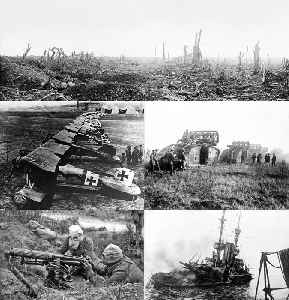 World War I, also known as the First World War or the Great War, was a global war originating in Europe that lasted from 28 July 1914 to 11 November 1918. Contemporaneously described as "the war to end all wars", it led to the mobilisation of more than 70 million military personnel, including 60 million Europeans, making it one of the largest wars in history. It is also one of the deadliest conflicts in history, with an estimated nine million combatants and seven million civilian deaths as a direct result of the war, while resulting genocides and the resulting 1918 influenza pandemic caused another 50 to 100 million deaths worldwide.


Tales of indigenous WWI veterans shared
The stories of dozens of indigenous World War I volunteers with links to Western Australia and those who weren't allowed to serve have been told in a new book.
SBS - Published
Thousands of Australians defy terror threat to pay tribute at Gallipoli
Thousands of Australians and New Zealanders attended a World War I commemoration in Turkey on Anzac Day despite fears of a terror attack.
The Age - Published
Anzacs honoured at Villers-Bretonneux
The annual Anzac Day service at Villers-Bretonneux in France has remembered those lost in World War I and the generations who continue the tradition of service.
SBS - Published
From the Archives, 1917: Anzac Day for a nation still at war
In 1917, Australia observed its second Anzac Day while still fighting World War I. We revisit Anzac Day in 1917 with this article from the archives.
The Age - Published
When we hear of Anzac sacrifice, think of Eliza Potter and her lost sons
Eliza Potter was simply one of tens of thousands of mothers who lost sons to the First World War. But she lost three boys, all in one battle, all in the space of a few hours.
The Age - Published
Turkey detains suspect believed planning to attack ANZAC service: police
Turkish authorities have arrested a suspected Islamic State member they believe was planning to attack a World War One commemoration at Gallipoli attended by hundreds of Australians and New Zealanders,..
Reuters - Published
WWI soldier identified a century later
The family of a World War I soldier had started to lose hope he would be able to be identified a century after the battle of Fromelles.
SBS - Published
Australian WWI soldier no longer forgotten
An Australian soldier killed in World War I has finally been identified, thanks in part to a volunteer researcher and a man born in the same small Irish town.
SBS - Published
Closure a century after Fromelles 'hell'
A family finally has closure 103 years after young Australian soldier Ralph Johnson died in the disastrous World War I battle of Fromelles.
SBS - Published
Western Front unknown soldiers identified
An Australian Army team has identified the remains of seven more unknown soldiers who died on the Western Front in the First World War.
SBS - Published
You Might Like