Frankfurt
City in Hesse, Germany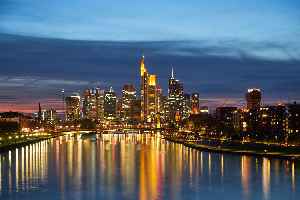 Frankfurt is a metropolis and the largest city of the German federal state of Hesse, and its 746,878 (2017) inhabitants make it the fifth-largest city in Germany. On the River Main, it forms a continuous conurbation with the neighbouring city of Offenbach am Main, and its urban area has a population of 2.3 million. The city is at the centre of the larger Rhine-Main Metropolitan Region, which has a population of 5.5 million and is Germany's second-largest metropolitan region after the Rhine-Ruhr Region. Since the enlargement of the European Union in 2013, the geographic centre of the EU is about 40 km (25 mi) to the east of Frankfurt's central business district. Like France and Franconia, the city is named after the Franks. Frankfurt is the largest city in the Rhine Franconian dialect area, Frankfurt was one of the host cities of the official tournaments of the 1974 and the 2006 FIFA World Cup.


Eintracht Frankfurt hit the training pitch with coronavirus restrictions

Bundesliga team Eintracht Frankfurt hold restricted training sessions for their players.
Credit: Reuters - Sports Duration: 01:33
Published
Silver Lining? COVID-19 Lockdowns Leave European City Air Cleaner

Lockdowns meant to battle the coronavirus has decreased air pollution in urban areas across Europe. According to Reuters, new satellite images showed reductions in average levels of noxious nitrogen..
Credit: Wochit News Duration: 00:39
Published
Finance Says Germany Preparing 150 Billion Supplementary Budget

FRANKFURT (Reuters) - German finance minister Olaf Scholz said on Saturday that the government was readying a supplementary budget of 150 billion euros ($160 billion), as part of a broader funding..
Credit: Wochit News Duration: 00:32
Published
Coronavirus crisis puts Bundesliga clubs in financial danger - DFB president

Fritz Keller says the DFB will provide financial and structual support to regional and state associations in the wake of the coronavirus outbreak.
Credit: Reuters - Sports Duration: 01:14
Published
'Mass panic' as travelers rush to get back to U.S. after Trump order

Bleary-eyed and stressed, travelers scrambled at European airports to board flights to the United States on Thursday after U.S. President Donald Trump announced sweeping travel restrictions to curb the..
Credit: Reuters Studio Duration: 02:10
Published
Europe stocks follow Wall St higher on virus action hopes

European stocks followed Wall St higher on Tuesday amid hopes for global action on the coronavirus, but a draft G7 communique seen by Reuters looked short on specific measures. Julian Satterthwaite..
Credit: Reuters - Politics Duration: 01:30
Published
'Nazis out' chant Frankfurt fans after hecklers interrupt minute's silence for Hanau victims

Frankfurt fans didn't let it go when hecklers interrupted a minute of silence for Hanau victimsView on euronews
Credit: euronews (in English) Duration: 00:15
Published
Suspected shisha bar gunman published racist manifesto

A man suspected of shooting dead nine people in shisha bars in a German town before killing himself and his mother had posted a manifesto online including conspiracy theories and deeply racist views,..
Credit: Reuters Studio Duration: 02:37
Published
Germany probes deadly Hanau shooting as far-right attack

The killing of nine people by a gunman in Germany is being investigated as a far-right attack. The deadly shootings happened at two shisha cafes in the city of Hanau, near Frankfurt on Wednesday night.
Credit: Al Jazeera STUDIO Duration: 01:36
Published
Right-wing extremist behind deadly German gun rampage: officials

A gunman with suspected far-right links shot dead nine people, some of them migrants from Turkey, in an overnight rampage through a German city before killing himself, officials said. Joe Davies..
Credit: Reuters Studio Duration: 02:00
Published
Nine dead after shisha bar shootings in Germany

A gunman suspected of shooting nine people dead at two shisha bars in a southwestern German city has been found dead at his home, police said on Thursday. Ryan Brooks reports.
Credit: Reuters Studio Duration: 01:08
Published
Eight people killed in shootings near Frankfurt

Eight people were killed on Wednesday night (February 19) in two shooting incidents in a German city near Frankfurt and special forces were chasing the gunmen who fled in a car, police said. Gloria Tso..
Credit: Reuters Studio Duration: 01:15
Published
Shootings in Germany leave at least 8 people dead

Eight people were killed on Wednesday (February 19) in two shooting incidents in the German city of Hanau, near Frankfurt.
Credit: Reuters Studio Duration: 00:43
Published
Stocks under pressure as Apple sounds warning on coronavirus

Global shares fell on Tuesday after Apple said it would miss its March quarter revenue guidance as the coronavirus slowed production and weakened demand in China. Ciara Lee reports
Credit: Reuters Studio Duration: 01:23
Published
No phones, no leaks: Lagarde's stamp on ECB

ECB insiders say new chief Christine Lagarde has a deal for bank policymakers: Cut out the open dissent and I'll listen to you more. Julian Satterthwaite reports.
Credit: Reuters Studio Duration: 01:54
Published
You Might Like



What you need to know about coronavirus right now

Central bankers from Tokyo to Frankfurt are under growing market pressure to follow the U.S. Federal Reserve's 0.5 percentage point rate cut - even if the surprise move on Tuesday fell way short of its..




Reuters - Published





Frankfurt flights suspended twice for drone sightings

Flights to and from Frankfurt airport, Germany's largest, had to be suspended twice on Monday after drone sightings.




Reuters - Published





Driver of car that crashed into carnival is injured: prosecutors to media

A spokesman for the public prosecutor's office in Frankfurt said the driver of a car that ploughed into a crowd of people at a carnival parade in the town of Volkmarsen was injured so could not..




Reuters - Published





Eight people killed in shootings near Frankfurt, police giving chase

Eight people were killed on Wednesday in two shooting incidents in a German city near Frankfurt and special forces were chasing the gunmen who fled in a car, police said.




Reuters - Published





German police confirm eight dead in shootings near Frankfurt

Eight people were killed on Wednesday in two shooting incidents in the western German city of Hanau, police said.




Reuters - Published





Storm Sabine disrupts flights and trains in Germany

Around 180 flights to and from Frankfurt airport were canceled on Sunday, a spokeswoman for airport operator Fraport said, and severe disruptions were expected on the railway as storm Sabine hit..




Reuters - Published





Germany calls for calm as evacuees return from China's Wuhan

More than 100 Germans and family members landed in Frankfurt on Saturday after being evacuated from the Chinese city Wuhan for checks for the fast-spreading coronavirus and two weeks' quarantine,..




Reuters - Published





Lufthansa cancels daily flight between Frankfurt and Tehran

Germany's flagship carrier Lufthansa is cancelling its daily flight between Frankfurt and Tehran due to the situation in Iran, a spokesman said on Wednesday.




Reuters - Published





German court begins protection proceedings for Thomas Cook's Condor

Germany's Condor, which is owned by British travel operator Thomas Cook, said on Thursday that a Frankfurt court had begun investor protection proceedings that should allow the airline to be..




Reuters - Published





Climate protesters tell carmakers 'the party is over'

Thousands of protesters marched in front of Frankfurt's IAA car show on Saturday to demand a swift end to combustion engines and a shift to environmentally friendly vehicles as Chancellor Angela..




Reuters - Published





'Climate killer' protester rushes Merkel's stage at Frankfurt car show

A climate change protester was bundled away by security staff on Thursday after he tried to rush across a stage where German Chancellor Angela Merkel was inspecting a new electric vehicle at..




Reuters - Published





Frankfurt train station reopened as police investigate suspected robbery

Frankfurt's main railway station was reopened on Friday, rail operator Deutsche Bahn said on Twitter, after police said officers were responding to reports of an apparent bank robbery.




Reuters - Published




Man accused of pushing boy under German train was wanted by Swiss

A 40-year-old Eritrean refugee accused of killing an eight-year-old boy by pushing him under a train in Frankfurt was wanted by police in Switzerland, where he was being treated for psychological..




Reuters - Published




Man pushes boy in front of train in Germany, killing him

A 40-year-old Eritrean man pushed an eight-year-old boy in front of an oncoming train at Frankfurt's main train station in Germany on Monday, killing him, police said.




Reuters - Published





Serbian interior ministry says Lufthansa bomb threat was fake

The Serbian interior ministry said a bomb threat which prompted the evacuation of a Lufthansa plane bound for Frankfurt on Thursday morning was fake.




Reuters - Published





Lufthansa plane evacuated at Belgrade airport after bomb threat call

A Lufthansa plane bound for Frankfurt was evacuated at Belgrade airport on Thursday after police received a call saying a bomb was on board, the Serbian interior ministry said.




Reuters - Published