Quebec
Province of Canada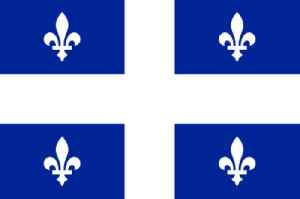 Quebec is one of the thirteen provinces and territories of Canada. It is bordered to the west by the province of Ontario and the bodies of water James Bay and Hudson Bay; to the north by Hudson Strait and Ungava Bay; to the east by the Gulf of Saint Lawrence and the province of Newfoundland and Labrador; and to the south by the province of New Brunswick and the US states of Maine, New Hampshire, Vermont, and New York. It also shares maritime borders with Nunavut, Prince Edward Island, and Nova Scotia. Quebec is Canada's largest province by area and its second-largest administrative division; only the territory of Nunavut is larger. It is historically and politically considered to be part of Central Canada.


Court rejects bid to suspend part of Canadian province's religious symbols ban
A court in the Canadian province of Quebec on Thursday rejected a bid to suspend parts of a new provincial law that bans public sector employees from wearing religious symbols to work.
Reuters - Published
Search this site and the web:
You Might Like