Brisbane
Capital city of Queensland, Australia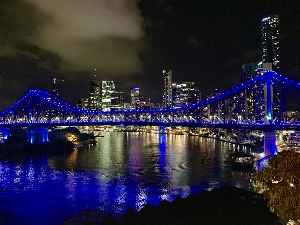 Brisbane is the capital of and the most populous city in the Australian state of Queensland, and the third most populous city in Australia. Brisbane's metropolitan area has a population of over 2.5 million, and the South East Queensland metropolitan region, centred on Brisbane, encompasses a population of more than 3.6 million. The Brisbane central business district stands on the historic European settlement and is situated inside a peninsula of the Brisbane River, about 15 kilometres from its mouth at Moreton Bay, a bay of the Coral Sea. The metropolitan area extends in all directions along the hilly floodplain of the Brisbane River Valley between Moreton Bay and the Taylor and D'Aguilar mountain ranges. It sprawls across several of Australia's most populous local government areas (LGAs)—most centrally the City of Brisbane, which is by far the most populous LGA in the nation. The demonym of Brisbane is "Brisbanite", whilst common nicknames include "Brissy", "River City" and "Brisvegas".


Australia deports British murderer

A British man jailed for the gruesome murder of a teenager in Australia has been deported to the UK after being granted parole from his life sentence. Christopher Clark Jones, 36, was convicted in 2007..
Credit: PA - Press Association STUDIO Duration: 01:03
Published
Pepper spray and kneeling amid Australia's BLM protests

Crowds gathered across Australia on Saturday (June 6) to support the Black Lives Matter movement and raise awareness of the mistreatment of Indigenous Australians. Soraya Ali reports.
Credit: Reuters Studio Duration: 01:30
Published
You Might Like



Police investigating after Brisbane nightclub dancing video emerges

Hospitality leaders are concerned about the government's response to a Brisbane nightclub that allegedly opened its dance floor in breach of restrictions.




SBS - Published





Almost 40 people arrested at protest demanding release of asylum seekers from Brisbane hotel

Almost 40 protesters have been arrested during the latest protest demanding the release of asylum seekers from a Brisbane hotel.




SBS - Published





Queensland tribunal hears Cook Islands boy's case for long hair at school

A Cook Islands boy growing his hair for cultural reasons was told to cut it or he would be unenrolled by his private Brisbane school, a tribunal has been told.




SBS - Published





Qld tribunal hears boy's long hair case

A Cook Islands boy growing his hair for cultural reasons was told to cut it or he would be unenrolled by his private Brisbane school, a tribunal has been told.




SBS - Published





Hundreds gather for two-hour rally for asylum seekers in Brisbane

Protesters gathered to demand the release of asylum seekers being held at Kangaroo Point Central Hotel.




SBS - Published





Police arrest protesters during Black Lives Matter rally in Brisbane

Among the arrested protesters was prominent Indigenous rights activist and Aboriginal elder Wayne Wharton.




SBS - Published





Hundreds take part in unauthorised refugee rights protests across Australia

Refugee rights rallies were held in Sydney, Melbourne and Brisbane on Saturday.




SBS - Published





Brisbane hotel blockade to stop removal of detained asylum seekers to ramp up

Supporters of about 120 detainees held in a Brisbane hotel hope to escalate their protests over the weekend and have vowed to block access.




SBS - Published




Brisbane hotel asylum protest to ramp up

Supporters of about 120 detainees held in a Brisbane hotel hope to escalate their protests over the weekend and have vowed to block access.




SBS - Published





Activists call for backup at Brisbane hotel to stop removal of refugees

Protesters at a Brisbane hotel housing asylum seekers have called for reinforcements during a dramatic blockade to prevent their removal.




SBS - Published





Racism, deaths are making Indigenous Australians sick, says health council

Protesters will on Saturday march through Brisbane calling for an end to First Nations people dying in custody, and racism towards black people.




SBS - Published





Racism, deaths making First Nations sick

Protesters will on Saturday march through Brisbane calling for an end to First Nations people dying in custody, and racism towards black people.




SBS - Published





Queensland government ordered to pay 2011 Brisbane floods victim $250,000 in compensation

The Queensland Government, Seqwater and Sunwater have been ordered to pay a 2011 Brisbane floods victim more than $250,000 in compensation.




SBS - Published





Australia divided over fake crowd noise as NRL resumes in empty stadiums

The NRL became the first professional sporting competition in Australia to restart when the Broncos and Eels faced off in Brisbane on Thursday night.




SBS - Published





NRL restart marks return of professional sport in Australia after coronavirus shutdown

The NRL will become the first professional sporting competition in Australia to restart when the Broncos and Eels face off in Brisbane on Thursday night.




SBS - Published





Australians hold online vigil for four-year-old Brisbane girl Willow Dunn

Willow Dunn, a four-year-old girl with Down syndrome, has been remembered during an online vigil, whilst her father faces a murder charge in relation to her death.




SBS - Published





Online vigil held for four-year-old Brisbane girl Willow Dunn allegedly murdered by father

Willow Dunn, a four-year-old girl with Down syndrome, has been remembered during an online vigil, whilst her father faces a murder charge in relation to her death.




SBS - Published





Aust to host first human vaccine trials

More than 100 volunteers in Melbourne and Brisbane have been lined up to take part in the first phase of a human trial of a potential coronavirus vaccine.




SBS - Published





Child found dead in Brisbane home

A crime scene has been established at a Brisbane home after the death of a four-year-old.




SBS - Published




Man accused of murdering his parents in Brisbane arrested in Sydney

A man accused of murdering his parents at a Brisbane home has been arrested after a highway escape bid that ended 900 kilometres away in Sydney.




SBS - Published





Qld parents slain, son arrested in NSW

A man accused of murdering his parents at a Brisbane home has been arrested after a highway escape bid that ended 900 kilometres away in Sydney.




SBS - Published





Queensland's deputy premier stands down during investigation by corruption watchdog

Queensland's deputy premier is standing aside from ministerial duties over a probe into the recruitment of a Brisbane principal.




SBS - Published





'We will bring a bazooka': Queensland and NSW fight over Virgin headquarters

NSW has entered talks to move the Brisbane-based Virgin Australia to Sydney, prompting Queensland to accuse it of stealing jobs.




SBS - Published





NSW, Qld in fight over Virgin Aust

NSW has entered talks to move the Brisbane-based Virgin Australia to Sydney, prompting Queensland to accuse it of stealing jobs.




SBS - Published





High Court to hand down George Pell decision

Australia's High Court will hand down its decision on disgraced Cardinal George Pell's final appeal opportunity in Brisbane on Tuesday morning.




SBS - Published





Queensland to raise hotel detention coronavirus concerns with Federal Government

Queensland Premier Annastacia Palaszczuk says she will be speaking with the Federal Government about the use of a Brisbane hotel to house immigration detainees who fear the spread of coronavirus.




SBS - Published





Brisbane's showgrounds could be used as an emergency hospital for coronavirus patients

Authorities in Queensland and South Australia are coming up with back-up plans to ensure there are enough hospital beds for coronavirus patients.




SBS - Published




Guard working at Brisbane hotel housing refugees and asylum seekers tests positive for COVID-19

A guard at a makeshift refugee centre in Brisbane has tested positive to coronavirus, potentially exposing detainees to infection.




SBS - Published





Hundreds attend Brisbane funeral for Hannah Clarke and her three children

A Brisbane funeral is being held for Hannah Clarke and her children Laianah, Aaliyah and Trey, who were killed in a domestic violence attack.




SBS - Published




Australian volunteers are helping para-athletes from the Pacific to get to the Paralympics

Para-athletes from several Pacific nations have been brought to Australia to compete in Brisbane this weekend. It's not just about qualifying for the Paralympics but creating "inclusive communities",..




SBS - Published





Australian toilet paper truck catches fire sparking new tissue tizzy

A delivery truck carrying toilet paper has burst into flames in the Australian city of Brisbane, ratcheting up a sense of panic about the availability of the product generated by the coronavirus..




Reuters - Published





Scott Morrison says the system failed murdered Hannah Clarke and her children

Federal Parliament has held a moment's silence for the Brisbane mother and children murdered by their father.




SBS - Published





Awards council to review Bettina Arndt's Order of Australia honour

Calls for Bettina Arndt to be stripped of her Australia Day honour have intensified after controversial comments she made about the murders of a Brisbane woman and her three children.




SBS - Published





'We are a nation in pain': Tears and anger at Brisbane vigil for Hannah Clarke and her three children

Residents in Brisbane have gathered for a vigil to mourn the deaths of Hannah Clarke and her three children.




SBS - Published




'We are a nation in pain': Vigil held for murdered Brisbane mother Hannah Clarke and kids

Residents in Brisbane have gathered for a vigil to mourn the lives of Hannah Clarke and her three children.




SBS - Published




Mourners gather to remember murdered Brisbane mother Hannah Clarke and kids

Residents in Brisbane have gathered for a vigil to mourn the lives of Hannah Clarke and her three children.




SBS - Published




Man shot dead by police in Brisbane

Queensland Police confirmed they have shot dead a man in Brisbane's CBD.




SBS - Published





Brisbane murders prompt men to seek help

The family of domestic violence victim Hannah Clarke has described her as a brave and caring woman abused by an evil, manipulative husband.




SBS - Published





Two more Australian Diamond Princess evacuees have contracted coronavirus

Two Queensland women will be flown to a Brisbane hospital on Saturday after testing positive for the condition.




SBS - Published





Hundreds rally in Brisbane following murder of mother and three children

Hundreds have gathered in Brisbane in solidarity against domestic violence after a mother and her three children were killed by their father on Wednesday.




SBS - Published





Detective taken off Brisbane murder-suicide investigation 'gutted' over controversial comments

Detective Inspector Mark Thompson was criticised after questioning whether the perpetrator in the Brisbane murder-suicide may have been "driven too far".




SBS - Published




Detective who stepped down from Brisbane murder-suicide case praised as 'brilliant investigator'

Detective Inspector Mark Thompson was criticised after questioning whether the perpetrator in the Brisbane murder-suicide may have been "driven too far".




SBS - Published





Queensland Police apologise for 'victim blaming' comments after murder of Hannah Clarke and kids

A senior officer has been stood down from the investigation into the deaths of a woman and her three children in Brisbane after he was criticised for statements made during a press conference.




SBS - Published




Police confirm domestic violence reports received before murder of Brisbane mother and children

Police have confirmed Rowan Baxter had been reported for domestic violence prior to Wednesday's horrific murders.




SBS - Published





Domestic violence campaigners slam news reports 'glorifying' man who murdered Brisbane family

Campaigners against domestic violence say media coverage of the horrific murder of a Brisbane mother and her three children should be focussed on the victims not the perpetrator.




SBS - Published