New Orleans
Largest city in Louisiana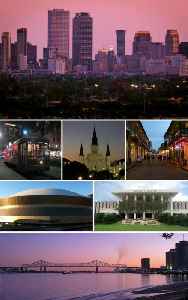 New Orleans is a consolidated city-parish located along the Mississippi River in the southeastern region of the U.S. state of Louisiana. With an estimated population of 390,144 in 2019, it is the most populous city in Louisiana. Serving as a major port, New Orleans is considered an economic and commercial hub for the broader Gulf Coast region of the United States.


Tom Brady, Drew Brees to make history in Buccaneers-Saints Week 1 opener

Week 1 features the first game ever to involve two quarterbacks in their 40s: Tampa Bay's Tom Brady and New Orleans' Drew Brees.
Credit: ABC Action News Duration: 00:20
Published
Tyler Perry Is A Billionaire

Forbes magazine has declared Tyler Perry a billionaire. Perry was raised in poverty in New Orleans. CNN reports that Perry dropped out of high school and went through a period of homelessness as he..
Credit: Wochit News Duration: 00:42
Published
You Might Like
Search this site and the web: