Latvia
Country on the eastern shore of the Baltic Sea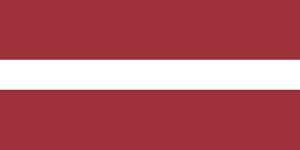 Latvia, officially known as the Republic of Latvia, is a country in the Baltic region of Eastern Europe. Since its independence, Latvia has been referred to as one of the Baltic states. It is bordered by Estonia to the north, Lithuania to the south, Russia to the east, Belarus to the southeast, and shares a maritime border with Sweden to the west. Latvia has 1,957,200 inhabitants and a territory of 64,589 km2 (24,938 sq mi). The country has a temperate seasonal climate. The Baltic Sea moderates the climate, although the country has four distinct seasons and snowy winters.


Latvia unveils statue for health workers

The Latvian capital Riga unveiled a 19-foot tall statue of a female doctor as a gesture of thanks to the country's medical personnel who treated COVID-19 patients.
Credit: Reuters Studio Duration: 01:03
Published
Germany launches tracing app as EU eyes travel revival

Germany appealed to the public on Tuesday to download a new smartphone app to help break the chain of coronavirus infections, one of several such apps that European governments hope will revive travel..
Credit: Reuters Studio Duration: 01:34
Published
The sauna makers turning lockdown into a success

Estonian sauna companies started to see orders flying in shortly after the coronavirus pandemic was declared, as consumers focused increasingly on their wellbeing, industry executives said on Thursday.
Credit: Reuters Studio Duration: 00:57
Published
Chefs across Europe are protesting lockdown rules

In Latvia, Spain and France, restaurant workers are demaning help for their sector.View on euronews
Credit: euronews (in English) Duration: 00:50
Published
You Might Like



Latvia to open borders to most European countries on Wednesday

Latvia will open its borders to most European countries on Wednesday without requiring visitors to self-isolate as the Baltic nation prepares to exit emergency coronavirus measures, the government said..




Reuters - Published





Baltics open Europe's first pandemic 'travel bubble' as curbs ease

Lithuania, Latvia and Estonia opened their borders to each other at the stroke of midnight, creating the first "travel bubble" within the European Union in a bid to jump-start economies broken down by..




Reuters - Published




Latvia to ease coronavirus restrictions for public gatherings from May 12

Latvia will raise the limit for public gatherings to 25 people from two beginning May 12, as the country starts to ease restrictions introduced back in March to halt the spread of the novel..




Reuters - Published





Baltic states to create 'travel bubble' as pandemic curbs eased

Latvia, Lithuania and Estonia will open their borders to each others' citizens from May 15, creating a Baltic "travel bubble" within the European Union amid an easing of pandemic restrictions, their..




Reuters - Published





Baltic states to open borders to each others' citizens: Latvian PM

Latvia, Lithuania and Estonia will open their borders to each others' citizens from May 15, Latvian Prime Minister Krisjanis Karins said on Tuesday.




Reuters - Published





Latvia reports first death of a COVID-19 patient: health ministry

Latvia reported its first death of a patient infected with the new coronavirus on Friday, when a 99-year-old woman died in a hospital in Riga, the health ministry said.




Reuters - Published





Baltic states send ships for citizens stranded on German-Polish border

Estonia and Latvia will send ships to bring back hundreds of their citizens stranded on the border between Germany and Poland, following Warsaw's decision last week to shut its borders in response to..




Reuters - Published




Lithuania and Latvia close schools, ban large public gatherings over coronavirus

Lithuania and Latvia on Thursday temporarily closed schools and kindergartens and banned large public gatherings in the Baltic countries to try to stop the spread of the coronavirus.




Reuters - Published





Latvia reports its first coronavirus case: ministry

Latvia said on Monday it had confirmed its first case of the new coronavirus.




Reuters - Published





Denmark and Latvia to move some troops from Iraq after Iranian missile strikes

Denmark will temporarily move some of its military personnel from the Al-Asad air base in Iraq that was targeted in an Iranian missile strike on Wednesday, Prime Minister Mettle Frederiksen said.




Reuters - Published





U.S. removes sanctions on Latvia's second-largest port

The United States has removed its sanctions on one of Latvia's main ports after the Baltic country's government took control of the port, the U.S. Treasury Department said on Wednesday.




Reuters - Published





Latvian government seizes control of main ports after U.S. sanctions

Latvia's parliament on Thursday passed legislation to take control over the Baltic country's two biggest ports in an effort to keep them open after U.S. sanctions against a Latvian oligarch threatened..




Reuters - Published





Latvian oligarch hits back at corruption charges as U.S. clamps down

Latvian politician and oligarch Aivars Lembergs, who was put on a U.S. corruption sanctions list on Monday, hit back on Tuesday, saying allegations against him were "fake news" and instigated by his..




Reuters - Published




U.S. sanctions Latvian oligarch charged with corruption

The United States on Monday sanctioned Aivars Lembergs, the suspended mayor of Latvia's seaport city of Ventspils and an oligarch with substantial influence in the country's politics, over alleged..




Reuters - Published





Latvia foreign minister sees Brexit extension, debate over how long

European Union leaders are willing to delay Brexit past next week's Oct. 31 deadline, but have not agreed on how long the extension should be, Latvia's foreign minister, Edgars Rinkevics, said on..




Reuters - Published