English Channel
Arm of the Atlantic Ocean that separates southern England from northern France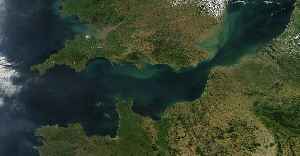 The English Channel, also called simply the Channel, is an arm of the Atlantic Ocean that separates Southern England from northern France and links to the southern part of the North Sea by the Strait of Dover at its northeastern end. It is the busiest shipping area in the world.


Home Secretary on 'avoidable tragedy' in English Channel

Home Secretary Priti Patel says the UK is committed to tackling people trafficking following the 'avoidable tragedy' which saw a migrant family lose their lives in the English Channel on Tuesday. Ms..
Credit: ODN Duration: 01:25
Published
Bishop of Dover calls for migrants to be given safe passage

The Bishop of Dover has expressed her sadness over the loss of the Kurdish-Iranian family who died trying to cross the English Channel. Rose Hudson-Wilkin called for the UK and the rest of Europe to..
Credit: ODN Duration: 02:11
Published
Charity call for change in asylum policy after migrant boat deaths

Clare Moseley, founder of refugee charity Care4Calais, speaks about the deathsof two children and two adults who were attempting to cross the EnglishChannel on Tuesday. She calls for the Government to..
Credit: PA - Press Association STUDIO Duration: 01:06
Published
Minister: "Callous gangs" responsible for migrant crossings

Environment Secretary George Eustice said the key to tackling the problem with migrants crossing the English Channel was targeting the "callous gangs" who were taking money from vulnerable people and..
Credit: ODN Duration: 00:57
Published
Four migrants, including two children, drown after migrant boat sinks in English Channel

The small boat, carrying up to 20 Iranian nationals, was attempting the treacherous crossing from France to the UK, officials saidView on euronews
Credit: euronews (in English) Duration: 01:57
Published
George Eustice: I don't accept that Government's approach to migrants is not working

George Eustice MP talks to BBC Breakfast regarding the deaths of four peoplewho were trying to cross the English Channel, and says he does 'not accept'claims that the Government's approach to migrant..
Credit: PA - Press Association STUDIO Duration: 00:52
Published
Tanker stowaway incident off the Isle of Wight - locator map

The armed forces have boarded a ship in the English Channel and gained controlafter a suspected hijacking and detained seven individuals, the Ministry ofDefence has said. Defence Secretary Ben Wallace..
Credit: PA - Press Association STUDIO Duration: 00:32
Published
UK Border Force escorts suspected migrants to shore

Large numbers of suspected migrants are arriving in the UK following days ofhigh winds in the English Channel. Border Force has deployed extra resourcesto the Dover Strait on Tuesday as crossings have..
Credit: PA - Press Association STUDIO Duration: 01:29
Published
English Channel migrants 'forced onto boats' to make perilous sea crossing — UK border official

Dan O'Mahoney, charged with stopping the sea journeys from France to England, says many migrants are at the mercy of smugglers and unaware of their destination.View on euronews
Credit: euronews (in English) Duration: 01:47
Published
You Might Like
Search this site and the web: