Rotterdam
City and municipality in South Holland, Netherlands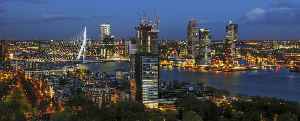 Rotterdam is the 2nd largest city and municipality in the Netherlands. It is in the province of South Holland, at the mouth of the Nieuwe Maas channel leading into the Rhine–Meuse–Scheldt delta at the North Sea. Its history goes back to 1270, when a dam was constructed in the Rotte. In 1340, Rotterdam was granted city rights by the Count of Holland. The Rotterdam–The Hague metropolitan area, with a population of approximately 2.7 million, is the 13th-largest in the European Union and the most populous in the country.


You Might Like
Rotterdam police seize 151 million euros worth of cocaine
Dutch police in the port of Rotterdam seized 2,020 kilos of cocaine, with an estimated value of over 151 million euros ($ 170 million), the authorities said on Sunday.
Reuters - Published
Dutch riot police respond to disturbances after anti-racism protest in Rotterdam: ANP news
Dutch riot police responded to disturbances in downtown Rotterdam on Wednesday evening after a peaceful protest by thousands of anti-racism activists was broken up by authorities, national news agency..
Reuters - Published
Police tell thousands at Dutch anti-racism protest to go home because of overcrowding
Dutch police on Wednesday asked several thousand protesters in the port city of Rotterdam to go home because the anti-racism rally was too crowded and participants could not keep to social distancing..
Reuters - Published
Eurovision 2021 to be held in Rotterdam
Bjorn Ulvaeus made a surprise appearance in the broadcast of Eurovision: Europe Shine a Light, as it was announced that Eurovision 2021 will be in Rotterdam.
SBS - Published
Rotterdam concert hall to admit coronavirus patients instead of Eurovision fans
The Ahoy concert hall in Rotterdam should have hosted the glitter and glamour of the Eurovision song contest in May, but instead is now being turned into an emergency hospital to help the Netherlands..
Reuters - Published
Eurovision Song Contest reconsidering Dutch event over coronavirus
The co-organiser the Eurovision Song Contest, to be held this year in the Dutch city of Rotterdam in May, said it was reviewing its options in light of the coronavirus outbreak.
Reuters - Published
Ethiopia gets back Christian crown spirited away to Rotterdam decades ago
An 18th century church crown stolen from Ethiopia decades ago has been returned from the Netherlands after it was found in a suitcase more than 20 years ago, Prime Minister Abiy Ahmed said on Thursday.
Reuters - Published
Gearing up for Eurovision 2020
Joel Creasey and Myf Warhurst return to host Eurovision – AustraliaDecides in February 2020 and the Eurovision Song Contest in May 2020, live from Rotterdam, the Netherlands. Eurovision – Australia..
SBS - Published