Travel visa
Authorization document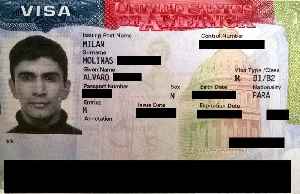 A visa is a conditional authorisation granted by a territory to a foreigner, allowing them to enter, remain within, or to leave that territory. Visas typically may include limits on the duration of the foreigner's stay, areas within the country they may enter, the dates they may enter, the number of permitted visits or an individual's right to work in the country in question. Visas are associated with the request for permission to enter a territory and thus are, in most countries, distinct from actual formal permission for an alien to enter and remain in the country. In each instance, a visa is subject to entry permission by an immigration official at the time of actual entry, and can be revoked at any time. A visa most commonly takes the form of a sticker endorsed in the applicant's passport or other travel document.


Visa applicants with a disability facing discrimination, 10 years after being promised change
After a hearing-impaired teenager was finally granted the right to stay in Australia, SBS News has found a 2009 bipartisan inquiry - that included Scott Morrison - ruled the Australian immigration..
SBS - Published
Search this site and the web:
You Might Like