Cruise ship
Passenger ship used for pleasure voyages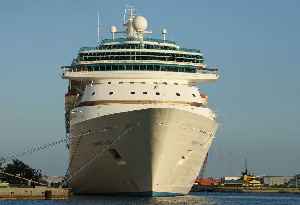 Cruise ships are large passenger ships used mainly for vacationing. Unlike ocean liners, which are used for transport, they typically embark on round-trip voyages to various ports-of-call, where passengers may go on tours known as "shore excursions." On "cruises to nowhere" or "nowhere voyages", cruise ships make two- to three-night round trips without visiting any ports of call.


Cruise Ship With Sick Passengers Allowed to Dock in Florida

A Holland America cruise ship, the Zaandam, and its sister ship, the Rotterdam, will dock in Florida on Thursday.
Credit: Cover Video STUDIO Duration: 01:02
Published
California adds to coronavirus cases, death toll

The first fatality outside of Washington state from the coronavirus was reported Wednesday, bringing the death toll to 11, and new confirmed cases were reported around the two most populous cities, New..
Credit: Reuters Studio Duration: 03:31
Published
Cruiseliner passengers set foot in Cambodia

Passengers onboard the MS Westerdam cruiseliner were able to finally disembark to the Cambodian port town of Sihanoukville on Friday (February 14) , after two weeks at sea.
Credit: Reuters Studio Duration: 01:30
Published
Cruise Ship to Dock in Cambodia After Being Stranded at Sea Over Coronavirus Fears

The MS Westerdam has been stranded at sea since Feb. 6, when Japanese Prime Minister Shinzo Abe denied its docking in the country over fear of COVID-19.
Credit: Cover Video STUDIO Duration: 01:21
Published
You Might Like
Search this site and the web: