Milan
Italian city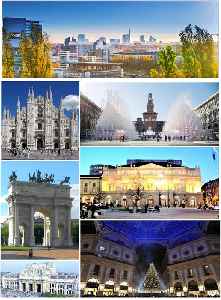 Milan is a city in northern Italy, capital of Lombardy, and the second-most populous city in Italy after Rome. Milan served as the capital of the Western Roman Empire, the Duchy of Milan and the Kingdom of Lombardy–Venetia. The city proper has a population of about 1.4 million while its metropolitan city has 3.26 million inhabitants. Its continuously built-up urban area, that stretches well beyond the boundaries of the administrative metropolitan city, is the fourth largest in the EU with 5.27 million inhabitants. The population within the wider Milan metropolitan area, also known as Greater Milan, is estimated at 8.2 million, making it by far the largest metropolitan area in Italy and the 4th largest in the EU.


Italy's La Scala opera house reopens with social distancing

Milan's 842-year-old La Scala opera house reopened on Monday evening after a 4-month shutdown amid Covid-19 pandemic.View on euronews
Credit: euronews (in English) Duration: 00:50
Published
Italy arrests Siemens, Alstom executives over subway deals

Italian tax police arrested 13 people, including executives of the Italian units of Germany's Siemens and France's Alstom, in an investigation into alleged bribery relating to Milan subway contracts,..
Credit: Reuters Studio Duration: 01:05
Published
Statue of famed Italian writer defaced

A statue of famed Italian journalist Indro Montanelli, who defended colonialism, was smeared with red paint on Saturday (June 13) night in Milan, as protests against racism rage in many countries.
Credit: Reuters Studio Duration: 00:53
Published
You Might Like



As Italy ends lockdown, Milan mayor rebukes crowds socialising outside

The mayor of Milan issued a furious threat on Friday to close down popular open spaces in the city after television footage showed crowds socialising and apparently ignoring public health rules aimed..




Reuters - Published





Italian tenor Bocelli to offer Easter 'prayer' in empty Milan cathedral

Italian tenor Andrea Bocelli will sing to a Milan cathedral bare of worshippers on Easter Sunday, hoping to bring together people isolated during the coronavirus lockdown in a livestreamed broadcast he..




Reuters - Published





Italian prosecutors probe coronavirus crisis in nursing homes

Italian prosecutors are investigating whether malpractice helped spread a coronavirus outbreak in nursing homes in Milan and the surrounding Lombardy region, killing hundreds of people, a judicial..




Reuters - Published





Milan hospital coronavirus squad battles the odds to save a life

There was no room for error at the San Raffaele hospital in Milan on Friday as medical staff moved an 18-year-old patient from the coronavirus ward for urgent tests in another unit.




Reuters - Published





Cases in Italy's Lombardy rise by some 2,500 on Thursday, data 'not good': official

The number of coronavirus cases in the in the northern region of Lombardy, which includes Italy's financial capital Milan, increased by some 2,500 on Thursday, regional governor Attilio Fontana said.




Reuters - Published





Italy death toll jumps past 1,000 as Milan bourse nosedives

Italy's death toll from the coronavirus epidemic shot past 1,000 on Thursday as the economic impact worsened, with much of the country at a standstill and the Milan bourse posting its largest ever..




Reuters - Published





Coronavirus may have reached Italy from Germany, scientists say

A team of scientists in Milan believes Italy's coronavirus epidemic might have come to the country via Germany and not directly from China as many experts initially assumed.




Reuters - Published





Italy locks down millions as its coronavirus deaths jump

Italy ordered a virtual lockdown across much of its wealthy north, including the financial capital Milan, in a drastic new attempt to try to contain a outbreak of coronavirus that saw the number of..




Reuters - Published





Italian stock exchange to open as usual on Monday

Italy's stock exchange will open as usual on Monday, a spokesman said on Sunday, after the government ordered a lockdown of large areas in the north of the country, including Milan, to stem coronavirus..




Reuters - Published





Alarmed Italy locks down north to prevent spread of coronavirus

Italy ordered a virtual lockdown across a swathe of its wealthy north on Sunday, including the financial capital Milan, in a drastic new attempt to try to contain a rapidly growing outbreak of..




Reuters - Published





Factbox: Italy orders shutdown in northern areas to contain coronavirus

Italy has imposed a virtual lockdown across a wide swathe of its wealthy north, including the financial capital Milan, in its latest attempt to contain a growing outbreak of coronavirus.




Reuters - Published





Italy orders lockdown of rich north to try to halt coronavirus

Italy imposed a virtual lockdown across a swathe of its wealthy north on Sunday, including the financial capital Milan, in a drastic new attempt to try to contain a rapidly growing outbreak of..




Reuters - Published




Italy poised to lock down Lombardy after coronavirus jump

Italy is set to impose a virtual lockdown on its wealthiest and most populous region, which includes the financial capital Milan, as part of tough new measures to try to contain the coronavirus..




Reuters - Published




Hungary confirms third coronavirus case in man who returned from Milan

Hungary has confirmed a third case of the coronavirus, after a Hungarian man who had returned from Milan to the eastern city of Debrecen on Feb. 29 tested positive, the government said on its official..




Reuters - Published




LATAM Airlines cancels Sao Paulo-Milan flights due to coronavirus

South America's largest carrier, LATAM Airlines Group , said on Monday it would cancel its daily flight from Sao Paulo to Milan, Italy, through April 16, citing the new coronavirus outbreak and weak..




Reuters - Published





Amazon confirms two employees in Italy have contracted coronavirus

Amazon.com Inc said late on Sunday that two employees in Milan, Italy, have contracted the coronavirus and are under quarantine.




Reuters - Published





Italian with coronavirus in Nigeria was not isolated for almost 48 hours

An Italian man who has been confirmed as Nigeria's first coronavirus case after arriving from Milan was in the country for almost two full days before being isolated, travelled through Lagos and..




Reuters - Published





Coronavirus hits business in Milan as Italy death toll reaches 12

Italy's financial hub Milan grappled on Wednesday with a worsening of the coronavirus outbreak, as business events including the annual Salone del Mobile design fair were delayed or canceled and the..




Reuters - Published





France blocks passengers on board bus from Italy after one falls ill

France on Monday blocked the passengers of a coach that had traveled from the Italian city of Milan to Lyon over concerns one Italian on board might be suffering from the coronavirus, local health..




Reuters - Published





High speed train derails in northern Italy, two drivers die

A high-speed train derailed in the northern Italian province of Lodi in the early hours of Thursday, killing its two drivers and interrupting traffic on the busy line between Milan and Bologna,..




Reuters - Published




Ex-CIA spy flees from Italy to U.S. fearing for her safety: paper

A former U.S. spy, pardoned by Italy in connection with the CIA kidnapping of a terrorism suspect in Milan, has fled from Italy to the United States fearing for her safety, Italian newspaper Il..




Reuters - Published