Tim Cook
American business executive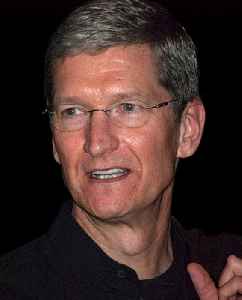 Timothy Donald Cook is an American business executive and industrial engineer. Cook is the chief executive officer of Apple Inc., and previously served as the company's chief operating officer under its cofounder Steve Jobs.


Apple Reveals Credit Card and TV Streaming Service
by Simon Baxendale - While Apple has partially led the way up till now in terms of modern technology, there has been one major market they haven't tapped into – video streaming. However,..
One News Page Staff - Published
Apple Acknowledges Worrying FaceTime Flaw on 'National Privacy Day'
by Alice Monroe - On Tuesday 29th, the US heralded what was known as 'National Privacy Day' – an initiative backed by the likes of Apple CEO Tim Cook, who took to Twitter to extoll..
One News Page Staff - Published
Tim Cook greets customers at reopened Apple Store
Apple's CEO Tim Cook greeted customers at the door of the company's Fifth Avenue Manhattan store as the latest iPhone 11 went on sale around the world on Friday. Rough Cut (no reporter narration).
Credit: Reuters Studio Duration: 00:28Published
Top CEOs pledge to put employees over profits
Companies should focus on social responsibilities as well as profits, the Business Roundtable, a group of corporate chief executives that includes the head of the largest U.S. bank and the CEO of the..
Credit: Reuters Studio Duration: 02:43Published
Trump dismisses recession fears
U.S. President Donald Trump and top White House officials dismissed concerns that economic growth may be faltering, saying they saw little risk of recession despite a volatile week on global bond..
Credit: Reuters Studio Duration: 01:33Published
After Two Mass Shootings In 24 Hours, Tim Cook Weighs In On US Gun Violence
Apple CEO Tim Cook has publicly commented on the two shootings in Texas and Ohio on Saturday. According to Business Insider, that's where 29 people were killed in less than 24 hours. Cook alluded that..
Credit: Wochit News Duration: 00:42Published
Apple beats Wall Street iPhone sales outlook
Apple's quarterly profit and revenue beat Wall Street targets on Tuesday and its forecast for fourth-quarter sales topped expectations as well, with Chief Executive Tim Cook telling Reuters that..
Credit: Reuters Studio Duration: 01:48Published
Apple buys Intel modem chip unit for $1 billion
Apple took a major step toward supplying its own smartphone chips on Thursday with the $1 billion purchase of a majority of Intel's modem chip business. Jane Lanhee Lee reports.
Credit: Reuters Studio Duration: 02:08Published
Search this site and the web:
You Might Like