Ivanka Trump
American Advisor to the President, businesswoman, and daughter of Donald Trump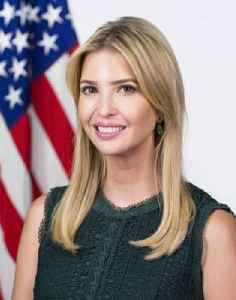 Ivana Marie "Ivanka" Trump is an American businesswoman, serving since 2017 as Advisor to the President, her father Donald Trump. The daughter and second child of President Trump and his first wife, Ivana, she is the first Jewish member of a first family, having converted before marrying her husband, Jared Kushner.


Jared and Ivanka threaten Lincoln Project lawsuit

President Donald Trump's daughter and son-in-law, both top White House aides, are threatening to sue a group of anti-Trump Republicans for posting billboard ads in New York City's Times Square linking..
Credit: Reuters Studio Duration: 01:20
Published
Chelsea Clinton And Ivanka Trump Used To Be BFF's. No More.

Chelsea Clinton has revealed why her once-close friendship with Ivanka Trump came to an end. According to HuffPost, Chelsea spoke to host Andy Cohen on a Thursday appearance on 'Watch What Happens..
Credit: Wochit News Duration: 00:39
Published
Ivanka And Jared Test Negative After Many Trump Insiders Test Positive

President Donald Trump and First Lady Melania Trump have contracted the coronavirus. The first couple are quarantining. His daughter, Ivanka, and son-in-law, Jared Kushner, both of whom are senior..
Credit: Wochit News Duration: 00:39
Published
You Might Like