Anthony Davis
American basketball player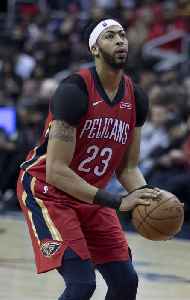 Anthony Marshon Davis Jr. is an American professional basketball player for the Los Angeles Lakers of the National Basketball Association (NBA). He plays the power forward and center positions. Davis was the first overall pick in the 2012 NBA draft. He is a seven-time NBA All-Star and has been named to four All-NBA First Teams and four NBA All-Defensive Teams. In 2020, he won his first NBA championship as a member of the Los Angeles Lakers. He also earned a gold medal with the 2012 US Olympic team.


Fans celebrate Lakers' NBA championship

Fans crowded into the streets outside the Staples Center in Los Angeles onSunday night, after the Los Angeles Lakers beat the Miami Heat 106-93 onSunday night to win the NBA Finals in six games...
Credit: PA - Press Association STUDIO Duration: 00:55
Published
Lakers fans go wild after NBA championship win

LeBron James capped another illustrious title run as the Los Angeles Lakers earned their record-tying 17th championship at the NBA Finals on Sunday night near Orlando. Gloria Tso reports.
Credit: Reuters - Politics Duration: 01:20
Published
LeBron 'humbled' after he & Davis compared with Bryant & O'Neal

LeBron James and Anthony Davis become the first LA Lakers duo since Kobe Bryant and Shaquille O'Neal in 2002 to score more than a combined 60 points in an NBA Finals game.
Credit: Reuters - Sports Duration: 07:53
Published
You Might Like
LeBron James, Anthony Davis and Rich Paul, Klutch Dinner In Malibu
LeBron James was back at Nobu in Malibu on Thursday night for a fancy dinner with Anthony Davis and their agent Rich Paul. Normally, not that big of a deal for 2 teammates to dine with their agent --..
TMZ.com - Published
LeBron James Doused in Booze In Crazy Locker Room Party, FaceTimes Mom
The parade is on hold, but the Lakers locker room celebration Sunday night was LIIIIIIIITTTTTTTTTT!!!! LeBron James, J.R. Smith, Anthony Davis, Rajon Rondo, Dwight Howard, Jared Dudley threw on some..
TMZ.com - Published
L.A. Lakers Win Title, Victory Parade Postponed Until COVID Pandemic Is Over
After the game, Anthony Davis paid tribute to Kobe Bryant -- saying, "Ever since the tragedy, all we wanted to do is do it for him, and we didn't let him down." AD continued, "I know he's looking down..
TMZ.com - Published
LeBron James, Lakers Wear Fake MAGA Hat Supporting Breonna Taylor Before Game
The entire Lakers roster is joining James in calling for justice for Taylor -- with stars from Dwight Howard to Anthony Davis to Alex Caruso wearing the hats prior to Tuesday night's game. All eyes are..
TMZ.com - Published
Search this site and the web: