United States Department of Defense
United States federal executive department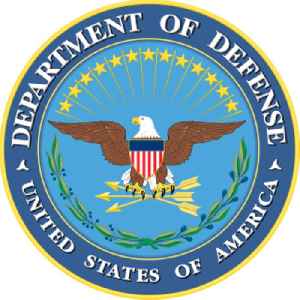 The United States Department of Defense is an executive branch department of the federal government charged with coordinating and supervising all agencies and functions of the government directly related to national security and the United States Armed Forces. The DoD is the largest employer in the world, with nearly 1.3 million active-duty service members as of 2016. More employees include over 826,000 National Guard and Reservists from the armed forces, and over 732,000 civilians bringing the total to over 2.8 million employees. Headquartered at the Pentagon in Arlington, Virginia, just outside Washington, D.C., the DoD's stated mission is to provide "the military forces needed to deter war and ensure our nation's security".


You Might Like
Exclusive: U.S. has not cut Afghan security funds despite Pompeo vow of immediate slash - sources
The U.S. Defense Department has not withheld $1 billion in funding from Afghan security forces despite Secretary of State Mike Pompeo's vow on March 23 to cut that sum "immediately", five sources..
Reuters - Published
Pentagon blasts FCC decision to approve Ligado spectrum plan
The U.S. Defense Department on Wednesday blasted a decision by the Federal Communications Commission last month to allow Ligado Networks to deploy a low-power nationwide mobile broadband network,..
Reuters - Published
Pentagon officials say Trump's comment Iran a warning, will maintain self-defense
Senior Pentagon officials said on Wednesday that President Donald Trump's comments on Iran were meant as a warning to Tehran, but suggested that the U.S. military would continue to abide by their..
Reuters - Published
Pentagon chief says all options on table after Iraq rocket attack
U.S. Defense Secretary Mark Esper said on Thursday that all options were on the table after a rocket attack in Iraq killed one British and two American troops, an attack he said was by Iranian-backed..
Reuters - Published
Taliban accord hopeful moment but road ahead not easy: Pentagon chief
U.S. Defense Secretary Mark Esper said on Saturday that the United States would remain committed to Afghan security forces and while the signing of a historic accord between Washington and the Taliban..
Reuters - Published
Pentagon chief lands in Afghanistan ahead of U.S., Taliban deal
U.S. Defense Secretary Mark Esper arrived in Kabul on Saturday, in a move officials and experts said was aimed at reassuring the Afghan government about the United States' commitment to the country..
Reuters - Published
Trump administration taking $3.8 billion more from military for Mexico border wall
The U.S. Defense Department sent Congress a request to shift nearly $4 billion from the military budget to pay for a wall on the border with Mexico, a central promise of President Donald Trump's..
Reuters - Published
U.S. deploys 'more survivable' submarine-launched low-yield nuclear weapon
The U.S. Defense Department said on Tuesday the Navy had fielded a low-yield, submarine-launched ballistic missile warhead, something the Pentagon believes is needed to deter adversaries like Russia..
Reuters - Published
Trump consulted with Pentagon ahead of northeast Syria troop withdrawal
U.S. President Donald Trump consulted with Defense Secretary Mark Esper and Chairman of the Joint Chiefs of Staff Mark Milley "over the last several days" about a possible Turkish strike in Syria, a..
Reuters - Published
U.S. State Department backs missile sale to Ukraine: statement
The U.S. State Department has approved the sale of 150 Raytheon Co Javelin missiles and related equipment worth up to $39.2 million to Ukraine, the Defense Department said in a statement on Thursday.
Reuters - Published
U.S. forces strike Syrian al Qaeda facility: Defense Department
U.S. forces struck an al Qaeda facility north of Idlib in Syria on Saturday in an attack aimed at the organization's leadership, U.S. Central Command, part of the Department of Defense, said.
Reuters - Published
U.S. Marine killed in Iraq identified
The Department of Defense (DOD) identified on Sunday the U.S. service member who died during an Iraqi Security Force (IFS) mission as Gunnery Sergeant Scott A. Koppenhafer, 35, of Mancos, Colorado.
Reuters - Published
U.S. presses Cambodia over possible Chinese military presence
The U.S. Defense Department has asked Cambodia to explain why it suddenly turned down an offer to repair a naval base, saying the decision had raised speculation of possible plans for hosting China's..
Reuters - Published