United States Department of Defense
United States federal executive department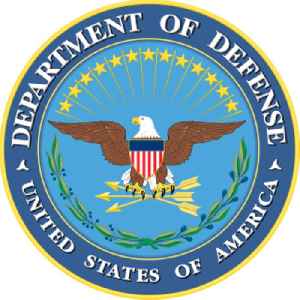 The United States Department of Defense is an executive branch department of the federal government charged with coordinating and supervising all agencies and functions of the government directly related to national security and the United States Armed Forces. The DoD is the largest employer in the world, with nearly 1.3 million active-duty service members as of 2016. More employees include over 826,000 National Guard and Reservists from the armed forces, and over 732,000 civilians bringing the total to over 2.8 million employees. Headquartered at the Pentagon in Arlington, Virginia, just outside Washington, D.C., the DoD's stated mission is to provide "the military forces needed to deter war and ensure our nation's security".


Trump consulted with Pentagon ahead of northeast Syria troop withdrawal
U.S. President Donald Trump consulted with Defense Secretary Mark Esper and Chairman of the Joint Chiefs of Staff Mark Milley "over the last several days" about a possible Turkish strike in Syria, a..
Reuters - Published
U.S. State Department backs missile sale to Ukraine: statement
The U.S. State Department has approved the sale of 150 Raytheon Co Javelin missiles and related equipment worth up to $39.2 million to Ukraine, the Defense Department said in a statement on Thursday.
Reuters - Published
US Confirms Military Strikes From Iran Against Trump Administration
The Department of Defense said the Iranian military retaliated against the Trump administration. The attack came after Trump assassinated Quds Force commander Major General Qassem Soleimani. According..
Credit: Wochit News Duration: 00:32Published
House approves $1.4 trillion spending deal to avert shutdown
The U.S. House of Representatives on Tuesday approved a $1.4 trillion spending package to avert a partial government shutdown that also would raise the U.S. tobacco purchasing age to 21 and permanently..
Credit: Reuters Studio Duration: 01:14Published
Vulnerable Democrats face heavy pressure for supporting impeachment
Democratic Representative Elissa Slotkin and other House Democrats who captured Republican-held districts in 2018 have come under heavy pressure from some voters and conservative groups after..
Credit: Reuters - Politics Duration: 02:15Published
Amazon blames Trump for loss of Pentagon contract
Amazon on Monday accused U.S. President Donald Trump of exerting "improper pressure" and bias that led the Department of Defense to award a lucrative $10 billion cloud contract to rival Microsoft...
Credit: Reuters Studio Duration: 01:10Published
Navy secretary ousted over SEAL case
U.S. Defense Secretary Mark Esper fired the Navy's top civilian after losing confidence in him over his handling of the high-profile case of a Navy SEAL convicted of battlefield misconduct in Iraq, the..
Credit: Reuters Studio Duration: 01:43Published
U.S. forces strike Syrian al Qaeda facility: Defense Department
U.S. forces struck an al Qaeda facility north of Idlib in Syria on Saturday in an attack aimed at the organization's leadership, U.S. Central Command, part of the Department of Defense, said.
Reuters - Published
U.S. Marine killed in Iraq identified
The Department of Defense (DOD) identified on Sunday the U.S. service member who died during an Iraqi Security Force (IFS) mission as Gunnery Sergeant Scott A. Koppenhafer, 35, of Mancos, Colorado.
Reuters - Published
U.S. presses Cambodia over possible Chinese military presence
The U.S. Defense Department has asked Cambodia to explain why it suddenly turned down an offer to repair a naval base, saying the decision had raised speculation of possible plans for hosting China's..
Reuters - Published
Search this site and the web:
You Might Like