Vanuatu
Country in the southwestern Pacific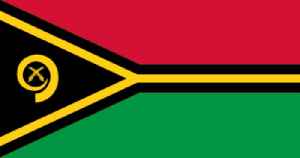 Vanuatu, officially the Republic of Vanuatu, is a Pacific island country located in the South Pacific Ocean. The archipelago, which is of volcanic origin, is 1,750 kilometres (1,090 mi) east of northern Australia, 540 kilometres (340 mi) northeast of New Caledonia, east of New Guinea, southeast of the Solomon Islands, and west of Fiji.


You Might Like
Election of Vanuatu prime minister may speed cyclone relief work
The election of a new prime minister in Vanuatu, Bob Loughman, is expected to speed up emergency relief work for residents of the Pacific island nation left without shelter by tropical cyclone Harold.
Reuters - Published
Australia aid plane to Vanuatu delayed as Chinese plane was parked at Port Vila airport
A Royal Australian Air Force (RAAF) plane carrying aid to cyclone-struck Vanuatu turned around and returned home on Sunday as a Chinese plane with medical equipment was already on the airport's tarmac,..
Reuters - Published
Vanuatu needs aid after Cyclone Harold, but there are fears it could cause a coronavirus emergency
Aid organisations are under pressure to coordinate a disaster response in cyclone-hit Vanuatu, but concerns have been raised about the possible importation of COVID-19 into a country with no known..
SBS - Published
Cyclone Harold tears through Vanuatu, bears toward Fiji
Tropical Cyclone Harold lashed the South Pacific island of Vanuatu for a second day on Tuesday, ripping off roofs and downing telecommunications, and was moving towards Fiji where it is expected to..
Reuters - Published
Cyclone pounds Vanuatu, levelling buildings, amid virus shutdown
A powerful tropical cyclone made landfall on the South Pacific island nation of Vanuatu on Monday, witnesses said, levelling buildings in a country already in a state of emergency due to concerns about..
Reuters - Published
An economic hurricane is hurtling towards the South Pacific
Fiji will lose about a quarter of all jobs in the country, and Vanuatu will suffer even worse.
The Age - Published
Vanuatu to impose coronavirus travel restrictions ahead of election
The South Pacific island nation of Vanuatu which has no confirmed cases of coronavirus is set to ban travel to and from any country with more than 100 cases of COVID-19, as it prepares to go to the..
Reuters - Published
Nurse overcame volcanoes, earthquakes and local chiefs on Vanuatu
Todd started working as a nurse from a bush hut, with bamboo sticks providing some basic privacy and kerosene pressure lamps for lighting.
The Age - Published
Vanuatu denies entry to cruise ship following influenza diagnoses
The Voyager of the Seas has been denied entry to Vanuatu after three staff members aboard the Royal Caribbean ship tested positive for influenza.
The Age - Published
'A shambles': Australian flagship Vanuatu aid project headed for court showdown over unpaid bills
A Townsville contractor has won the right to sue for millions in unpaid costs after an Australian foreign aid project in Vanuatu descended into legal acrimony.
SBS - Published
Quake of magnitude 6.4 strikes off Vanuatu: USGS
An earthquake of magnitude 6.4 struck off the Pacific island nation of Vanuatu on Monday, the United States Geological Survey said.
Reuters - Published
Magnitude 6.2 quake hits east of Vanuatu: USGS
A magnitude 6.2 earthquake struck around 35 kilometers east of Vanuatu on Monday, according to the United States Geological Survey (USGS).
Reuters - Published
Six Chinese nationals arrested in Vanuatu: media
Authorities in Vanuatu have arrested six Chinese nationals following Chinese complaints they were operating an internet scam from the Pacific island, media reported on Saturday.
Reuters - Published