Revenge
Harmful action in response to a grievance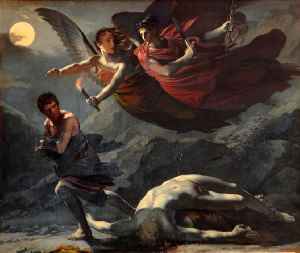 Revenge is a form of justice enacted in the absence or defiance of the norms of formal law and jurisprudence. Often, revenge is defined as being a harmful action against a person or group in response to a grievance, be it real or perceived. It is used to punish a wrong by going outside the law. Francis Bacon described revenge as a kind of "wild justice" that "does... offend the law [and] putteth the law out of office." Primitive justice or retributive justice is often differentiated from more formal and refined forms of justice such as distributive justice and divine judgment.


Did Nancy Pelosi 'Clap Back' at Trump's State of the Union Speech?
by Stephanie Boyd - For some time, it was unclear whether or not US President Donald Trump's State of the Union speech was going to happen at all this February. Following the longest US..
One News Page Staff - Published
Search this site and the web:
You Might Like