Dominican Republic
Country in the Caribbean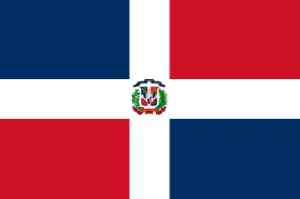 The Dominican Republic is a country located on the island of Hispaniola in the Greater Antilles archipelago of the Caribbean region. It occupies the eastern five-eighths of the island, which it shares with Haiti, making Hispaniola one of only two Caribbean islands, along with Saint Martin, that are shared by two sovereign states. The Dominican Republic is the second-largest nation in the Antilles by area at 48,671 square kilometers (18,792 sq mi), and third-largest by population with approximately 10.5 million people, of whom approximately 3.3 million live in the metropolitan area of Santo Domingo, the capital city. The official language of the country is Spanish.


Twin tropical storms menace Caribbean & U.S.

Tropical Storm Marco could hit Louisiana with hurricane-force winds as Tropical Storm Laura moves through the Dominican Republic toward the Gulf of Mexico. This report produced by Zachary Goelman.
Credit: Reuters Studio Duration: 00:42
Published
Storm Isaias brushes off Florida, heads up East Coast

Isaias, downgraded from a hurricane but still a powerful tropical storm, moved along Florida's eastern coast on Sunday, bringing strong winds but no longer posing a storm surge threat. This report..
Credit: Reuters - Politics Duration: 00:57
Published
Tropical Storm Isaias Heading Toward Florida

Tropical Storm Isaias formed Wednesday over the Caribbean Sea. According to the National Hurricane Center, Isaias is forecast to make landfall over the Dominican Republic before noon Thursday...
Credit: Wochit News Duration: 00:32
Published
You Might Like



Kim Kardashian, Kanye West Arrive in Miami, Next Stop Colorado Glamping

Kim Kardashian, Kanye West and their brood have left the Dominican Republic and just touched down in Miami ... and we're told this isn't the end of their make-or-break vacay. They sure look like..




TMZ.com - Published





Leading Dominican Republic presidential candidate has coronavirus

Just three-and-a-half weeks away from the Dominican Republic's presidential election, leading candidate Luis Abinader said he and his wife had tested positive for the novel coronavirus.




Reuters - Published





Dominican government orders curfew to slow spread of coronavirus

The government of the Dominican Republic ordered a nationwide nighttime curfew over the next two weeks in a bid to sharply limit movement and prevent the spread of the new coronavirus, officials said..




Reuters - Published





Haiti suspends flights from Europe, LatAm to stop coronavirus

Haiti will from Monday suspend flights from Europe, Latin America and Canada and impose major restrictions on the border with the neighboring Dominican Republic to prevent the entry of the coronavirus,..




Reuters - Published





Haiti considers closing borders to prevent coronavirus entry

Haiti is considering closing its airports and ports to travelers as well as the border with the neighboring Dominican Republic in order to prevent the entry of the coronavirus, Prime Minister Joseph..




Reuters - Published





Dominican Republic confirms first case of coronavirus

Health authorities in the Dominican Republic said on Sunday that they had confirmed the first case of coronavirus in the country, a tourist visiting from Italy.




Reuters - Published





Dominican Republic turns away cruise ship over coronavirus fears

Port authorities in the Dominican Republic on Thursday turned away a cruise ship on a tour of the Caribbean and Central America over fears some passengers might have the coronavirus.




Reuters - Published





Electronic glitch triggers Dominican Republic vote suspension

Dominican Republic's nationwide municipal elections were suspended only four hours after voting began on Sunday due to a glitch in the electronic voting system, officials said.




Reuters - Published





Charges dropped against second baseball player in Dominican drug trafficking case

The attorney general's office of the Dominican Republic said on Friday that it had dropped charges against former Major League Baseball player Luis Castillo after the pitcher presented evidence in his..




Reuters - Published





Ex-Major League Baseball player Dotel has Dominican charge dismissed, freed on bail

A Dominican court released former Major League Baseball pitcher Octavio Dotel on bail on Thursday after he spent nine days in detention over allegations of money laundering.




Reuters - Published





Dominican's largest drug trafficking gang dismantled after raids, says prosecutor

The Dominican Republic's top prosecutor said on Tuesday that the Caribbean nation's largest drug trafficking gang has been dismantled, a group that allegedly used two former professional baseball..




Reuters - Published





Dominican Republic sends McAfee to Britain, without guns or yacht

Tech guru John McAfee, creator of the eponymous antivirus computer software, has arrived in Britain from the Dominican Republic, where he was detained with his wife for entering the Caribbean nation..




Reuters - Published





McAfee detained in Dominican Republic, released after four days

John McAfee, the eccentric creator of eponymous antivirus computer software, and an entourage were detained by Dominican immigration authorities for entering the country with a cache of firearms and..




Reuters - Published





Taiwan president travels to Haiti to bolster relations in the region

Taiwan's President Tsai Ing-wen visited Haiti on Saturday in an attempt to bolster support in the region after the neighboring Dominican Republic broke diplomatic ties with Taiwan last year.




Reuters - Published




Pompeo highlights importance of democracy in Dominican Republic: statement

U.S. Secretary of State Mike Pompeo highlighted the importance of democratic institutions in the Dominican Republic with President Danilo Medina, according to a statement released Thursday, ahead of..




Reuters - Published