Warragamba, New South Wales
Town in New South Wales, Australia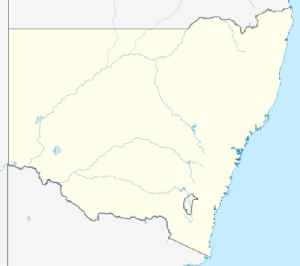 Warragamba is a town in New South Wales, Australia, in Wollondilly Shire. Located on the eastern edge of the Blue Mountains, Warragamba is one and a half hour's drive west of Sydney. The name Warragamba comes from the aboriginal words Warra and Gamba meaning water running over rocks.


Indigenous elders oppose Warragamba plan
Indigenous elders say the NSW government hasn't fully checked the area affected by a plan to raise the wall of Warragamba Dam for cultural artefacts and sites.
SBS - Published
Bob Brown questions Warragamba motives
Environmentalist Bob Brown has urged major federal political parties to declare their position on the raising of NSW's Warragamba Dam wall before the election.
SBS - Published
Secret plan to raise Warragamba wall 17m
The NSW government could raise Warragamba Dam wall higher than the initial 14 metres proposed, which experts say would have a greater environmental impact.
SBS - Published
Process 'not followed' in Warragamba plan
Parts of the Blue Mountains are being assessed for Aboriginal cultural values but a plan to raise Warragamba Dam wall is threatening what isn't yet fully known.
SBS - Published
Search this site and the web:
You Might Like