Queen (band)
British rock band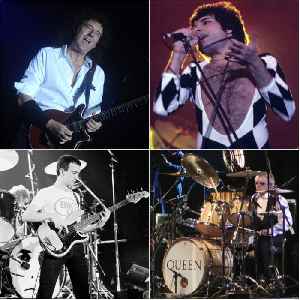 Queen are a British rock band formed in London in 1970. Their classic line-up was Freddie Mercury, Brian May, Roger Taylor and John Deacon. Their earliest works were influenced by progressive rock, hard rock and heavy metal, but the band gradually ventured into more conventional and radio-friendly works by incorporating further styles, such as arena rock and pop rock.


NSW, Queensland fire victims in Queen's prayers
The Queen says she is "deeply saddened" by the bushfires that have killed two people and destroyed dozens of homes in northern NSW and southeast Queensland.
SBS - Published
Women lead the way, making history in Queen's honours list
This year's Queen's Birthday Honours has the highest percentage of women ever included in the award list, making up 40 per cent of recipients.
SBS - Published
Donald Trump's UK State Visit Confirmed: What to Expect
by Simon Baxendale - After months of speculation, it has been confirmed this week that US President Donald Trump will return to the UK later this year as part of a state visit. This means that Trump..
One News Page Staff - Published
Oscars 2019: Who Won the Big Awards?
by Graham Pierrepoint - We've just seen the biggest event in the Hollywood calendar come to pass, and as always, there were a number of upsets and surprises. The Academy Awards, otherwise known..
One News Page Staff - Published
Search this site and the web:
You Might Like