Apollo 11
First crewed space mission to land on the Moon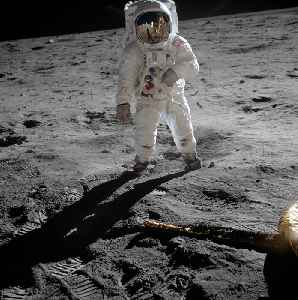 Apollo 11 was the spaceflight that first landed humans on the Moon. Commander Neil Armstrong and lunar module pilot Buzz Aldrin formed the American crew that landed the Apollo Lunar Module Eagle on July 20, 1969, at 20:17 UTC. Armstrong became the first person to step onto the lunar surface six hours and 39 minutes later on July 21 at 02:56 UTC; Aldrin joined him 19 minutes later. They spent about two and a quarter hours together outside the spacecraft, and they collected 47.5 pounds (21.5 kg) of lunar material to bring back to Earth. Command module pilot Michael Collins flew the command module Columbia alone in lunar orbit while they were on the Moon's surface. Armstrong and Aldrin spent 21 hours 31 minutes on the lunar surface at a site they named Tranquility Base before lifting off to rejoin Columbia in lunar orbit.


Sydney moon dust experiment on board Apollo 11
One small, dusty, step for man...
The Age - Published
Moon landing coins launched in Australia
The Royal Australian Mint has released a three-coin collectable series to celebrate 50 years since the Apollo 11 Moon landing.
SBS - Published
NASA Hopes To Retrieve Rock Samples From Mars
A major scientific success of the Apollo mission was retrieving samples from the Moon that were brought back to Earth for study. Now NASA wants to replicate their success with its Mars 2020 mission,..
Credit: Wochit News Duration: 00:48Published
Pope: Moon landing inspires progress for humanity
Pope Francis on Sunday recalled mankind's first steps on the lunar surface 50 years ago, hoping its memory could lead to further progress for humanity. Rough Cut (no reporter narration).
Credit: Reuters Studio Duration: 00:42Published
Astronaut Tim Peake joins Red Arrows for military air show flight
Astronaut Tim Peake has joined the Red Arrows for a rehearsal flight at the Royal International Air Tattoo. He sat behind Sqn Ldr Martin Pert, known as Red 1, in one of the team's distinctive Hawk..
Credit: PA - Press Association STUDIO Duration: 00:47Published
Apollo 11 astronaut reflects on moon mission
Apollo 11 astronaut Michael Collins has returned to the exact spot where he and two other astronauts flew to the moon 50 years ago. At NASA's invitation, Michael Collins spent the golden anniversary..
Credit: PA - Press Association STUDIO Duration: 01:30Published
Search this site and the web:
You Might Like