Mecca
Saudi Arabian city and capital of the Makkah province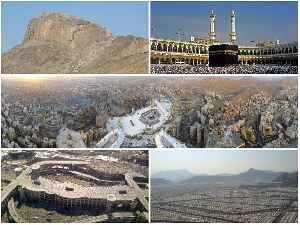 Makkah, officially Makkah al-Mukarramah and commonly shortened to Mecca, is the holiest city in Islam and the capital of the Makkah Province of Saudi Arabia. The city is 70 km (43 mi) inland from Jeddah on the Red Sea, in a narrow valley 277 m (909 ft) above sea level. Its last recorded population was 1,578,722 in 2015. The estimated metro population in 2020 is 2.042 million, making it the third-most populated city in the kingdom. Pilgrims more than triple this number every year during the Ḥajj pilgrimage, observed in the twelfth Hijri month of Dhūl-Ḥijjah.


India's Covid active cases hit first-ever plateau; Mecca reopens after curbs

Hindustan Times' National Political Editor, Sunetra Choudhury brings you the top stories you need to know. Sunetra talks about the number of Covid-19 cases in India so far; India's Covid active cases..
Credit: HT Digital Content Duration: 03:48
Published
Watch: In Mecca, pilgrims return to Islam's holiest site

A very small number of people circled the Kaaba in Mecca on Sunday after Saudi Arabia lifted coronavirus restrictions that had been in place for months.View on euronews
Credit: euronews (in English) Duration: 00:50
Published
Umrah pilgrims return to Mecca

Mecca slowly stirred from a seven-month slumber on Sunday as pilgrims trickled in after Saudi authorities partially lifted a coronavirus ban on performing the umrah - a pilgrimage to Islam's two..
Credit: Reuters Studio Duration: 00:50
Published
You Might Like



Saudi Arabia to end curfew on June 21, except in Mecca

Saudi Arabia will begin easing restrictions on movement and travel this week, more than two months after stringent measures were introduced to help curb the spread of the novel coronavirus.




Reuters - Published




Saudi eases coronavirus curfews, keeps 24-hour curfew in Mecca

Saudi Arabia eased curfews on Sunday across the country, while keeping 24-hour curfews in the city of Mecca and in neighbourhoods previously put in isolation, state news agency SPA said.




Reuters - Published





Saudi Arabia imposes 24-hour curfew in Mecca and Medina

Saudi Arabia imposed a 24-hour curfew in the Muslim holy cities of Mecca and Medina on Thursday, extending measures to combat the spread of the coronavirus, which has infected more than 1,700 people in..




Reuters - Published





Saudis tighten anti-virus curfew, UAE closures leave travellers stranded

Saudi Arabia reported its second coronavirus death and tightened a nationwide curfew on Wednesday, barring entry to and exit from the capital Riyadh and the holy cities of Mecca and Medina as well as..




Reuters - Published




Saudi tightens coronavirus curfew; travelers stranded in UAE

Saudi Arabia reported its second coronavirus death and tightened a nationwide curfew, barring entry to and exit from the capital Riyadh and the holy cities of Mecca and Medina as well as movement..




Reuters - Published




Saudi Arabia tightens curfew to contain coronavirus

Saudi Arabia tightened a nationwide curfew to contain the spread of the coronavirus, barring entry to and exit from the capital Riyadh and the holy cities of Mecca and Medina as well as movement..




Reuters - Published




Saudi Arabia suspends prayers in the arenas outside Mecca, Medina holy mosques

Saudi Arabia said on Thursday it suspended Muslims from conducting their five daily prayers and the weekly Friday prayer in the overflow area just outside the walls of the two holy mosques in Mecca and..




Reuters - Published





Coronavirus measures proving costly for Australian Muslims planning to visit Mecca

A travel ban designed to curb the spread of coronavirus has left many Australian Muslims out of pocket with some travel agents forced to ponder their future.




SBS - Published





Saudi Arabia reopens Mecca, Medina holy sites after coronavirus closure: state TV

Saudi Arabia reopened two of the most holy religious sites in Islam, Al-Haram Mosque in Mecca and Al-Masjid al Nabawy in Medina, after they were closed for sterilization to halt the spread of the new..




Reuters - Published





Saudi Arabia extends pilgrimage suspension to its own citizens

Saudi Arabia extended a suspension of pilgrimages by foreigners to the holy cities of Mecca and Medina to Saudi citizens and residents due to concerns about the coronavirus, state news agency SPA..




Reuters - Published





Saudi Arabia suspends pilgrimages for Saudi citizens and residents

Saudi Arabia, which has already suspended pilgrimages to the two holy cities of Mecca and Medina for foreigners due to coronavirus concerns, extended the ban on Wednesday to Saudi citizens and..




Reuters - Published




Saudi Arabia temporarily suspends entry of GCC citizens to Mecca and Medina: foreign ministry

Saudi Arabia temporarily suspended entry of Gulf Cooperation Council (GCC) citizens to Mecca and Medina, the foreign ministry announced in a statement published by the state news agency on Friday.




Reuters - Published





Muslim pilgrims pray in Mecca as haj winds down without incident

Millions of haj pilgrims began heading back to Mecca for final prayers on Tuesday as the world's largest annual gathering of Muslims wound down without incident despite the logistical challenges and..




Reuters - Published





Muslim pilgrims descend on Mecca for haj, Saudis warn against politics

Hundreds of thousands of white-clad pilgrims, many gripping umbrellas to ward off Saudi Arabia's blistering summer sun, descended on Mecca this week ahead of the annual haj.




Reuters - Published





The Muslim pilgrimage of Hajj explained

Nearly 2 million Muslim pilgrims are gathering in the holy city of Mecca in Saudi Arabia for the Hajj.




SBS - Published




Australian Muslims are joining international calls to boycott the Hajj

There are growing calls from Muslims around the world to boycott the annual holy pilgrimage to Mecca over Saudi Arabia's war in Yemen.




SBS - Published





OIC notes with concern growing Islamophobia in many parts of the world: statement

The Organisation of Islamic Cooperation (OIC) summit in Mecca said on Saturday that it noted with concern growing Islamophobia in many parts of the world, according to the summit's final statement.




Reuters - Published





OIC refuses to accept any decision to change legal status of Syria's Golan Heights

The Organisation of Islamic Cooperation (OIC) summit in Mecca refused to accept any decision to change legal and demographic status of Syria's Golan Heights, especially the U.S. decision to recognize..




Reuters - Published