Western Australia
State in Australia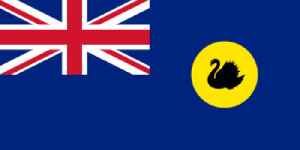 Western Australia is a state occupying the entire western third of Australia. It is bounded by the Indian Ocean to the north and west, and the Southern Ocean to the south, the Northern Territory to the north-east, and South Australia to the south-east. Western Australia is Australia's largest state, with a total land area of 2,529,875 square kilometres, and the second-largest country subdivision in the world, surpassed only by Russia's Sakha Republic. The state has about 2.6 million inhabitants – around 11 percent of the national total – of whom the vast majority live in the south-west corner, 79 percent of the population living in the Perth area, leaving the remainder of the state sparsely populated.


Timelapse shows Western Australia dust storm

An Australian filmmaker captured slow motion and timelapse videos of a dust storm on Sunday (May 24), as Western Australia braced for some of its worst weather in a decade.
Credit: Reuters Studio Duration: 00:39
Published
Western Australia braces for 'once-in-a-decade' storm

The remnants of a tropical cyclone meeting with a cold front will bring 130km/h winds and heavy rain. David Doyle reports.
Credit: Reuters Studio Duration: 00:46
Published
You Might Like



Harmony's story: Breaking the cycle of youth incarceration in Western Australia

For the first time, a new program in Western Australia is following the journeys of young people out of juvenile detention.




SBS - Published





Queensland to host six AFL teams as all Victorian clubs leave coronavirus-hit state

All 10 Victorian AFL clubs will leave the state and enter hubs in either WA, NSW or Queensland.




SBS - Published





Call for new WA police complaint office

Aboriginal legal advocates have called for a revamp of investigations into police misconduct in Western Australia including the excessive use of force.




SBS - Published





Ancient Aboriginal artefacts have been found off the coast of Western Australia

Hundreds of ancient Aboriginal artefacts have been discovered off Western Australia's coast, prompting calls for stronger laws to protect underwater heritage.




SBS - Published





Aboriginal artefacts found off WA coast

Hundreds of ancient Aboriginal artefacts have been discovered off Western Australia's coast, prompting calls for stronger laws to protect underwater heritage.




SBS - Published





WA search continues for man swept into sea

The search continues for a 23-year-old man who was swept into the ocean on Monday night.




SBS - Published





WA to keep borders closed, Queensland should think about the same, says AMA

Western Australia's chief health officer won't be advising the state government to reopen borders until Victoria's coronavirus numbers significantly improve, while the Australian Medical Association..




SBS - Published





WA set for long wait before borders reopen

Western Australia's chief health officer won't be advising the state government to reopen borders until Victoria's coronavirus numbers significantly improve.




SBS - Published





Easing Queensland coronavirus restrictions still days away amid national increase in cases

Queensland will provide an update on border openings as new cases are reported in Western Australia, New South Wales and Victoria.




SBS - Published





Queensland border update set for Tuesday amid national increase in cases

Queensland will provide an update on border openings as new cases are reported in Western Australia, New South Wales and Victoria.




SBS - Published




What Perth's first night of clubbing in months looked like

These were the scenes outside some of Perth's nightclubs as Western Australia entered phase four of coronavirus restrictions.




SBS - Published




Watch: WA Premier Mark McGowan is speaking live

Western Australia Premier Mark McGown is speaking live following comments from Matilda's captain Sam Kerr about Australia's successful 2023 FIFA Women's World Cup bid.




SBS - Published





WA government lashes doctor's 'disgraceful' Nazi analogy for border restrictions

Western Australia's health minister has fired back at an infectious disease specialist who likened the state's border restrictions to Nazi Germany.




SBS - Published





WA parliament passes bill to end controversial imprisonment of people for unpaid fines

Western Australia's upper house has passed legislation to prevent the imprisonment of fine defaulters, except as a last resort.




SBS - Published





WA parliament passes unpaid fines reforms

Western Australia's upper house has passed legislation to prevent the imprisonment of fine defaulters, except as a last resort.




SBS - Published





South Australia is opening its borders to Tasmania, WA and the NT

South Australia will move early to lift COVID-19 border restrictions with WA, the NT and Tasmania from midnight.




SBS - Published





WA Attorney General slams state's 'systemic discrimination' ahead of more Black Lives Matter rallies

Aboriginal and Torres Strait Islander people are jailed at a 70 per cent higher rate than the national average in Western Australia, with the state recording the highest number of Indigenous deaths in..




SBS - Published





Rio Tinto chief says sorry for sacred caves blast; Australia starts inquiry

Rio Tinto Chief Executive Jean-Sebastien Jacques on Friday apologised for distress caused by Rio's destruction last month of two ancient and sacred Aboriginal caves in Western Australia, pledging full..




Reuters - Published




WA prison guards cleared of force after Indigenous inmate hospitalised

An investigation into an alleged use of excessive force against a female Western Australian prisoner has concluded no one at the jail hurt her.




SBS - Published





WA prison guards cleared of force on woman

An investigation into an alleged use of excessive force against a female Western Australian prisoner has concluded no one at the jail hurt her.




SBS - Published





An Australian girl stranded near Wuhan for six months has been reunited with her mum

Fourteen-year-old Jessica Xie-Moulton has returned to Western Australia after living inside the original epicentre of the coronavirus pandemic for the past six months.




SBS - Published





Aboriginal man, 40, dies in custody after collapsing at WA prison

A 40-year-old Aboriginal man has died after collapsing at Acacia Prison in Western Australia, but authorities say his death does not appear to be suspicious.




SBS - Published





WA Aboriginal prisoner dead after collapse

A 40-year-old Aboriginal man has died after collapsing at Acacia Prison in Western Australia, but authorities say his death does not appear to be suspicious.




SBS - Published





Traditional owners say Rio Tinto knew importance of caves razed for mine

Rio Tinto Ltd knew the cultural and historical significance of two caves in Western Australia years before it blew them up last month as part of an iron ore mine expansion, traditional owners said on..




Reuters - Published





Rio Tinto apologises for blowing up 46,000-year-old Aboriginal site

Rio Tinto apologised for the destruction of a sacred Aboriginal cave in Western Australia that showed evidence of continual habitation dating back 46,000 years, and said it would urgently review its..




Reuters - Published





Concerns for WA port workers who boarded ship before COVID-19 outbreak confirmed

Fremantle Port workers boarded a live export ship before a COVID-19 outbreak was confirmed, and there are concerns they and their families have been exposed.




SBS - Published





Concerns for WA port workers on virus ship

Fremantle Port workers boarded a live export ship before a COVID-19 outbreak was confirmed, and there are concerns they and their families have been exposed.




SBS - Published





Collapsed roofs, crushed cars and widespread blackouts on second day of wild weather in WA

Wild weather has hit a large part of Western Australia after a cold front clashed with a tropical system, bringing down roofs and trees, and causing blackouts.




SBS - Published





Western Australia hit by "once-in-a-decade" storm

A cold front combined with a tropical system has lashed Western Australia with strong winds and rain, ripping roofs off buildings and knocking trees down.




SBS - Published





Thousands without power as WA braces for more wild weather

Wild weather has hit a large part of Western Australia after a cold front combined with a tropical system to bring damaging winds and rain.




SBS - Published





Wild weather to lash WA for a second day

Wild weather has hit a large part of Western Australia after a cold front combined with a tropical system to bring damaging winds and rain.




SBS - Published





Second day of severe storms for WA

Wild weather has hit a large part of Western Australia after a cold front combined with a tropical system to bring damaging winds and rain.




SBS - Published





Clive Palmer takes WA border closure issue to the High Court

Former MP and billionaire Clive Palmer says he will lodging documents with the High Court to challenge Western Australia's border closure.




SBS - Published




'Eerie scenes' as WA storm cuts power to thousands of properties

Wild weather has begun hitting Western Australia after a cold front combined with a tropical system to whip up damaging winds, heavy rain and massive waves.




SBS - Published





WA lashed by 'rare' dangerous storm

Western Australia is being battered by dangerous weather, with damaging winds and heavy rain lashing most of the state in a "rare event".




SBS - Published




Severe weather warning issued for large parts of Western Australia

West Australians are bracing for the wild weather as a cold front is predicted to whip up damaging winds, heavy rain and massive waves on the coast.




SBS - Published





WA expected to be hit by wild weather

West Australians are bracing for the wild weather as a cold front is predicted to whip up damaging winds, heavy rain and massive waves on the coast.




SBS - Published





WA braces for wild weather from ex-cyclone

Ex-category one tropical cyclone Mangga is forecast to bring destructive wind gusts and heavy rain to the west coast of Western Australia.




SBS - Published





Clive Palmer planning High Court challenge after being denied entry into locked-down WA

Queensland billionaire Clive Palmer has had an application to enter Western Australia knocked back and plans to challenge the border closure in the High Court.




SBS - Published





WA's barley farmers pin their hopes to new Asian markets after being snubbed by China

Most of Western Australia's estimated 3,000 barley growers have already planted this year's crop. The question now is what to do with it.




SBS - Published





WA marks one week without new coronavirus cases

Western Australia has marked one week of no new COVID-19 cases, as the state government expands a study testing asymptomatic people.




SBS - Published





WA students return to classrooms as coronavirus school debate continues to rage

West Australian public school students returned to classrooms this week, with schools across the state experiencing very different starts to term two.




SBS - Published





Australia is starting to lift some coronavirus restrictions. What are other countries doing?

Queensland and Western Australia are relaxing some stay-at-home coronavirus measures, marking the first winding back of lockdown restrictions in Australia.




SBS - Published





Watch: SBS World News live

Tonight on SBS World News, thw Australian government launches its coronavirus tracing app amid privacy concerns, Queensland and Western Australia prepare to ease self-isolation restrictions and British..




SBS - Published





Encouraging signs in Western Australia and South Australia, but national coronavirus death toll rises to 72

South Australia and Western Australia have had encouraging signs in the fight to contain the coronavirus spread, but the national death toll has risen by two with fatalities in Victoria and New South..




SBS - Published




Coronavirus-plagued Artania cruise leaves Western Australia after three weeks stay

The Artania cruise ship has begun its journey back to Europe from Western Australia, days after the death of another crewman.




SBS - Published