Scott Morrison
Current Prime Minister of Australia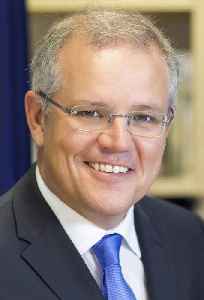 Scott John Morrison is an Australian politician who has been serving as the 30th Prime Minister of Australia and Leader of Australian Liberal Party since 2018. He became a federal Parliament member in 2007 and had held several ministerial positions including federal Minister for Social Services and Treasurer under Tony Abbott and Malcolm Turnbull's Coalition administration since 2013. Also, he has been Minister for Public Services in his cabinet since mid-2019.


Australia to receive COVID-19 vaccine within months

Australia expects to receive its first batches of a potential COVID-19 vaccine in January, Prime Minister Scott Morrison said on Monday, as the number of new daily infections in the country's virus..
Credit: Reuters Studio Duration: 02:06
Published
You Might Like



Watch: The Prime Minister is speaking live

Prime Minister Scott Morrison is speaking live from Canberra with the Attorney-General.




SBS - Published




Boris Johnson encourages Scott Morrison to back 'ambitious' targets to reach net zero emissions

Boris Johnson stressed the need to take strong action on climate change and highlighted that driving economic growth and reducing emissions could go hand-in-hand.




SBS - Published





Scott Morrison says JobSeeker recipients 'can expect' payments will continue at elevated levels beyond this year

Prime Minister Scott Morrison was asked to guarantee JobSeeker payments for the unemployed will continue to be paid above the 'poverty line'.




SBS - Published





'A profound disappointment': Scott Morrison, business leaders criticise Victoria's delay on easing coronavirus rules

Victorian Premier Daniel Andrews' pause on COVID-19 rule easing has been pilloried by the Morrison government, Melbourne Lord Mayor Sally Capp and business groups.




SBS - Published




Scott Morrison slams Victoria's delay on easing coronavirus rules

Victorian Premier Daniel Andrews' pause on COVID-19 rule easing has been pilloried by the Morrison government, Melbourne Lord Mayor Sally Capp and business groups.




SBS - Published




Guy Sebastian presses Scott Morrison about delay in rollout of $250m arts rescue package

The singer says he has asked the prime minister for answers after it was revealed how little of the $250 million coronavirus arts rescue package has been spent so far.




SBS - Published





Scott Morrison defends delay on corruption watchdog promised nearly two years ago

The Morrison government received a draft of a bill to establish a national anti-corruption commission in December last year.




SBS - Published





Scott Morrison's car splashed with fake blood by refugee rights activists in Queensland

Scott Morrison's visit to the University of Queensland turned sour this morning after his car and a university building were hit with fake blood.




SBS - Published





'Not something to boast of': Scott Morrison criticises Annastacia Palaszczuk over Queensland border closures

Prime Minister Scott Morrison says Queensland's border with NSW shouldn't be shut longer than 'absolutely necessary' because it's hurting jobs.




SBS - Published





Don't boast about Qld border closure: PM

Prime Minister Scott Morrison says Queensland's border with NSW shouldn't be shut longer than "absolutely necessary" because it's hurting jobs.




SBS - Published





Scott Morrison says the budget delivers for 'all Australians'. Are women being left behind?

Prime Minister Scott Morrison has defended his budget as a response for all Australians against criticism women are set to benefit less from stimulus measures.




SBS - Published





Budget 2020: The PM speaks with SBS' Brett Mason

Prime Minister Scott Morrison speaks with SBS Chief Political Correspondent Brett Mason after the federal government unveiled its big-spending plan to navigate the economy out of the coronavirus..




SBS - Published





The prime minister says english is 'so important' to social cohesion

Prime Minister Scott Morrison has defended $60m announced in the federal budget for "social cohesion". Mr Morrison said that the English language is 'so important' for a successful Australian society,..




SBS - Published





Watch: Question time ahead of federal budget announcement

Prime Minister Scott Morrison and other politicians are speaking at Question Time as parliaments sits ahead of the unveiling of the 2020 federal budget.




SBS - Published





New Zealanders will soon be able to travel to Australia under a one-way travel bubble

The announcement by Prime Minister Scott Morrison comes as the Australian government discusses the possibility of a travel bubble with Singapore.




SBS - Published





NZ travel to NSW, SA coming very soon: PM

Prime Minister Scott Morrison says NSW and South Australia will be the first states to benefit from New Zealanders being allowed to travel to Australia.




SBS - Published





Scott Morrison hits out at NSW Environment Minister Matt Kean over 'out of step' gas comments

NSW Environment Minister Matt Kean has been accused of being a "bit out of step" over the future of gas as an energy source.




SBS - Published





Scott Morrison 'hopeful' home quarantine for travellers could be allowed if health experts agree

Prime Minister Scott Morrison is open to allowing people arriving in Australia to quarantine at home if health experts give the green light.




SBS - Published





Watch: Digital jobs announcement

Prime Minister Scott Morrison is speaking live shortly from Canberra about a new digital jobs plan.




SBS - Published





WHO warns 2 million coronavirus deaths possible, Australia urges vaccine-sharing

Prime Minister Scott Morrison is standing firm on his calls for the independent investigation into coronavirus to look at its origins and urged all nations to share a vaccine once it is proven.




SBS - Published





Scott Morrison backs COVID-19 inquiry, urges all countries to share vaccine

Prime Minister Scott Morrison said there was a "moral responsibility" for a COVID-19 vaccine to be shared far and wide, in a video speech to the 75th United Nations general assembly.




SBS - Published




PM backs vaccine sharing and virus inquiry

Prime Minister Scott Morrison has delivered a video speech to the 75th United Nations general assembly, calling for greater international cooperation.




SBS - Published





Scott Morrison criticised for refusing to commit to net-zero emissions target by 2050

The federal government will unveil its plan to reduce emissions this week, with Prime Minister Scott Morrison saying he does not believe a net zero emissions reduction target is achievable by 2050.




SBS - Published




States back Scott Morrison's plan to raise Australia's cap on international arrivals

More Australians stranded overseas are set to return after states and territories agreed to gradually increase their hotel quarantine caps. But it will happen slower than the prime minister 'would have..




SBS - Published





Watch: National cabinet update

The Prime Minister Scott Morrison is speaking live shortly after a national cabinet meeting to discuss increasing the number of international arrivals. Scott Morrison has been accused of seeking to..




SBS - Published





Greg Hunt talks of 'massive hotel capacity around the country' as national cabinet meets to consider flight boost

Prime Minister Scott Morrison and state and territory leaders will meet on Friday to discuss ways to get more Australians back home from overseas.




SBS - Published





National cabinet to consider flight boost

Prime Minister Scott Morrison and state and territory leaders will meet on Friday to discuss ways to get more Australians back home from overseas.




SBS - Published





Does Scott Morrison's 'go-with-gas' recovery plan promise more than it can deliver?

Prime Minister Scott Morrison this week announced his plan for a "gas-fired" recovery from COVID-19, but not everyone - including members of the Coalition - is on board.




SBS - Published





'Plenty of commercial planes': Scott Morrison rejects calls to charter evacuation flights for stranded Australians

Prime Minister Scott Morrison has rejected calls to charter government flights to bring Australians home from overseas in time for Christmas.




SBS - Published




No need to charter evacuation flights: PM

Prime Minister Scott Morrison has rejected calls to charter government flights to bring Australians home from overseas in time for Christmas.




SBS - Published





Scott Morrison's new power plan criticised as 'part of the problem, not the solution' to climate crisis

Critics have blasted Scott Morrison's plan for a gas-led economic recovery, saying it will only hinder our journey towards a safe planet.




SBS - Published





Critics say Scott Morrison's new power plan is a recipe for 'gas-fuelled climate collapse'

Mr Morrison declared gas and coal must remain critical parts of the nation's energy mix and promised Australia would meet its climate change targets in a "canter".




SBS - Published





Scott Morrison blamed for marring Queensland father's funeral to advance 'political agenda'

Prime Minister Scott Morrison created "a media circus" at a Queensland father's funeral to advance his "political agenda", one of the man's daughters says.




SBS - Published





Scott Morrison calls the QLD premier to allow woman to attend father's funeral

Prime Minister Scott Morrison has said he called the Queensland Premier Annastacia Palaszczuk asking her to reverse her decision to prevent a woman from attending her father's funeral today...




SBS - Published





Annastacia Palaszczuk slams Scott Morrison and Queensland opposition over 'disgusting' border bullying

It comes as Home Affairs Minister Peter Dutton called Ms Palaszczuk "pig-headed" for not relaxing coronavirus restrictions.




SBS - Published





Scott Morrison demands 'horrifying' video circulating on TikTok is taken down

Prime Minister Scott Morrison has condemned a graphic video being shared on the video-sharing platform TikTok and called on the company to do more to take it down.




SBS - Published




Scott Morrison hopes Victoria's roadmap out of coronavirus restrictions is a 'worst-case scenario'

Prime Minister Scott Morrison has put pressure on Victoria to fast-track its way out of coronavirus restrictions.




SBS - Published





Scott Morrison says a free coronavirus vaccine could be available early next year if trials are successful

The Morrison government has announced two deals worth $1.7 billion will deliver coronavirus vaccines, should trials prove successful.




SBS - Published





Scott Morrison flags lifting the cap on international arrivals into Australia

State and territory leaders agreed at Friday's national cabinet meeting the 4,000-per week cap on international arrivals should be lifted.




SBS - Published





Scott Morrison makes plea for interstate borders to be reopened by Christmas

Mr Morrison said states and territories must work together to reopen their borders by the end of the year, warning Australia cannot resign itself to being a "dislocated nation under COVID-19".




SBS - Published





Scott Morrison 'open' to having the Christchurch mosque terrorist serve life sentence in Australia

Scott Morrison says he is open to the gunman serving his life sentence in Australia, with Peter Dutton currently seeking legal advice on a potential transfer.




SBS - Published




Morrison open to taking back NZ terrorist

Prime Minister Scott Morrison is open to the Christchurch mosque terrorist serving his life sentence in an Australian prison.




SBS - Published





New Zealand deputy PM Winston Peters says Christchurch terrorist should be jailed in Australia

Australian Prime Minister Scott Morrison had earlier downplayed the prospect of the gunman being put into the Australian prison system.




SBS - Published





Tony Abbott has reportedly been hired as trade envoy to the United Kingdom

Prime Minister Scott Morrison has brushed questions about Tony Abbott possibly having to register as an agent of foreign influence through a new UK trade job.




SBS - Published




Scott Morrison doubles down on criticism of Victoria's handling of coronavirus crisis

Continued pressure over aged care coronavirus outbreaks has sparked another blistering attack of Victoria's handling of the crises from the prime minister.




SBS - Published





Cap on international arrivals to remain as Victoria and NSW respond to coronavirus outbreaks

Prime Minister Scott Morrison says the government won't be lifting a cap on international arrivals as its focus remains on managing risks in hotel quarantine.




SBS - Published