OECD
International economic organisation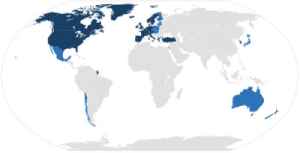 The Organisation for Economic Co-operation and Development is an intergovernmental economic organisation with 36 member countries, founded in 1961 to stimulate economic progress and world trade. It is a forum of countries describing themselves as committed to democracy and the market economy, providing a platform to compare policy experiences, seek answers to common problems, identify good practices and coordinate domestic and international policies of its members. Most OECD members are high-income economies with a very high Human Development Index (HDI) and are regarded as developed countries. As of 2017, the OECD member countries collectively comprised 62.2% of global nominal GDP and 42.8% of global GDP at purchasing power parity. The OECD is an official United Nations observer.


OECD joins Australia's push against online extremist material
Australia will work with the OECD and New Zealand to develop a reporting protocol for tech companies to reveal publicly how many terrorist postings they remove.
SBS - Published
OECD seeing less corporate opposition to digital era tax revamp
A global effort to revamp international tax rules for the digital era is receiving less corporate push-back than past attempts, the OECD's head of tax policy said on Tuesday.
Reuters - Published
OECD: lowest global growth rate in a decade
The Organisation for Economic Cooperation and Development has cut its world forecast to 2.9% this year before a predicted 3.0% in 2020
Credit: euronews (in English) Duration: 01:20Published
OECD cuts growth outlook to post-crisis low
The trade war between the United States and China has plunged global growth to its lowest levels in a decade, the OECD said on Thursday as it slashed its forecasts. Yahaira Jacquez reports.
Credit: Reuters Studio Duration: 01:09Published
Britain: BOE, OECD warn on hard Brexit
The OECD says Britain will suffer a two per cent hit to growth if leaves the EU without a deal. And the Bank of England - leaving rates on hold on Thursday - warned of "entrenched uncertainty". David..
Credit: Reuters Studio Duration: 01:31Published
Study: When It Comes To Parental Leave, Gay Fathers Sent To Back Of The Line
HuffPost reports gay men around the world receive less paid parental leave than lesbian or heterosexual couples. Many are left struggling to pay household bills if they opt to spend more time at home..
Credit: Wochit News Duration: 00:50Published
OECD troubled by allegations Canada meddled in SNC-Lavalin case
A major intergovernmental economic group expressed its concern on Monday over allegations the Canadian government tried to interfere in a criminal case against a major construction firm and reminded..
Reuters - Published
Is Turnbull's economics chief being lined up for Paris post?
Philip Gaetjens was to be Australia's ambassador to the OECD but was appointed Treasury secretary instead. There's now speculation Malcolm Turnbull's chief economist is about to be appointed.
The Age - Published
Search this site and the web:
You Might Like