Court
Judicial institution with the authority to resolve legal disputes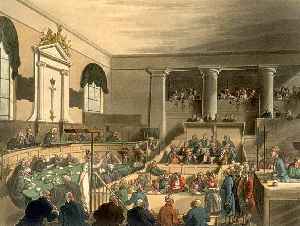 A court is any person or institution with authority to judge or adjudicate, often as a government institution, with the authority to adjudicate legal disputes between parties and carry out the administration of justice in civil, criminal, and administrative matters in accordance with the rule of law. In both common law and civil law legal systems, courts are the central means for dispute resolution, and it is generally understood that all people have an ability to bring their claims before a court. Similarly, the rights of those accused of a crime include the right to present a defense before a court.


Court postpones hearing again for Tanzanian journalist jailed since July
A Tanzanian court on Tuesday postponed the hearing for the sixth time of a prominent Tanzanian journalist arrested more than two months ago.
Reuters - Published
Biloela Tamil family: Court hears daughter has right to apply for Australian visa
The case of a Tamil family desperate to return to their home in Biloela, Queensland, is back before the Federal Court.
SBS - Published
Serena poised for record-tying U.S. Open final
20 years after an improbable run at the age of 17 to her maiden U.S. Open victory, Serena Williams is running out of records to break. Conway G. Gittens takes previews Saturday's U.S. Open women's..
Credit: Reuters Studio Duration: 01:11Published
Tanya Day inquest: Court hears police checks were 'inadequate'
A police officer supervising Aboriginal woman Tanya Day while in custody has conceded a check on her before she fell and hit her head was inadequate.
SBS - Published
Watch: George Pell appeal decision
The Chief Justice of the Supreme Court of Victoria, Chief Justice Anne Ferguson, will read out a summary of the Court's conclusions on George Pell's appeal.
SBS - Published
Court fight a moral responsibility: Palmer
Clive Palmer says he's fighting a $200 million claim over the collapse of his Queensland Nickel business for the "greater good".
SBS - Published
CBD Melbourne: Simon Holmes a Court keeps up energy levels at IPA
Nine months ago prominent renewable energy investor and activist Simon Holmes a Court made the surprising admission he had joined conservative think tank the Institute of Public Affairs.
The Age - Published
Court says Japan government owes compensation to families of leprosy patients
A Japanese court on Friday ordered the government to pay compensation to the families of leprosy patients who suffered discrimination and mistreatment because of government policies that violated their..
Reuters - Published
Court dismisses case against Kleenex maker over flushable wipes advertising
Consumer groups had hoped that the court would rule that Kimberly-Clark's claims that its wipes were flushable were deceptive and misleading.
The Age - Published
You Might Like