Karnataka
State in southern India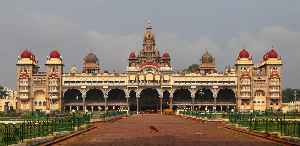 Karnataka is a state in the south western region of India. It is the largest state in South India and seventh largest in India. It was formed on 1 November 1956, with the passage of the States Reorganisation Act. Originally known as the State of Mysore, it was renamed Karnataka in 1973. The state corresponds to the Carnatic region. The capital and largest city is Bangalore.


COVID-19: 78% of active cases present in 10 states, UTs, informs Health Ministry

During press conference held on October 27, Secretary of Health Ministry, Rajesh Bhushan said, "78 per cent of active cases are present in 10 states and UTs. 58% of new deaths reported in five States..
Credit: ANI Duration: 02:09
Published
Former CM Siddaramaiah visits flood-affected villages in Karnataka's Kalaburagi

Former chief minister of Karnataka, Siddaramaiah visited flood-affected villages in Kalaburagi on October 26. He visited Katti Sangavi area in Jewargi Taluk. Siddaramaiah also interacted with farmers..
Credit: ANI Duration: 01:12
Published
NDRF team in action in flood-hit Kalaburagi

NDRF (National Disaster Response Force) teams carried out rescue operation in Kone Hipparga village in Kalaburagi district of Karnataka and took people to safer locations from flooded areas.
Credit: ANI Duration: 01:52
Published
Watch: Dog rescues her puppy from floodwater in Karnataka Vijayapura

In a heart-rending video, a mother dog rescued its puppy from floodwaters. The video surfaced from flood-affected Karnataka's Vijayapura. In the video, the dog can be seen carrying the puppy in its..
Credit: HT Digital Content Duration: 01:11
Published
Watch: Dog rescues puppy from floodwater in Karnataka's Vijayapura

A symbolic event of mother's love video has surfaced from flood-affected area of Karnataka's Vijayapura. In a heart-wrenching video, a dog can be seen rescuing its puppy from floodwater. The dog caught..
Credit: ANI Duration: 01:02
Published
Navratri 2020: Devotees throng temples, UP CM Yogi Adityanath offers prayers

The nine-day long Navratri festival has begun. UP CM Yogi Adityanath offered prayers at Devi Patan temple on the first day of Navratri. In Kanpur, devotees offered their prayers at the city's Vaibhav..
Credit: HT Digital Content Duration: 01:53
Published
Widespread rainfall likely in Karnataka's coastal areas on Oct 16: IMD

Bengaluru IMD Director, CS Patil informed that coastal areas in Karnataka is likely to receive widespread rainfall on October 16, while Bengaluru city will witness light showers. "Widespread rain on..
Credit: ANI Duration: 01:36
Published
Telangana rains: 15 dead; 2-day holiday; SDRF deployed | Latest updates

Heavy rains in Telangana caused widespread flooding, killing at least 15. The torrential rains have also battered Andhra Pradesh and Karnataka. Showers led to waterlogging on roads and inundation of..
Credit: HT Digital Content Duration: 01:46
Published
Bengaluru violence: DK Shivakumar smells BJP conspiracy after two Congress leaders named in chargesheet

Speaking to media in Bengaluru on October 14, Karnataka Congress president, DK Shivakumar spoke on Central Crime Branch's (CCB) chargesheet naming two Congress corporators in Bengaluru violence. He..
Credit: ANI Duration: 01:23
Published
Watch: Man clutches on electric pole as flash flood tries to wash him away

A man got stuck in a flash flood triggered by heavy rainfall in Karnataka's Belagavi. In the video, he was seen holding an electric pole against the heavy flow of water. Several parts of north..
Credit: ANI Duration: 01:42
Published
Youth taking COVID threat lightly, says Karnataka doctor as people seen without masks

Amid COVID-19 pandemic, people were seen moving without masks in a Karnataka's Kalaburagi market on October 11. "Mostly the youth is taking it very lightly. It's important to use masks, distance and..
Credit: ANI Duration: 01:32
Published
1.5 km queue for biryani: Bengaluru eatery sees rush despite Covid

Anand Dum Biriyani's business is booming despite the Covid-19 pandemic. Queues as long as 1.5 km were reportedly seen outside the eatery in Karnataka's Bengaluru. Patrons claimed that they have to..
Credit: HT Digital Content Duration: 02:28
Published
Biryani love overpowers COVID fear in Bengaluru

People stood in 1.5 kilometer queue at an eatery in Bengaluru to buy Biryani amid pandemic. Foodies seem to be clueless about over 1 lakh deaths due to coronavirus in the country. COVID has claimed..
Credit: ANI Duration: 02:52
Published
Watch: Commuters awestruck as elephant herd cross road in Karnataka's Kodagu

An elephant herd crossed a road in Kodagarahalli on October 10. Traffic was stopped while the elephants were crossing the road. Some baby elephants attracted the commuters' attention. Karnataka is home..
Credit: ANI Duration: 01:11
Published
You Might Like
Search this site and the web: