Passover
Jewish holiday which begins on 15th of the Hebrew month of Nisan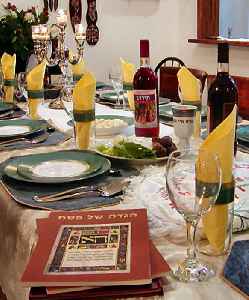 Passover or Pesach is a major Jewish holiday and one of the most widely celebrated Jewish holidays. Together with Shavuot and Sukkot, Passover was one of the Three Pilgrimage Festivals during which the entire population of the kingdom of Judah made a pilgrimage to the Temple in Jerusalem. Samaritans still make this pilgrimage to Mount Gerizim, but only men participate in public worship.


You Might Like
Passover blessing at Western Wall downsized due to coronavirus
Ten Jewish worshippers wearing face masks prayed at the Western Wall on Sunday at a special "Priestly Blessing" during the holiday of Passover, an event usually attended by thousands.
Reuters - Published
For Australian Jews, Passover forges on - matzah balls and all
Jews, the Passover story goes, once fled for Israel after ten plagues struck Egypt. This year, a real life plague threatened the religious holiday.
The Age - Published
Passover in Israel looks like Yom Kippur - roads empty due to coronavirus
Israel's highways, intersections and back streets were deserted during Passover on Thursday, as coronavirus restrictions and a holiday curfew left the country looking more like Yom Kippur, when almost..
Reuters - Published
Israelis mark Passover, a celebration of freedom, in virtual isolation
The Jewish Passover holiday typically draws crowds of Israelis outside to burn heaps of leavened bread, commemorating the Biblical exodus from slavery in Egypt.
Reuters - Published
Israel makes masks in public compulsory as Passover lockdown begins
The Israeli government issued orders on Tuesday requiring citizens to wear face masks in public to try to stem the spread of the novel coronavirus as the country enters a lockdown for the Jewish..
Reuters - Published
Israelis put on coronavirus lockdown for Passover holiday celebration
Israelis celebrating the Jewish Passover holiday this week will hold the "seder", the traditional meal celebrating freedom from biblical slavery, confined to their homes under a national coronavirus..
Reuters - Published