Los Angeles County, California
County in California, United States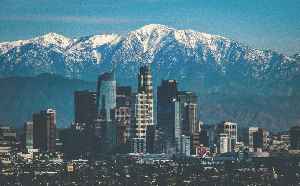 Los Angeles County, officially the County of Los Angeles, in the Los Angeles metropolitan area of the U.S. state of California, is the most populous county in the United States, with more than ten million inhabitants as of 2018. As such, it is the largest non–state level government entity in the United States. Its population is larger than that of 41 individual U.S. states, as well as the combined population of the 10 least populous states. It is the third-largest metropolitan economy in the world, with a Nominal GDP of over $700 billion—larger than the GDPs of countries such as Belgium and Norway. It has 88 incorporated cities and many unincorporated areas and, at 4,083 square miles (10,570 km2), it is larger than the combined areas of Delaware and Rhode Island. The county is home to more than one-quarter of California residents and is one of the most ethnically-diverse counties in the U.S. Its county seat, Los Angeles, is also California's most populous city and the second most populous city in the U.S., with about four million residents.


California To Give Health And Safety Guidelines For TV And Movie Production

California officials are set to roll out coronavirus guidelines for the production of Hollywood movies and TV shows. Governor Gavin Newsom, however, warned that Los Angeles County would likely not be..
Credit: Wochit News Duration: 00:32
Published
Former WWE Star Shad Gaspard Is Missing

Former WWE Superstar Shad Gaspard is missing. His family says the 39-year-old went missing after visiting a newly reopened California beach. According to CNN, Gaspard was last seen at Marina Del Rey..
Credit: Wochit News Duration: 00:32
Published
Spectacular video from inside the cockpit shows Thunderbirds flying over California

Spectacular footage from inside the cockpit shows US Air Force Thunderbirds flying over California to pay tribute to frontline workers. Six fighter jets flew in formation across parts of Los Angeles,..
Credit: ODN Duration: 02:04
Published
Californians return to LA County beaches as they reopen

Californians were excited to return to LA County beaches on Wednesday, after California Governor Gavin Newsom relaxed restrictions and allowed them to reopen for the first time since late March.
Credit: Reuters Studio Duration: 01:10
Published
California Cancels Fall University Classes Amid Fauci's Warnings Of A Second Wave

California's state university system announced they have canceled classes for the fall semester due to the coronavirus. Officials also announced that the Los Angeles County stay-at-home order is..
Credit: Wochit News Duration: 00:32
Published
California State University to keep classes online in the fall

California's state university system, the largest in the United States, canceled classes on Tuesday for the fall semester because of the coronavirus, while Los Angeles County said its stay-at-home..
Credit: Reuters - Politics Duration: 01:23
Published
California inmates deliberately attempt to catch Covid-19

Two groups of inmates at a Los Angeles County jail tried to infect themselves with the coronavirus by sharing water and a mask, and within two weeks 30 prisoners tested positive, authorities said on..
Credit: PA - Press Association STUDIO Duration: 01:35
Published
Early study points to far more infections in LA

Some 4.1% of adults tested positive for coronavirus antibodies in a study of Los Angeles County residents, health officials said on Monday, suggesting the rate of infection may be 40 times higher than..
Credit: Reuters Studio Duration: 02:17
Published
You Might Like
No news matches found
Sorry, we were unable to find any results in our database for your query
Free news archive access

Did you know?
You are eligible to search our news archive with millions of news references free of charge.

To do this, please sign in first at the top of the screen.

• Information about free access to our news archive


Search this site and the web: