Jammu and Kashmir (state)
Former state administered by India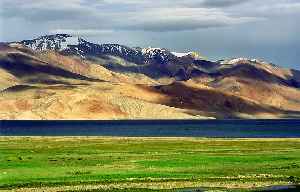 Jammu and Kashmir was a region formerly administered by India as a state from 1954 to 2019, constituting the southern and southeastern portion of the larger Kashmir region, which has been the subject of a dispute between India, Pakistan and China since the mid-20th century. The underlying region of this state were parts of the former princely state of Jammu and Kashmir, whose western districts, now known as Azad Kashmir, and northern territories, now known as Gilgit-Baltistan, are administered by Pakistan. The Aksai Chin region in the east, bordering Tibet, has been under Chinese control since 1962.


'Mehbooba Mufti, Farooq Abdullah have no right to stay in India': Pralhad Joshi

Union Minister Pralhad Joshi has lashed out at Farooq Abdullah and Mehbooba Mufti over their recent comments on the abrogation of Article 370. Joshi said that the statements made by the two former..
Credit: HT Digital Content Duration: 02:12
Published
2 terrorists killed in encounter in JandK's Budgam

Two unidentified terrorists were killed during an ongoing encounter in Jammu and Kashmir's Budgam district. The encounter broke out at Aribagh Mouchwa area of Budgam on October 27. Police and security..
Credit: ANI Duration: 01:13
Published
Jammu youths achieving new heights in football

Jammu youths are excelling in different sports and football is one of them. Many youngsters gathered at Sainik Colony ground to brush up their football skills. Interestingly, many of these youngsters..
Credit: ANI Duration: 04:18
Published
Militancy not one-way route, will welcome your return: Top Army Commander's appeal

Indian Army has reiterated that it will welcome those local militants in Kashmir who choose to shun the path of violence. General Officer Commanding (GOC) 15 Corps Lieutenant General BS Raju on October..
Credit: ANI Duration: 04:45
Published
Chinar Corps celebrates 74th Infantry Day in J and K's Srinagar

Chinar Corps celebrated the 74th Infantry Day at Badamibagh Cantonment in Jammu and Kashmir's Srinagar on October 27. Several Army officials paid tribute to slain soldiers. Infantry Day is observed as..
Credit: ANI Duration: 02:27
Published
Watch: Terrorist surrenders before security forces in JandK's Awantipora

A video surfaced in which a terrorist was seen surrendering before security forces on October 26 in JandK's Awantipora. The terrorist is a resident of Gulshanpura, Pulwama. He was absconding since..
Credit: ANI Duration: 02:02
Published
Infantry Day: CDS Gen Bipin Rawat, Army chief Naravane at National War Memorial

Top Indian Army officials were seen in New Delhi at the National War Memorial on Tuesday. The officials had gathered on the occasion of Infantry Day. Chief of Defence Staff General Bipin Rawat, Army..
Credit: HT Digital Content Duration: 01:16
Published
PDP leaders resign from party over Mehbooba Mufti's flag remark which 'hurt patriotic sentiments'

People's Democratic Party (PDP) leaders TS Bajwa, Ved Mahajan and Hussain A Waffa resigned from the party on Monday stating that they feel quite uncomfortable over some of party chief Mehbooba Mufti's..
Credit: ANI Duration: 02:38
Published
Watch: BJP workers hoist Indian flag at PDP office; 3 detained at Lal Chowk

Several people, reportedly BJP workers gathered outside PDP office in Jammu to hoist the Indian flag. People were seen trying to hoist the national flag over Jammu and Kashmir's state flag. Three..
Credit: HT Digital Content Duration: 05:17
Published
'Uddhav Thackeray don't you dare': Kangana Ranaut attacks CM on 'ganja' remark

Bollywood actor Kangana Ranaut hit out at Maharashtra Chief Minister Uddhav Thackeray, calling him "petty person". Kangana, who has been at loggerheads with the Maharashtra government, attacked the..
Credit: HT Digital Content Duration: 01:57
Published
'One nation can't have 2 flags': BJP condemns ex-J&K CM's tricolour comment

PDP chief Mehbooba Mufti came under attack for her comments on Indian flag. Mufti recently said she won't raise the tricolour till J&K state flag is restored. She made the comments with the flag of..
Credit: HT Digital Content Duration: 03:59
Published
'Not anti-national or religious fight': J&K mega alliance to expose 'lies'

Members of the People's Alliance for Gupkar Declaration held a meeting in Jammu and Kashmir's Srinagar on October 24. The meeting was held at PDP chief Mehbooba Mufti's residence, and attended by her..
Credit: HT Digital Content Duration: 04:14
Published
'Will raise tricolour when...': Ex-J&K CM Mufti's fresh attack on Centre

Ex-J&K CM Mehbooba Mufti intensified her attack on NDA government. She held a press conference with erstwhile flag of J&K state on her table. Mufti said she would raise Indian tricolour after J&K state..
Credit: HT Digital Content Duration: 01:59
Published
You Might Like



Indian troops kill militants, triggering clashes across Kashmir

Indian troops killed four militants in gun battles in Kashmir on Wednesday, including the commander of the biggest separatist group fighting New Delhi, a police official said, triggering clashes across..




Reuters - Published





Indian troops kill maths teacher-turned-rebel commander in Kashmir

Indian troops killed four militants in gun battles in Kashmir on Wednesday, including the commander of the biggest separatist group fighting New Delhi in the disputed Himalayan region, a police..




Reuters - Published





Eight Indian soldiers die in gunbattles amid major Kashmir offensive

Three Indian soldiers were killed in a gunbattle with militants in the disputed Himalayan region of Kashmir on Monday, a day after a similar incident in which five were killed.




Reuters - Published





Police in Indian-administered Kashmir target journalists for alleged 'fake news'

Police in Indian-administered Kashmir are investigating two journalists for allegedly spreading "fake news," authorities said on Monday, as a months-long security crackdown in the Muslim-majority state..




Reuters - Published





India bans incoming flights to rein in coronavirus, seals off Kashmir

India banned incoming international flights on Thursday, restricted public gatherings and blocked roads to seal Kashmir after the insurgency-torn region reported its first coronavirus infection.




Reuters - Published





India locks down Kashmir region on coronavirus fears, South Asian markets slide

India blocked roads in Kashmir on Thursday after the insurgency-torn region reported its first case of coronavirus, as several other parts of the country imposed restrictions on public gatherings in..




Reuters - Published





India frees top Kashmir politician after months of detention

Indian authorities on Friday ordered the release of Kashmir's most prominent politician, Farooq Abdullah, one of dozens of leaders held since August, when the federal government withdrew the troubled..




Reuters - Published





India lifts some internet restrictions in Kashmir, opening access to social media

India lifted some restrictions on internet access in Kashmir on Wednesday, including allowing access to social media websites for the first time since the restive Himalayan region was locked down and..




Reuters - Published




India cracks down on use of VPNs in Kashmir to get around social media ban

Authorities in Indian Kashmir are cracking down on virtual private network (VPN) apps used to circumvent a months-long ban on social media, police said, as part of a broader effort to quell unrest over..




Reuters - Published





India refuses entry to British lawmaker critical of Kashmir policy

A British lawmaker, who chairs an all-party group on Kashmir, has been denied entry to India after she criticized the government's decision to strip the disputed Himalayan region of its constitutional..




Reuters - Published





India summons Turkish envoy over Erdogan's remarks on Kashmir

India summoned the Turkish ambassador on Monday to lodge a diplomatic protest over President Tayyip Erdogan's remarks on the disputed region of Kashmir and warned it would have a bearing on bilateral..




Reuters - Published





India to woo businesses to Kashmir in planned investment summit

India plans to offer around 6,000 acres (2,400 hectares) of land in Kashmir as part of a business summit planned for April or May to help the Himalayan region after withdrawing its special rights and..




Reuters - Published





European diplomats check India's loosening of Kashmir clampdown

More than two dozen diplomats are visiting Indian-administered Kashmir, New Delhi said on Wednesday, as the country tries to reassure foreign allies following several months of unrest in the contested..




Reuters - Published





Indian Kashmir hit by general strike called by separatists

Indian-held Kashmir was hit by a general strike on Sunday called by the separatist Jammu Kashmir Liberation Front (JKLF) to mark the anniversary of the death of a Kashmiri man who was executed for his..




Reuters - Published





India extends detention of Kashmir's political leaders

India has extended the detention of four political leaders in Kashmir and a prominent lawyer who have been held since August to quell dissent after the federal government stripped the region of its..




Reuters - Published





India uses draconian law to keep Kashmir's political leaders locked away

India has extended the detention of four political leaders in Kashmir who had been held by authorities since August to quell dissent after the central government stripped the region of its autonomy,..




Reuters - Published





Pakistan's Khan calls for U.N. action on India dispute

Pakistan's Prime Minister Imran Khan called on Wednesday for the United Nations to help mediate between nuclear armed India and Pakistan over the disputed territory of Kashmir.




Reuters - Published





Trump says U.S. ready to 'help' in India-Pakistan Kashmir dispute

President Donald Trump said the United States was watching developments between India and Pakistan over Kashmir "very closely" and was prepared to help if necessary, but did not say how.




Reuters - Published





Former policeman among three militants killed in gunfight with Indian troops

A former police officer was among three Islamist militants killed in a gunbattle with Indian troops in the disputed region of Kashmir on Monday, security officials said.




Reuters - Published





Dozens killed by avalanches in Pakistani and Indian Kashmir

At least 59 people were killed and many more were missing after avalanches in Pakistan-controlled Kashmir over the last 24 hours, senior government officials said on Tuesday.




Reuters - Published





At least 67 killed by avalanches in Pakistan, India: government officials

At least 57 people were killed and others were missing after avalanches in Pakistan-controlled Kashmir over the last 24 hours, senior government officials said on Tuesday.




Reuters - Published




Senior police officer arrested in Kashmir on suspicion of aiding militants

A senior police officer has been arrested in Indian Kashmir and accused of aiding militants after he was found driving two suspected insurgents toward Jammu, Kashmir's chief of police told reporters on..




Reuters - Published





India's top court says indefinite Kashmir internet shutdown is illegal

India's Supreme Court said on Friday that an indefinite shutdown of the internet in Kashmir was illegal, rebuking the government for the communications lockdown imposed after it withdrew the Muslim..




Reuters - Published




India grants diplomats access to Kashmir for first time in months

Foreign diplomats visited India-ruled Kashmir on Thursday for the first time since New Delhi stripped the region of special status in August, but some European nations and others declined to go after..




Reuters - Published




India widens internet shutdown to parts of Delhi to curb protests

Internet and text messaging services were suspended by government order in parts of India's capital Delhi on Thursday, mobile carriers said, widening a communications clampdown in restive areas..




Reuters - Published





Indian Kashmir sees more than $2.4 billion losses since lockdown: group

A lockdown in Indian-administered Kashmir has cost its economy more than $2.4 billion since the government stripped it of its special status, officials of the Himalayan region's main trade organization..




Reuters - Published





Pakistan's Khan says millions of Muslim refugees could flee India

Pakistan Prime Minister Imran Khan said on Tuesday that millions of Muslims could flee India due to the curfew in the disputed territory of Kashmir and India's new citizenship law, creating "a refugee..




Reuters - Published





U.N. Security Council to meet on Kashmir on Tuesday at China's request

The United Nations Security Council will meet at China's request on Tuesday to discuss the situation in the disputed Indian territory of Jammu and Kashmir, diplomats said.




Reuters - Published





Kashmir shutdown caused losses of more than $1 billion, trade body says

Economic losses in Kashmir have run well over a billion dollars since India revoked its autonomy and statehood in August, the main trade body in the Himalayan region said, adding that it planned to sue..




Reuters - Published





Despite Kashmir anger, China's Xi invites India's Modi to visit again next year

Chinese President Xi Jinping has invited Indian Prime Minister Narendra Modi to visit China again next year after two informal summits between the men in each other's countries, despite deep..




Reuters - Published





Factbox: What does India's ruling Hindu nationalist party want to achieve?

Six months after he was re-elected, Indian Prime Minister Narendra Modi is on course to have delivered on two big promises of his agenda: Stripping Muslim-majority Jammu and Kashmir of its autonomy and..




Reuters - Published





Fear grips Kashmiri village where Indian migrant workers killed

Locals in the Kashmiri village where five Indian migrant laborers were killed by gunmen last week say they are living in fear of militant groups as well as the subsequent crackdown by security forces.




Reuters - Published





One dead, 45 injured in grenade attack in Kashmir's Srinagar: sources

One person died and at least 45 were injured on Monday in a grenade attack in Indian-administered Kashmir's main city of Srinagar, Indian officials said, in the bloodiest incident since New Delhi..




Reuters - Published




Indian state leader to move migrant workers from Kashmir after violence

More than 100 migrant workers from India's Kashmir will be moved after a spate of killings by suspected separatist militants underlined the threat to outsiders in the restive region.




Reuters - Published





Indian Kashmir losing migrant workers as militants find new target

A rash of killings by separatist militants targeting outsiders in India's Kashmir has persuaded growing numbers of migrant workers to stay away, rather than risk working in road gangs, building sites,..




Reuters - Published





India, China clash over Kashmir as it loses special status and is divided

India engaged in a diplomatic war of words with China over Kashmir on Thursday as it formally revoked the disputed state's constitutional autonomy and split it into two federal territories in a bid to..




Reuters - Published





Shops shuttered, streets deserted as Kashmir loses special status and is divided

Shops and offices were shut in Indian Kashmir on Thursday and the streets largely deserted as federal authorities formally revoked the restive state's constitutional autonomy and split it into two..




Reuters - Published





Explainer: India's Kashmir region set to lose autonomy, divided

India's government will formally break up Jammu and Kashmir state into two federal territories on Thursday, as part of a sweeping move to tighten its grip over the restive region that is at the heart..




Reuters - Published





India moves to divide Jammu and Kashmir state despite protests, attacks

India will formally split up disputed Jammu and Kashmir state into two federal territories on Thursday, aiming to tighten its grip on the restive region that has been in the grip of a harsh security..




Reuters - Published





Five killed as EU delegation visits disputed Kashmir

Five people were killed by militants in Indian Kashmir on Tuesday, police said, as a group of European Union lawmakers began the first visit by a foreign delegation to the disputed region since New..




Reuters - Published





EU lawmakers visit Kashmir as stone pelting protests resume

European Union lawmakers on Tuesday began the first visit by a foreign delegation to Indian Kashmir since New Delhi revoked the region's autonomy in August, and stone-throwing protests resumed after a..




Reuters - Published




Grenade attack hits Kashmir ahead of visit by EU lawmakers

A group of EU lawmakers will visit Indian Kashmir on Tuesday, the first foreign delegation since the special status of the region was revoked, Indian officials said, hours before a grenade attack..




Reuters - Published





India allows EU lawmakers into Kashmir in first foreign visit since clampdown

A group of European Union lawmakers will visit Indian Kashmir on Tuesday, the first foreign delegation since the special status of the Muslim-majority territory was revoked, Indian officials said.




Reuters - Published





India, Pakistan set to sign pilgrim corridor pact amid Kashmir tension

India and Pakistan are set to sign an agreement on Indian pilgrims visiting a Sikh shrine in Pakistan, rare cooperation between the nuclear-armed neighbors at a time of tension that has brought..




Reuters - Published





India, Pakistan trade barbs over deadly Kashmir clash

India and Pakistan blamed one another for cross-border shelling in the disputed Kashmir region which killed and injured soldiers and civilians on both sides and made it one of the deadliest days since..




Reuters - Published





Fresh deaths in Kashmir after exchange of fire across border

Indian and Pakistani soldiers have traded fire in the disputed region of Kashmir, killing people on both sides, officials say.




SBS - Published